Brand spanking new release adds support for UK gallons, liters and different fuel economy options.
One of the more heavily requested features of late has been to add more regional support to Fleetio's Fuel Module. Well, we're happy to announce it's here!
Short & sweet overview:
Choose between US Gallons, UK Gallons or Liters as the volume units. This setting is per vehicle.
Kilometers are now supported in fuel entries.
MPG (US), MPG (UK), L/100km, km/L are all fuel economy options. This setting is per user.
Versatile Volume Units: Choose between US gallons, UK gallons or liters.
When adding a new vehicle or editing an existing one, you can now choose which fuel volume units you want to use when adding fuel entries for the vehicle.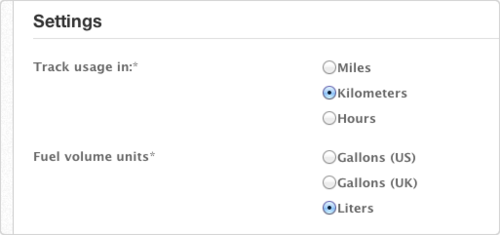 After setting this option, the Fuel Entry form will show the proper volume input accordingly.
Expanded distance support now includes kilometers.
If a vehicle is setup to track usage in kilometers, Fleetio now recognizes the distance between fuel ups in kilometers.

Handy fuel economy options include MPG (US), MPG (UK), L/100km and km/L.
Each user in Fleetio can choose how they want to view fuel economy values throughout the system. This includes viewing both individual fuel entries and fuel reports across the fleet.
To change you fuel economy units, go to the Edit Profile screen by click your username drop-down on the top navigation bar. You'll see it in the Regional Settings section.

A breakthrough in unit conversions.
One of the more innovative things we did as part of all these new features, was to actually calculate all the different volume values, distance options and fuel economy choices when you add a fuel entry. That way if you have an international fleet with some vehicles using US gallons and some using liters, you can still compare fuel consumption across your fleet.
Watch the overview video: