Fleetio and Truvizi will now be partnering to bring a Fleetio integration with Rhino Fleet Tracking and StreetEagle telematics solutions to mutual customers.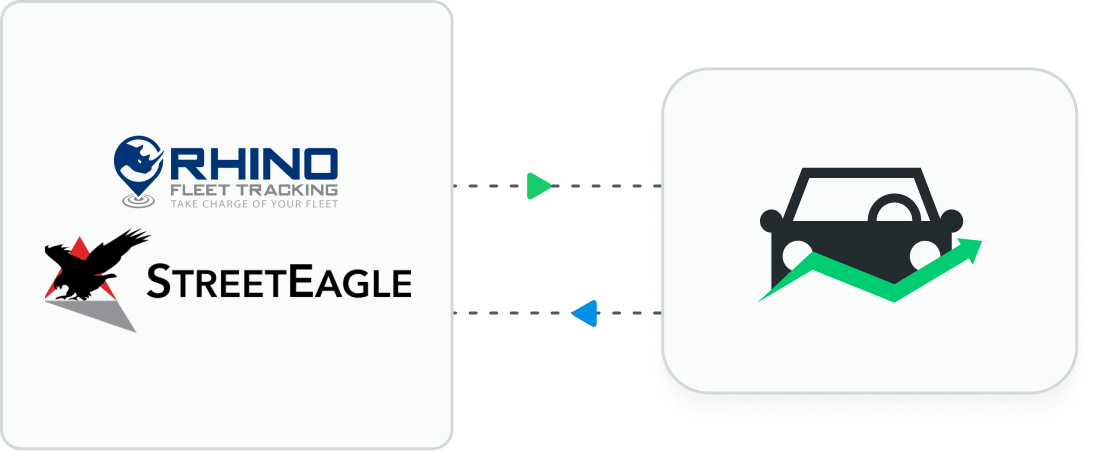 Connecting a telematics device to Fleetio brings tons of benefits. It allows you to automate your preventive maintenance schedules based off of accurate odometer readings, lets you streamline your maintenance workflows and respond quickly to issues and allows you to save time! Fleetio is excited to announce that we have added additional telematics integrations with Rhino Fleet Tracking and StreetEagle telematics solutions.
Part of the Truvizi brand, Rhino Fleet Tracking systems optimizes fleet performance for companies of all sizes. The Rhino fleet management solution provides organizations with vehicle telematics including real-time location GPS tracking, diagnostics, maintenance and report scheduling to improve safety and communication and eliminate theft.
Their StreetEagle solutions provide innovative, flexible fleet management, asset tracking and safety solutions that bring real-time visibility into the mobile work environment. Their solutions improve safety and operations by delivering the ability to capture, analyze and integrate business-critical data from all mobile resources – vehicles, equipment and mobile employees – through one fully configurable and user-friendly platform.
Connecting your Rhino Fleet Tracking or StreetEagle devices with Fleetio will automatically capture critical information that you can use to better understand your fleet and ensure that you are up-to-date with your preventive maintenance schedule. Benefits of this integration include:
Odometer readings and engine hours automatically sync daily, keeping your preventive maintenance reminders timely.

New engine fault codes detected by your telematics devices trigger an email notification in Fleetio, allowing you to kick off a maintenance workflow with one click.

Data transfer is seamless and secure, ensuring that you can avoid duplicating your efforts and you never have to worry about missing a critical alert.
If you are a current Rhino Fleet Tracking or StreetEagle customer and want to set up this integration, visit our Help Center to get started today.
---
To learn more about the benefits of combining fleet management software with telematics, check out this video discussing how critical information from telematics devices is used within Fleetio to simplify the way you manage your fleet.