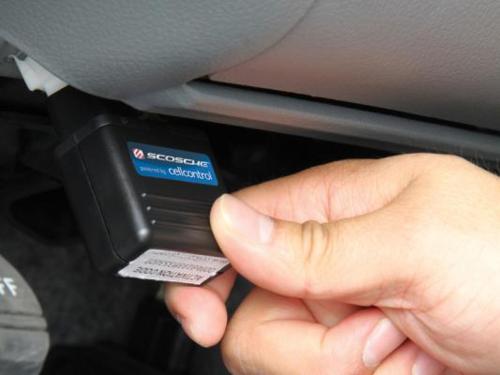 Scosche's new  cellCONTROL safe driving system is a device/app combination that disables many smartphone functions when driving a vehicle. It uses  Bluetooth to block drivers from being able to text message, email, make phone calls and much more.
The system includes a dongle that plugs into a vehicle's  OBD-II interface and a mobile app that automatically disables email, texting, web browser, and app capabilities whenever the vehicle is in motion.
Without a doubt, this has a lot of benefits for fleets.
As of January 3rd this year, the Federal Motor Carrier Safety Administration ( FMCSA) banned the use of mobile phones while operating a commercial motor vehicle (CMV) unless using a completely hands-free system to talk. Commercial drivers aren't allowed to text message or even dial a phone number while driving under the new regulation.
And violating the new law has monstrous repercussions: up to $2,750 for each offense for drivers and companies whose drivers violate the law could be on the hook for $11,000.
With the hefty fines, many fleets will proactively find ways to make sure their drivers don't even have the option to violate the law - and the cellCONTROL from Schosche could be right ingredient. You can buy the device for $129.95 or the devices are also available for $24.95 with an additional $7.95 per month subscription fee.
Could be well worth added safety insurance and avoidance of substantial fines.
Further reading: