Cars and trucks are an essential part of our daily routine.  Maybe that's why purchasing an automobile can be such a difficult experience.  If you are going to spend that much money, wouldn't you like to be assured that you are making the right decision?
But that, as you know, is quite a challenge.  In a few hours, under the supervision of overzealous salesmen, are you really going to collect enough information to answer every possible reservation?  Probably not.
The Ford Taurus commercials of a year ago were, in essence, an attempt to ease some of the concerns that previous models raised.  Don't think the new version has enough power?  Oh, well here's some footage of Carl Edwards scaring the bejesus out of people while he power slides the car around a road course.
On that same vein, wouldn't it be great to have a live visual and actual proof of everything your potential car could do?  While Carl is giving hair raising ride-alongs to highlight performance, you could get a peek at Mark Martin's odometer as he passes the 100,000 mile mark with a model right off the show room floor.  Meanwhile, Tony Stewart is tasked with validating the stickered gas mileage - AC blasting and loaded down with a car of screaming children.  Surely he would enjoy that!
Here at Fleetio, we are very aware that your subscription to our service is another important decision to make.  That's why we now offer free trial accounts of any size, with an unlimited users - so you can give your boss and coworkers a chance to evaluate our Fleet Management system.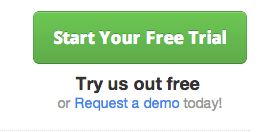 We also want you to know that our team is happy to give a full demo upon request.  Not only will you get to see all that Fleetio can do, but you also get to ask one on one questions with one of our outstanding team members.   Email us: hello@Fleetio.com to set up your demo!
image copyright Ford Motor Company