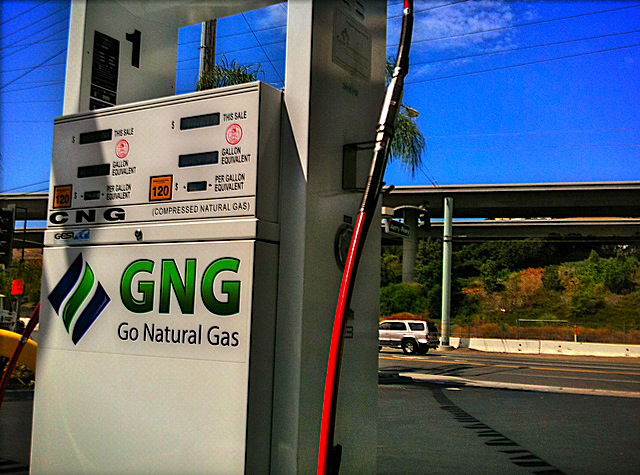 At a recent NAFA Fleet Management Association meeting, we had the pleasure of hearing a presentation on the growth of Compressed Natural Gas (CNG) vehicles and insfrastructure in the US. For most fleets, the decision to switch to an alternative fuel is a big decision, and primarily motivated by the numbers. So, with that in mind, we have compiled some of the facts and figures about CNG and Natural Gas Vehicles (NGVs) for you. Thanks to Bob Strickland, of Corridor Clean Fuels, for the information.
The State of NGVs
Right now there are about 130,000 NGVs in the U.S. There are currently about 15 million NGVs worldwide and that number is expected to increase to 25 million by 2015.
There are 1204 total CNG stations in the US as of March, 2013: 577 are Public and 627 are Private.
Emissions
Replacing one diesel garbage truck with a natural gas garbage truck can reduce emissions equivalent to removing 325 cars from the road. -EPA
Natural Gas Reduces emissions of CO2 (25%), Carbon Monoxide (90%), Mercury (100%), Sulfur Dioxide (99.9%), Particulates (91.3%), Nitrogen Oxide (78.4%)
Natural Gas is the cleanest commercially available alternative transportation fuel on the market
Vehicle Availability
Light & Medium Duty: GM currently provides OEM CNG vans and 2500 series bi-fuel natural gas pickup trucks. Dodge has a CNG bi-Fuel Ram pickup. Ford has Natural Gas F-250 & F-350 bi-fuel pickups. Honda produces dedicated CNG Civics.
Heavy Duty: 8.9L Engine – Currently Available, 11.9L Engine – Summer/Fall 2013. Major OEMs with options: Freightliner, Volvo, Mack, Kenworth.
State & Federal Tax Credits
Louisiana has a 50% NGV station tax credit plus 50% for NGV OEM or conversion cost premiums.
Florida legislature just approved bill to exempt NGV's from paying state fuel tax for five year period.
Georgia's PSC allocated $11.5 to build CNG stations. The state also provides vehicle credits of 10% of the vehicle cost with the credit not to exceed $2500.
See a complete list of federal and state NGV tax incentives here.
Pricing Comparison
U.S. retail CNG prices range from around $1.00 to $2.00 per gallon equivalent below gasoline and diesel fuel.
January 2013 National Averages: CNG - $2.10, Diesel - $4.12, Gasoline - $3.29, Propane - $2.68
See below for pricing trends since 2000.