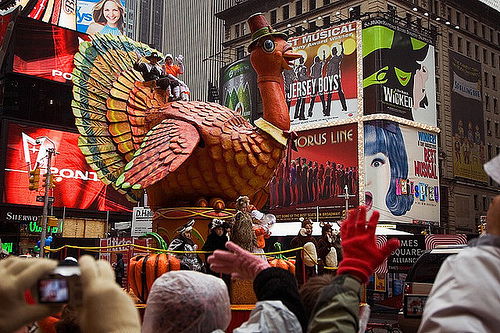 Happy Thanksgiving week from the team here at Fleetio!  We are all doing our best to exercise and skimp on lunch in order to prepare ourselves for the delicious meals that lie ahead.  We are also busy preparing our cars for a bit of travelling so that we assuredly reach our tasty destinations.
In hopes that you will also have a safe and happy Thanksgiving, here are a few helpful tips to prepare your family fleet for the holidays:
1. Tire Pressure
As our buddy Tess wrote about, the alignment of your vehicle is ground zero for many potential issues.  Your tires are a big part of ensuring proper alignment.  Open up the driver's side door and see what pressures the manufacturer recommends.  This will not only keep your car on the straight and narrow, but keeping them properly inflated will also ensure that you aren't losing valuable gas mileage on the way to Grandma's.
2. Fluid Levels
You don't have to be a master mechanic to pull out your car's dipstick and check the oil level.  Before a long haul, it is worth the peace of mind to know your engine is protected from the wear and tear you are about to give it.  Same goes for the radiator fluid, which helps keep the water unfrozen this time of year.
3. Lights
In our part of the world, daylight hours are quickly being reduced to a minimum.  Most of our driving is taking place in the darkness.  Before heading off for a few hundred miles, tell Junior to get out of the car and check all of your lights and turn signals.
4. Emergency Supplies
You would always rather be safe than sorry!  That's why it is always a good idea to throw some blankets, gloves and a flashlight in the trunk.
All the best to you and yours!
-The Team at Fleetio
Image copyright martha_chapa95 via flickr