Full report published June 2015 by Software Advice: Read it here.
Winterizing vehicles is a common practice, but 10% of fleet managers never prepare vehicles for hot weather because they feel it is unnecessary or expensive. The ultimate challenge for fleet managers is to maximize the time their vehicles are at peak performance in the most cost-effective way possible despite weather conditions. Through a survey of fleet managers and drivers performed by Software Advice - a fleet maintenance software reviews company, common problems related to summer heat damage and systems used to manage these issues were explored.
Maintenance issues caused by hot weather
The top maintenance issues that respondents experience while operating in hot weather conditions include engine overheating (20 percent), AC underperformance or failure (19 percent) and cracking and wear on tires (15 percent).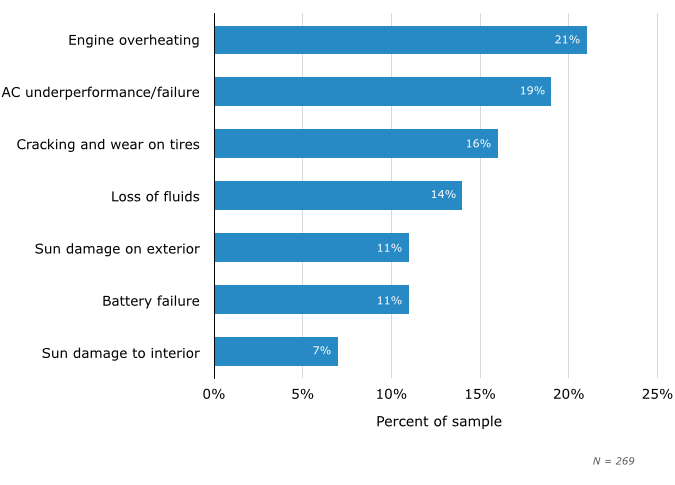 The above issues can mean costly maintenance bills and may even put your drivers' lives in danger. Luckily, fleet maintenance software can help managers prevent issues like these.
When using a fleet maintenance system, managers can create a specific set of summerization tasks, sometimes called service reminders, alerts or notifications, to be performed routinely. These can then be scheduled as a seasonal task that occurs once a year, and email reminders are sent to managers when tasks are due.
Within Fleetio, users can add sub-line items to this summerization plan, which can be updated by the mechanic (if they are given access to the system) or by a fleet manager using a mechanic's summary. The manager thus knows each task was completed and can capture prices per item and for labor.
This detailed level of information can also be analyzed with reporting functions, so managers can identify what repairs or parts are most costly across the entire fleet.
To learn more about the benefits of using a fleet-specific maintenance system (versus a generic system) and to get actionable details on using a fleet maintenance software to manage your summerization schedule, check out the full report from Software Advice!