Case Studies
Boyle Transportation
National trucking company Boyle Transportation delivers time-sensitive defense cargo and hazardous materials using Fleetio to be proactive in maintenance and prevent vehicle breakdowns.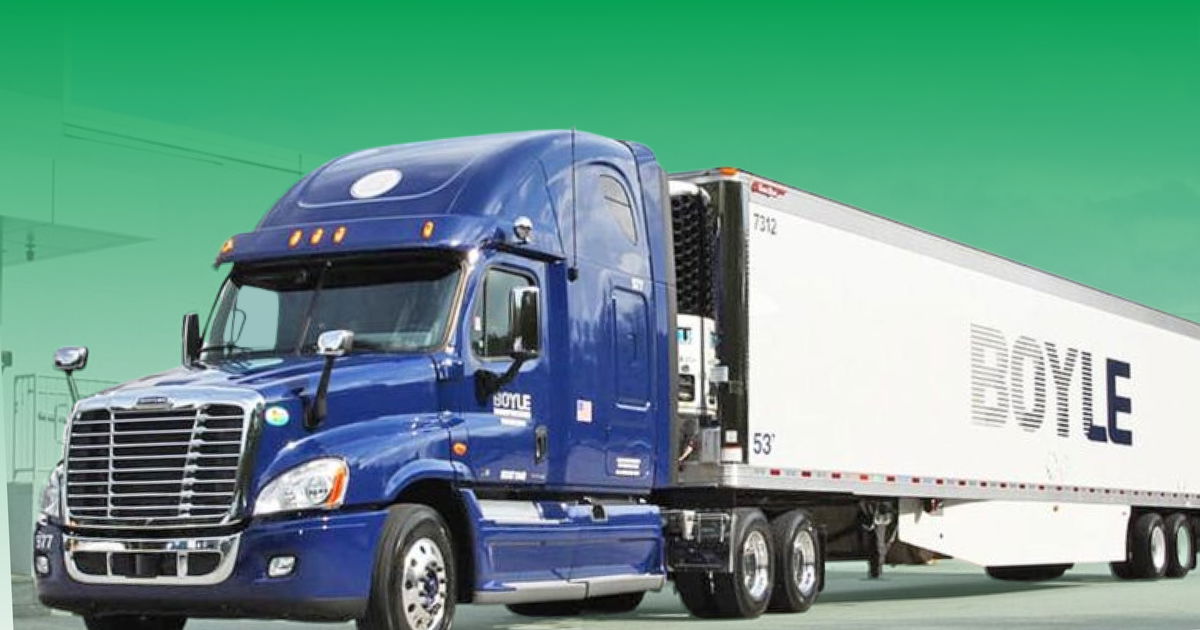 Company Objectives:
Boost maintenance efficiency
Minimize unscheduled vehicle downtime
Track preventive maintenance
Boyle Transportation is a national trucking company that transports security-sensitive materials for life sciences and defense clients. The fleet consists of a variety of vehicles including over-the-road tractors, rolling tarp system trailers, flat beds and reefer trucks.
The company's outstanding service reputation led to its involvement as one of the chosen fleets to help transport Pfizer's COVID-19 vaccines. Boyle Transportation uses Fleetio to stay on top of vehicle maintenance and successfully transport time-critical items cross-country every day.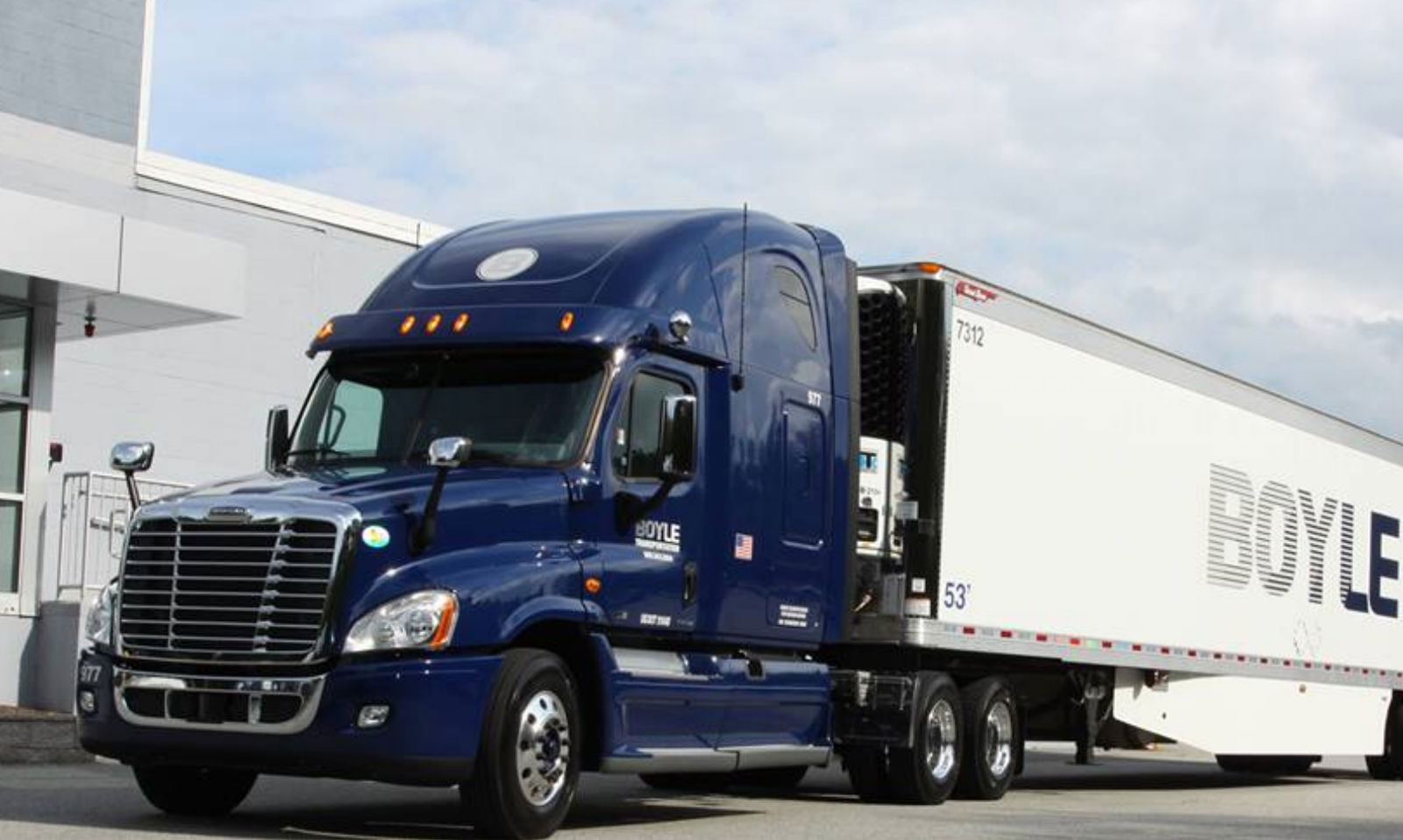 No room for error
Given the delicate nature of transported materials and the time-sensitivity of transportation, Boyle Transportation's top priority is preventing vehicle breakdowns.
For Boyle Transportation, vehicle downtime is a major expense. If a vehicle breaks down, the company risks missing scheduled deliveries and not maintaining transported materials' controlled temperatures.
Before Fleetio, Boyle Transportation's professional drivers would have to personally call management when there was a vehicle issue, which really slowed the maintenance process. Drivers could not access any vehicle information from the road. In addition, fleet information was often out-of-date, inaccurate and disorganized given their reliance on paper forms and inability to access information on the go.
"We're constantly trying to find ways to save time and money. Fleetio helps us achieve that with their constant updates. We've integrated many of our key driver and maintenance solutions that Fleetio offers into our business functions." Ernest Acevedo, Fleet Maintenance Supervisor
Streamlining maintenance
Boyle Transportation realized it needed a modern fleet maintenance solution that's hand-held accessible, cloud-based and customizable to its specific needs. Employees needed up-to-date vehicle information with the ability to access it from the road. Fleetio was a perfect fit.
Boyle Transportation uses Fleetio to proactively schedule and track vehicle maintenance tasks. Acevedo now has visbility into the entire maintenance workflow, receives real-time notifications and efficiently resolves unexpected issues.
"Fleetio makes up 40 percent of what I do. I plan my day based on the Fleetio dashboard." Ernest Acevedo, Fleet Maintenance Supervisor
Involving drivers
Since adopting Fleetio, the professional drivers have become more involved in the maintenance process. The Fleetio Go mobile app has equipped drivers to take more control of the vehicle inspection process and resolve vehicle issues in real-time.
Fleetio is also integral to drivers' daily routines and is incorporated in driver training programs to educate drivers on common vehicle issues and methods to address them efficiently. "Fleetio is in everything we do," says Ernest Acevedo, Fleet Maintenance Supervisor at Boyle Transportation.

Greater efficiency
Maintenance technicians save around 30 minutes per day after switching to the Fleetio smartphone app for maintenance. The hand-held accessibility streamlines fleet issue resolution and allows all employees touching the fleet to better communicate.
Boyle Transportation's fleet information is organized now that it's stored in a mobile, cloud-based system and constantly updated. Every DOT inspection form, for example, is digitally linked to a specific vehicle, leading to more efficient record keeping. This improved organization enables the fleet to save money by avoiding repeat paperwork and repairs.
The customizability of Fleetio also enables the fleet to stay up to speed on compliance and adjust their inspection forms accordingly. With improved communication, mobile accessibility through the Fleeito Go mobile app and more efficient operations, Boyle Transportation can stay ahead of potential maintenance issues and prevent vehicle breakdowns.
"Fleetio Go is our baby, it is everything here. They have done such a great job adapting our needs to their system that it feels more like one of our internal systems. This is why Fleetio is such a great partner!" Ernest Acevedo, Fleet Maintenance Supervisor
Centralizing data through integrations
Fleet technology and integrations are important to Boyle Transportation's operation. Prior to Fleetio, the company had to deal with several dashboards to review fleet metrics, which was extremely inefficient and cumbersome. Using telematics devices from Samsara provides real-time insight into vehicle details like odometer readings, diagnostic trouble code (DTC) alerts and location tracking.
"Companies like Fleetio and Samsara are integrating with all these companies and making things easier. I think that is something that's happening today and more and more companies are starting to follow," says Ernest Acevedo, Fleet Maintenance Supervisor at Boyle Transportation.
Through the Samsara integration, the vehicle data is automatically updated in Boyle Transportation's Fleetio Dashboard, providing a means to consolidate data sources into a single repository. With Fleetio's vast network of integrated partners, Acevedo can easily analyze his critical fleet data in a centralized dashboard and make data-driven decisions to optimize maintenance programs and minimize fleet downtime.
"Fleetio and Samsara are always fixing things, always making things better. To do more integration, fleets need to find partners like Fleetio and like Samsara. These partners actually care about these integrations and actually invest in them, to make things easier." Ernest Acevedo, Fleet Maintenance Supervisor