Case Studies
Center Point Fire District
A local fire department adopts a mobile fleet management solution to improve inspections and communication, better anticipate regular maintenance, and make stronger, data-informed decisions.
Company Objectives:
Increase communication and inspection compliance with a mobile, user-friendly platform
Reduce downtime with streamlined maintenance and inventory processes
Get stakeholders on the same page with asset records and reporting
Transitioning from a "paper trail nightmare," a local fire department adopts a mobile fleet management solution to improve inspections and communication, better anticipate regular maintenance, and make stronger, data-informed decisions.
The Center Point Fire District provides emergency services in Center Point, Alabama, responding to thousands of fire incidents each year. As an ISO Class 1-rated organization, CPFD is in the top 1% of fire suppression organizations in the US and holds itself to a high standard of excellence in everything it does, including its fleet management processes.
Prioritizing Better Communication and Accountability in Inspections
"Things do happen fast around here… Our team needs to be ready, our trucks need to be ready where we can serve the community." Chris Horn, CPFD Captain
With four stations, a hundred employees and 37 assets in their fleet, staying prepared for emergencies is of the utmost importance for the CPFD. For Capt. Chris Horn, the first step to getting more prepared was doing away with an outdated paper system that was slowing down response on fleet issues.
With Fleetio, employees are able to access important fleet information from tablets in the truck and from their smartphones. That accessibility makes it easier for everyone to stay in communication about any problems that may arise with a vehicle, and its user-friendly interface allows for better adoption of the technology across the organization.
"The biggest hurdle you could say with anything is getting everyone onboard. [Fleetio] is a technology that people were really able to adapt to quickly." Rusty Piersol, Fleet Maintenance Technician
In addition to better communication and accessibility, Horn was able to better incentivize accountability on inspections. With Fleetio, Horn and fleet technician Rusty Piersol can keep an eye on drivers as they inspect vehicles, ensuring that they are moving around each vehicle for a thorough inspection and not simply checking boxes.
Horn and Piersol are also immediately notified through Fleetio of any failed inspection criteria, allowing them to start on in-house maintenance as quickly as possible or to connect faster with a third-party provider for any outsourced maintenance. This means accountability from the top down as well, letting drivers know that any issues they report will be dealt with swiftly.
Optimizing Maintenance and Inventory Processes for Faster Response
As a first responder organization, keeping its vehicles up and running can be a literal life-or-death situation for the CPFD, so finding a fleet management solution that allowed them to decrease the amount of time its trucks spent in the shop was vital. Fleetio enables CPFD's in-house technician to have an instantaneous stream of information about each vehicle, which means faster responses when a truck fails an inspection or encounters an issue on the road.
Getting a truck serviced faster means needing parts on hand for repairs when needed. Fleetio's ability to track mileage, hours and preventive maintenance schedules on each asset gives Piersol a heads up to be better prepared for certain regular maintenance requests, like brake or tire replacements, as well as track those parts in the platform.
"[Fleetio] really does take a lot of the stress out of trying to schedule maintenance, because it keeps up with everything for you, which also helps to reduce the downtime on these vehicles." Rusty Piersol, Fleet Maintenance Technician
Tracking Metrics to Make Stronger Decisions
As a municipal organization, Horn and Piersol report to both the CPFD fire chief and a fire board, who make decisions not just about the department as a whole, but also the fleet and its assets. When it comes time to replace a vehicle, it takes a little justification to get everyone on the same page.
Fleetio leverages maintenance data on each of the CPFD's vehicles to gauge its total cost of ownership (TCO), showing what each vehicle is worth versus how much it costs to maintain that. That level of insight and reporting makes it a lot easier to make the decision to get rid of vehicles that have outlived their cost efficiency.
When it does come time to bid adieu to a vehicle, having a complete record of service also makes it easier to sell it off.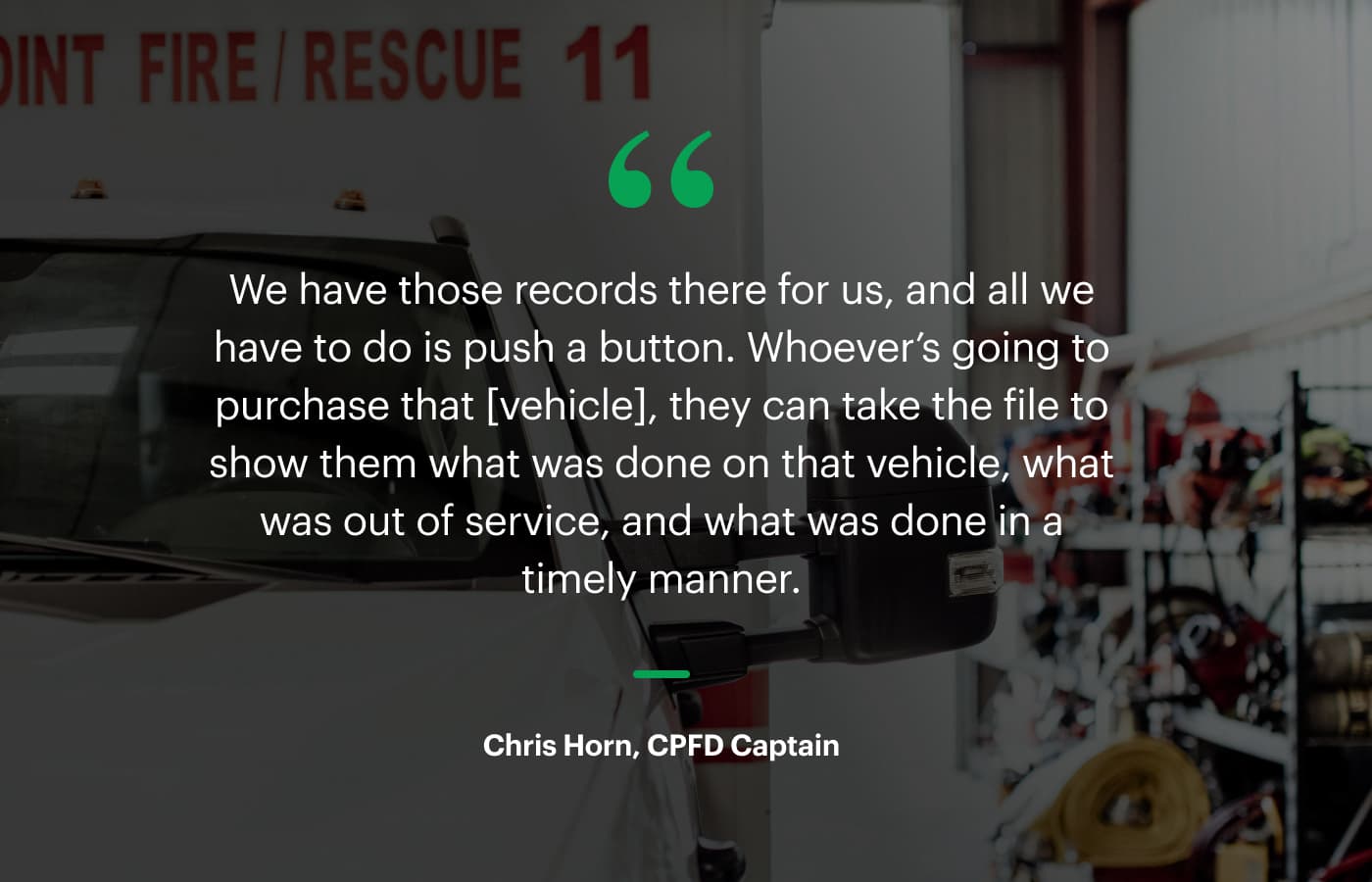 Ready to get started?
Join thousands of satisfied customers using Fleetio
Questions? Call us at 1-800-975-5304