Case Studies
ProQual Landscaping
Landscape management company ProQual Landscaping keeps it neat and takes a proactive approach to its fleet's operation using Fleetio.
Company Objectives:
Streamline every aspect of fleet operations
Connect multiple systems and stakeholders across a single platform
Implement proactive maintenance processes
For over 15 years, ProQual Landscaping has provided expert landscaping services across the Arizona Valley. An operation that began with 10 trucks rapidly grew to over 85 various assets.
As the expansion process accelerated, the company realized it needed a robust fleet management solution to keep pace.
Supporting the Roots
With over $1 million in asset value, ProQual Landscaping's fleet is its largest asset. From trucks to vans, tractors and every piece of equipment in between, the company was outgrowing the use of complex spreadsheets and needed to create a more proactive process.
The company decided it was best to bring its maintenance in-house. However, it lacked a software solution to properly manage everything. That's when it decided to try Fleetio.
While the array of features and ease-of-use were huge selling points, Fleetio's support staff has stood out along the way.
"We looked at several options and Fleetio was by far the best. From the implementation process, the support staff and the onboarding of everything. We wouldn't be where we are today without Fleetio's management system." Scott Needham, ProQual Landscaping President
ProQual Landscaping had no time to waste. Once it committed to implementing Fleetio, it was ready to load its fleet data history and hit the ground (or grass) running.
"Fleetio takes no brainpower to know where to go or what to do, it's simple. The bulk upload feature allowed us to take all of our electronic documents, send them to Fleetio and we were up and running within hours." Jeremy Bader, ProQual Landscaping Implementation Manager
Inspecting the Unexpected
Fleetio's electronic daily vehicle inspection reports (eDVIR) and Fleetio Go app are some of ProQual Landscaping's favorite features. Prior to implementing Fleetio, the company was spending too much time on repairs and experiencing high vehicle downtime.
To combat this, ProQual Landscaping took advantage of Fleetio's custom digital inspection forms. This empowered the company to set up unique maintenance schedules for each type of asset, while streamlining the maintenance process.
"The inspections connect drivers to mechanics and bridge that gap of communication that we didn't have before," Bader said.
Maintaining a Fresh Fleet
It's extremely important for ProQual Landscaping to keep its fleet in optimal condition. The company's assets are the lifeblood of the company, and it can't afford to have malfunctions or downtime on the job.
The company not only focuses on the functionality of its assets but also on their aesthetics. Since they operate within the community, the assets are extremely visible, and the company makes sure its fleet and equipment is always displayed at the highest standard.
Using the Fleetio Go app, operators can take photos of an asset issue and upload them immediately for review.
This has been extremely helpful in assisting the maintenance department in order to determine if body work is required or if a vehicle's vinyl wrap has been damaged.
"I love the transparency of Fleetio. It empowers my team to proactively track and schedule services like we never had the opportunity to do before." Scott Needham, ProQual Landscaping President
Fleetio brings the whole ProQual Landscaping team together by providing visibility across stakeholders. There's no uncertainty or unnecessary downtime anymore.
Additionally, it allows the company to utilize manufacturer's recommendations and pair them with inspection data to create a best fit proactive maintenance schedule.
"Fleetio allowed us to create proactive maintenance plans that saved us over 33 percent in the first half of this year versus the first half of last year." Jeremy Bader, ProQual Landscaping Implementation Manager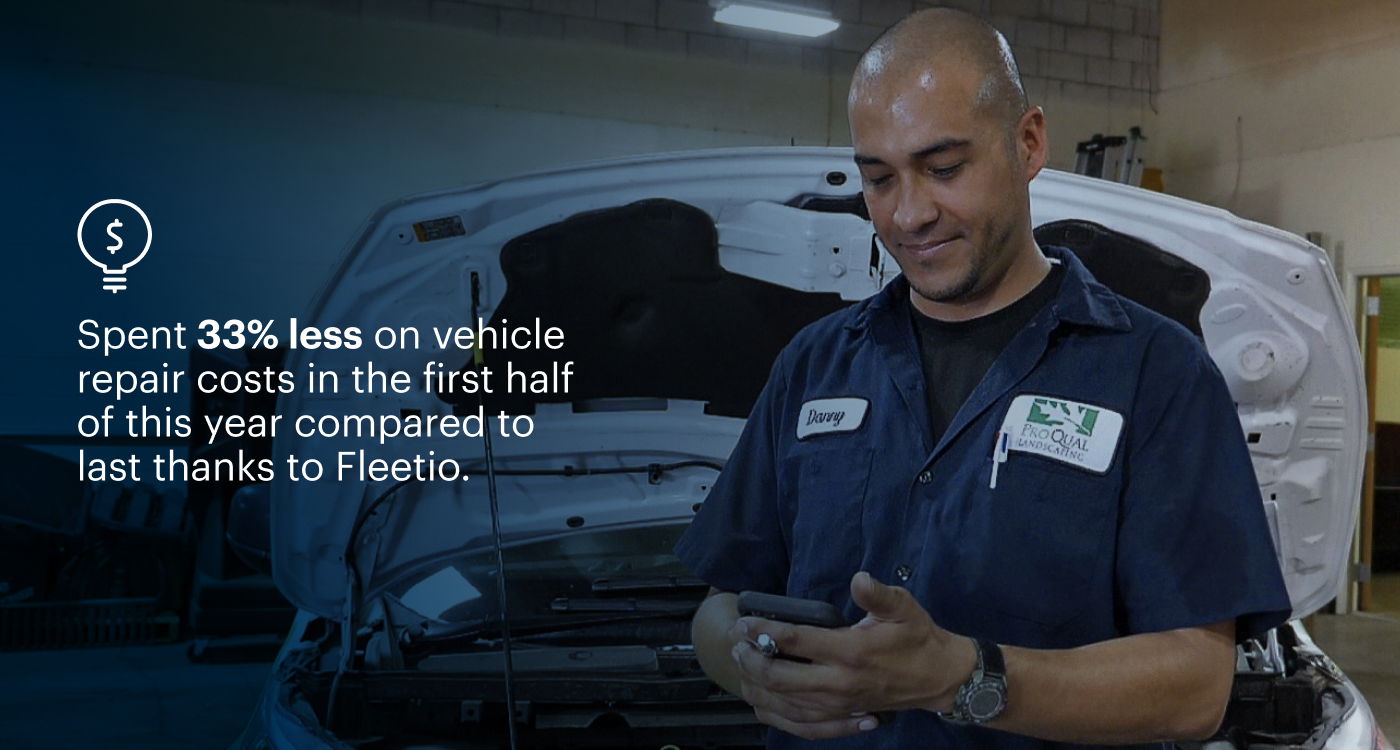 In the past, some of ProQual Landscaping's take home vehicles would return with a variety of service lights on. With Fleetio, the company can address the issue quickly and have the vehicle back up in hours instead of potentially putting it out for weeks.
"It takes the guessing game out of maintenance. Everyone knows when a vehicle will be out for service and everyone knows when it's supposed to be back," Bader said.
Integrating into the Ecosystem
There are countless aspects comprising fleet management and no tool is a one-size-fits-all solution. That's why Fleetio has developed numerous integrations with some of the most reputable solutions in the industry.
This brings other fleet management tools into one, centralized database, making it easier to keep track of everything fleet-related.
ProQual Landscaping can sync its telematics solution, Samsara as well as its fleet fuel cards through WEX, into Fleetio's centralized software.
"We've been able to integrate our GPS and fuel card management systems, and it all ties together and works extremely well," Needham said.
When ProQual Landscaping sought assistance to better control its fleet operations, it knew who to turn to.
"We needed Fleetio to manage this proactively." Scott Needham, ProQual Landscaping President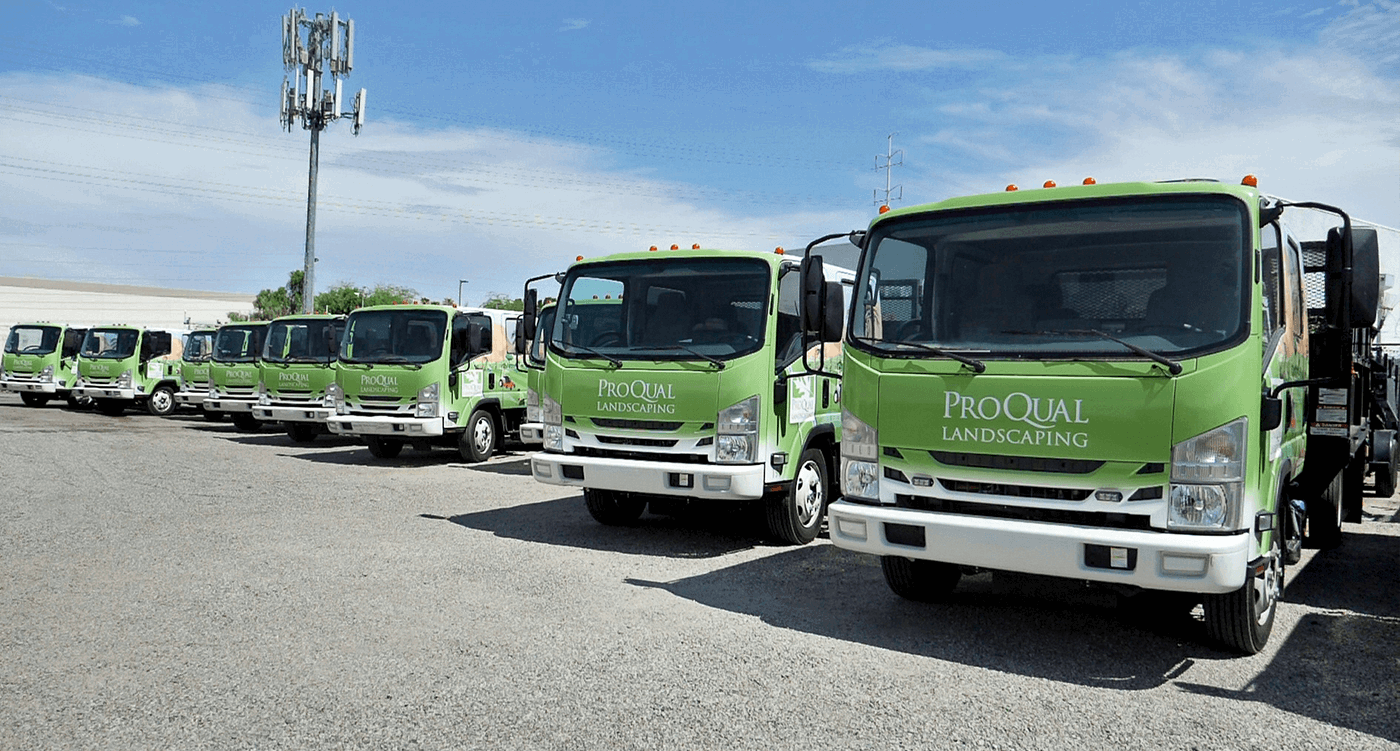 Ready to get started?
Join thousands of satisfied customers using Fleetio
Questions? Call us at 1-800-975-5304