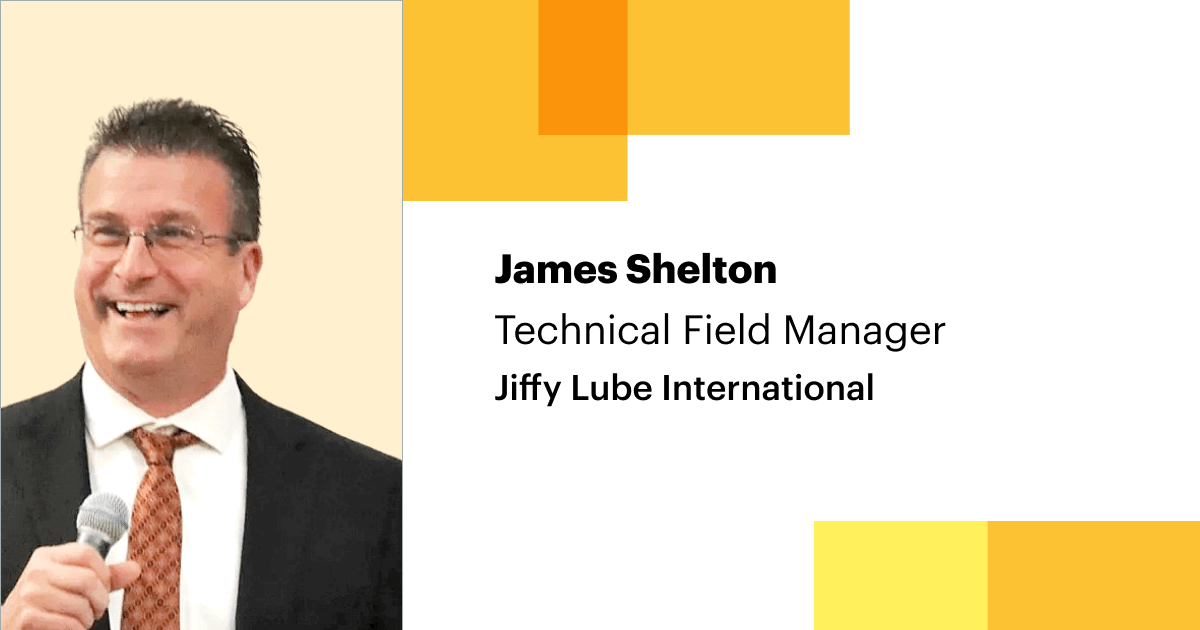 Preparing for Seasonal Changes
Apr 25, 2022
From harsh winters to swarms of insects, each season brings a new challenge for fleet managers trying to ensure continued safety and productivity within their fleet. In this episode, we learn about some of the unique hurdles fleet managers face and some steps you can take to prepare your fleet, no matter the circumstances.
Subscribe On:
Transcript
ZACH
Welcome to the Fleet Code, a podcast brought to you by Fleetio where we dive into the latest fleet trends, technologies, and best practices. I'm Zach Searcy, and today, we're heating things up with another cool leader in the fleet industry – okay, I tried with the puns, we're done with that.
James Shelton with Jiffy Lube International is here to talk about seasonality – how vehicle maintenance changes over the course of each season and what you can do to keep your assets in check through the extremes of regional weather.
James is a mechanic turned instructional designer, and is an ASC master certified technician. In other words, he's kind of a big deal. More than that though, he's a Michigander, which means he sees the sweltering highs and shiver-inducing lows of what North American climates have to offer. We were lucky enough to pick his brain about things like winterization, proper fluid mixtures, humidity, and so much more. So let's get into our conversation on seasonality.
I was going to tell you that I'm extremely excited to talk about this because specifically this weekend I tried to start my truck up and my battery was completely shot. And I was like, you know what? We've had a little bit of a cold spell down here. And I have learned that apparently cold weather's not good on batteries. And I was like that's a great time for me to learn about winterization and seasonality.
First off, I'd love to just learn about you.
JAMES
Sure. My name is James Shelton. I'm the technical field support manager for Jiffy lube international. I've been with Jiffy Lube since 2013, coming up on nine years here.
ZACH
So tell me specifically, I know your title is the technical field support manager at Jiffy Lube. What does that entail? What do you do over there?
JAMES
That's really like a hundred dollar title. Yeah. Most people, when they see that title, they think I work for IT, but I'm really a utility man, so to speak. I wear multiple different hats every single day, but basically any group or team within Shell that needs to consult with somebody technical, I'm the guy.
ZACH
Yeah. And how long ago did you transition out of being a mechanic and into kind of more of your consultation, support-style kind of role?
JAMES
I was a mechanic still in the nineties and really, quite honestly, I still am today. I'm still a car guy. I still play around with cars, work on friends and relatives, cars all the time.
It was in the nineties that I moved into becoming an instructor for Ford and Chrysler and, you know, from when you're teaching courses that other people developed you start noticing that there's some problems or things that you don't like the way that those courses are developed. So I said, how can I get into writing courses that are more effective? And my boss at the time pushed me into, 'Hey, you need to go back to school.' So that's why I went back to school for automotive technology and education.
ZACH
Well, I love that. Yeah, I'd love to kind of get into what we wanted to talk about today, which is maintenance in terms of seasonality and your experience and your recommendations around that.
So obviously, a lot of fleets have their standard inspections and their preventive maintenance schedules. The majority of the time, what we're seeing is that these routine tasks don't take into account things like extreme temperatures that could be affecting their fleet. What are some ways that extreme temperatures — let's start with extreme cold — what are some ways that affects a vehicle?
JAMES
So I'm pretty familiar with that here, living in the north. I mean, coming from an oil company, we're probably very aware that as things get colder, they get thicker. You've heard the saying thick as molasses in January. Think of your motor oil as the same way. I mean, even when you're using synthetic oils, such as Pennzoil, it's still going to get thicker when it's colder and when it's thicker. Those first couple of seconds that you start an engine is when 90% of the wear occurs in an engine. So, you know, definitely the temperature is going to affect the oil flow.
The cold weather also affects battery operation. If you remember back to high school chemistry, I mean, chemical reactions occur, they change based on the temperature and the battery is a big chemical reaction that produces current. So as the temperature goes down, the ability for those electrons to move around real quick, doesn't happen. Yeah, or it doesn't happen as well. So your battery becomes weaker.
You know, another thing is the wintertime, we have a lot of issues with ice buildup. So because of that, if you have ice buildup, you know, that's going to take a lot of toll on windshield wipers. Another example, your tire pressures as the temperature goes down, the pressure in your tire actually drops. And there's many manufacturers out there where that window of operation is quite small. And you start getting key PMs like tire pressure monitoring system, light warning indicator on your dashboard that will go off or will, will go on, I should say, just because the temperature has dropped.
Here usually like the first cold day in the fall, I'm not sure if you got Discount Tire down there, but any tire dealer, think about it, any tire dealer that first day that it gets cold or the temperature drops and everybody's TPMS lights are illuminated, that's the first place they go. It seems like they have their free air topped off. And then last but not least on my list here now there's many other things…
ZACH
Right.
JAMES
…but these are just top items here. Your radiator fluid freeze protection. You know, your radiator fluids, it's been in there all year and you start getting into cold temperatures. And I mean, people, you know, it's kind of, like forget about it. and you get into this cold weather and, you know, especially down south, I mean, you could probably get away with running water most of the year because you wouldn't have to worry about freeze protection. You know that would be recommended, but, radiator fluid also is another thing that, you know, you need to make sure that you check your freeze protection and also the corrosion protection on that.
ZACH
Yeah. So that kind of, you touched on a question that I had, so obviously, Michigan cold is quite different from Alabama cold. At what temperature do you need to start worrying about these things? Like at what temperature does it start to affect the oil thickness and the tire pressure and stuff like that?
JAMES
There really isn't any industry accepted point. I mean, that number 32 degrees Fahrenheit, is probably when you really need to start thinking about that. You know, we had a day here the other day. It was three, three below zero when I got out of bed. Okay. and you know, if you've got a temperature, you know, if you're doing. Maybe Northern Alabama where you're at, maybe it does hit freezing, but if it's only for an hour or so, and maybe your car's in the garage, it's probably not that much of a concern. But if you've got any extended time below freezing, you know, obviously some time to prepare for that properly.
ZACH
Okay. That's fair. And yeah, I think I like the idea of using that 32 mark, because as you said, obviously not recommended, but if you're using a water-type mixture in your radiator, then water is going to start freezing at 32. So that's a good point to kind of start.
JAMES
Right. The recommended mixture is 50/50. So, usually when you go to repair facilities such as Jiffy Lube, or even if you go to an auto parts store and you buy anti-freeze, you're going to notice that there's two different offerings there. You'll see straight radiator fluid, or you'll see a 50/50 mix and a 50/50 mix is really just for convenience. People don't want to have to mix, you know, measure and mix it. And also when you do mix it, you want to make sure you use distilled water, not tap water or well water.
ZACH
Cool. Yeah, that makes sense. So we've talked about cold and kind of some of the ways that that can affect your vehicle, does the same thing happen with extreme heat? I know it gets kinda hot down here in Alabama. Are there some things that you should be cognizant of with your vehicle when the temperature starts to rise?
JAMES
Oh, for sure. you know, and that is wher, you wanna make sure that you're using a quality, any fluid you're talking about here, is that you're using a quality name-brand fluid, especially like radiator fluid, engine oil. Those are going to be formulated to be able to handle that, that high temperature operation, especially. Death Valley type operation, or even I'm sure it gets well over a hundred there in Southern Alabama. You know, you're going to want to make sure you use a name brand fluid and make sure you use a name brand radiator fluid too. Really what you're looking for on engine oil, if you look at the side of the container, there's going to be, I think it's called, the energy star. And on that little sticker or on the label, you'll see that it says it meets, you know, USDOT standards. And so making sure that the label is affixed to whatever fluid or whatever oil you're putting in your engine, that's a good place to start at.
ZACH
A little note here about Energy Star labels – if you feel like you've heard of them outside of fleet, it's because you have! Anything labeled with an Energy Star label means that product has been vetted by the Environmental Protection Agency as a product that contributes to significant energy savings, and you can find it on anything from high-quality oils for fleet vehicles to your own home's appliances. So yeah, you definitely want to look for the brands with that little blue logo on it.
JAMES
And we're always going to use the manufacturer's recommendation because a lot of people think, 'oh, hotter weather, I need to put thicker oil, or colder weather. I need to put thinner oil.' There are some manufacturers that will actually recommend a different viscosity or thickness of oil based on the time of the year that the vehicle is being operated at. But most manufacturers will stay with a single, typically like a multi-grade, type oil that they'll use year round, and we're going to use the owner's manual as our, as our guide for that. You know, the old school ways of thinking about putting thicker oil in because it's hotter out is no longer the truth. Very important with radiator fluid, because it seems like almost every manufacturer has their own specific radiator fluid. And some real nasty things can happen to your cooling system. If you mix two fluids together, I've seen where it will almost turn into a consistency of oatmeal. And you can imagine that doesn't flow real well through a cooling system and you can literally burn your engine up.
ZACH
I mean, that's extremely helpful to know. So one of the things that I wanted to talk to you about as well is just like for geographic regions and kind of the weather that they experienced. In Alabama three weeks ago, Sunday morning, it was 80 degrees. And by Monday morning, it was 25 and snowy. And so what about extreme fluctuations like that? What kind of effect does that have on the vehicle?
JAMES
Well, you know, you're talking about happening in Alabama. We have the same thing here, where we get into these transitional parts of seasons. In the fall, you can literally get sunburn and frostbite in the same day. We can have a 70 degree day and have it snow that night. So it's, I'm very, I'm very familiar with that type of situation. And again, you need to, that's where vehicle maintenance is really gonna play an important part because you need components and you need fluids that are engineered and formulated to be able to handle those huge temperature swings. And obviously if you're not, you're either going to have a radiator that freezes up or a vehicle or a radiator that overheats, if you're, if you don't have the proper fluid, the correct mixture.
ZACH
Yeah. And I guess that goes back to what you were saying, where if you've got name brand, you've got approved things and you're making sure that they're at the right levels and that they're being replenished frequently or replaced frequently, then that'll handle any temperature change that you might experience either extreme highs or lows.
JAMES
Yes. And again, going back to the vehicle's owner's manual, that should always be your guide. You see a lot of advertisements for try this new fluid or try this new cleaner or do this and you're going to get 10% increase fuel economy. You know, with the money that OEMs put into research and engineering, do you not believe that if you could get 10% more fuel economy, that the manufacturer would be using that?
ZACH
Yeah.
JAMES
So, you know, if you stick by the owner's manual and its recommendations, you're going to alleviate the vast majority of your maintenance related failures.
ZACH
Yeah. And I guess from a fleet manager perspective, that's where there's value in procuring a lot of similar vehicles, because if you've got a fleet of, first thing that comes to mind is F-150 for some reason, but if you've got a fleet of those, then you're not having to worry about getting different fluids and oils and things like that for the different ones, you can kind of just get one that fits your whole fleet. And it's easier to stay up to date on those PM tasks.
JAMES
True. And well, that's true if you are doing your own maintenance in-house which a lot of fleets do. If you're working with, if you're working with aftermarket providers, such as Jiffy Lube, you know, all that mystery is taken out. You pull a vehicle in they've got all the OEM information right there at their fingertips, and they've got the fluid and the filters and stuff for. Yep.
ZACH
Yeah, that's true. I just stopped at a Jiffy Lube yesterday to get my oil changed. And it was as simple as pulling my VIN and they were like, we know everything, no further questions. And I was like, well, that makes it easy because I couldn't answer any questions that you had.
So talking about geographic regions, we often talk about how humid it is down here in the Southeast. Does the dryness or humid air have a specific effect on hoses or belts or the wear of those.
JAMES
Not only does the humidity affect belts and hoses — I mean, rubber itself is not a chemically stable component. And by that, what I mean is when it's exposed to humidity and ultraviolet rays, which you don't get a whole lot of underneath the hood, but you have tires and stuff like that. The UV and humidity will take its toll on that and will age them quicker. And also, you know, you think about humidity when you think about like a cubic foot of air, humidity is just moisture. When that moisture is present, it displaces oxygen in that cubic foot of air and oxygen is what your engine needs to perform the way it's designed. So if there's less oxygen in that air, your engine actually has to work harder to produce the same level of performance.
ZACH
Yeah. Huh, so are there, would you say that belts and hoses are kind of the things that are most affected by geographic region or is oil also something — what preventive maintenance tasks can you perform most frequently or observe most frequently when you're in an area that's especially humid?
JAMES
I would agree with you – the oil. And the reason I say that is, especially if you've got a vehicle that's doing a lot of stop and go, which I would imagine is probably true with your fleets. Because of the humidity, you're going to get a lot more condensation in the crank case, the inside of the engine and your short trips, what that's going to result in is you're going to get a buildup of moisture in the crank case with the oil and that forms sludge in the engine. Whereas if you were, you know, if you're going to get in the car and drive for a couple hours, you will tend to burn off that moisture in the engine. But if you're in a high humidity situation, you do a lot of stop and go traffic or stop and go deliveries, the engine is not going to get up to a certain temperature for a long enough period to, we use the word burn off, but it's to eliminate that moisture in the crankcase, which is going to increase acids that are in the crank case, which then increases wear on the engine.
ZACH
Okay. Yeah, that makes sense to me.
What are some specific ways that fleets can prepare their vehicles for the winter? So I know we've kind of talked about like changing their oil and how it used to be recommended that you would change your oil to a thinner viscosity, or things like that. What are some ways that are relevant right now to fleets that they can do to, to prepare their fleet for winter?
JAMES
Well, you know, hate to beat a dead horse here, but again, going back to the owner's manual, you know, use that. Most owner's manuals are going to give you two schedules for maintenance. One is what they call normal, and the other one is what they call hard or critical or whatever terminology the OEM happens to use. Only about and I'm just going to throw a number out there — I will just say a very small percentage of your cars are going to fall under that normal, driving conditions. Cause if you look at the criteria they use for severe, it fits right into what most fleet vehicles are going to fall under: Stop and go traffic, hot operation, cold operations, short trips, you know, the list goes on and on it, I mean, it's delivery vehicles and fleet vehicles almost to the T.
So you always want to use the severe maintenance schedule when maintaining your vehicle. Remember that maintenance is a proactive action. It should not be reactive. You know, you think about it, where if you're running a fleet and you've got deliveries that need to be made and that truck or that car, or that pickup truck, whatever is broken down because of a maintenance related item? I mean, that's a percentage of work that the truck can't do until it's repaired. So it's my recommendation to be more on the proactive side. Spend the money up front because in the long run it's going, it's going to pay for itself.
ZACH
Yeah. You are preaching exactly what we want to be hearing.
And, because that's what we try to tell people. PM costs can seem, high, and it's one of those that it's like, 'oh, but the vehicle is running fine right now.' But the cost of not adhering to those PM schedules — the cost of that can be much, much higher. And to the point that you just made, unplanned downtime on a vehicle can be much more detrimental than something that you can see in your calendar, that you can plan for, that you can plan your drivers and your additional vehicles around. Because with that, then the job doesn't have to stop. You just have to make some adjustments, but with this, suddenly that job stops until you can figure out what your backup plan is.
JAMES
Exactly.
If you're not performing the service in house, I would recommend that you partner with a service provider that has a stake in keeping your investment partners, and is willing to work with you, cause fleets operate on some weird schedule sometimes, and sometimes the vehicle can't be made available. So a lot of your service providers will require appointments. And you know, a lot of times you can't schedule when that time, when that serpentine belt is going to break or when a tire blows out, you can't schedule that. So you need to have a place that is willing to allow you to just show up at their doorstep and say, 'Hey, we need to replace the serpentine belt today.' And they'll take care of you then.
ZACH
I think that's a great point and something that I'd like to go a little bit deeper on. Really around the value of establishing those partnerships, establishing connections and working with the same people over time, I'm going to use a really, like a layman analogy. But when I started going to the same barber, every single time, the quality of my haircuts got a lot better because he knew what I had done in the past. He knew the history of what we were working with. And again, I said it was a really simple analogy, but I feel like it's probably similar to maintenance shops. They know the history of the vehicle, they know your preferences on your vehicles.
JAMES
Exactly. I mean, you know, for like Jiffy Lube, for example, when you pull in and you give them your VIN, they know who you are. They know all the maintenance not only has been done at that facility, but at any Jiffy Lube in the system. So if you're somebody that moves around and, you know, if you're, an over the road hauler or something, and you need maintenance in a town 500 miles away from where you live in. You could go into a Jiffy Lube, I'll look up your VIN, I'll say, 'oh, it looks like you just had your oil changed, you know, two weeks ago. We don't need to do an oil change again,' unless the mileage has, you know, indicates that, but they'll have all your service records right there, and also be able to go, 'Hey, you got a serpentine belt replaced a couple of months ago and it looks like the belt has gone bad again. We can take care of you because we know that you had a service at one of our stores in a different town.'
ZACH
Awesome. Well, I feel like I took us on a little bit of a tangent, but I love a good tangent. That's what I'm known for. And so I guess kind of going back to our original topics, I know we were talking about things that you can do to specifically prepare for winter. And, I assume that the list for things to prepare your vehicles for summer is probably pretty similar.Is there anything else that you'd recommend for a fleet as they go from colder seasons into warmer seasons?
JAMES
Not specifically. I mean, you know, again, owner's manual was always, has always been our guide. One thing I did want to touch back on…
ZACH
Yeah.
JAMES
.. with winter is, one thing that I see a lot of that a lot of our stores had noticed that washer solvent is always really low. When you think about this in the winter time, you think about washer solvents, you know, bugs and dirt stuff on your windshield and keep them clean. Really don't think about using washer solvent in the winter because you're just clearing off snow or maybe some ice and rain. In this part of the country. When you get a day where the temperature goes above 32, you get a lot of road spray. So when you drive it down the road, there's a car in front of you. You get road spray from the car in front of you. Now that liquid that's on the road here we use by actually here in Trevor City, we use sand on the road, but downstate, they use salt. So when you had the salt mixed with the water on the road, it sprays up on your windshield. It actually will coat your windshield. It'll make your window opaque. You can't see through it. So you end up using a lot of washer solvent, like I've gone through a gallon of washer solvent in a day. so keeping that washer solvent full, even though today might look like a nice day. Tomorrow might not be, and you're not in, you know, you're not in the garage at that point. So keeping that washer solvent full this time a year is very important. do you guys have like, a bug season down there? You're in the spring when, mayflies, I dunno if you're familiar with what mayflies are. We call them fish flies here, but, they get so thick on the road. They actually cause accidents. The road is like slick, like ice and your windshield gets covered with them too. That's another time. So that's, that's one of those things,when you live in an area? That's one of those things that once you know about it, you have to prepare for that. So I would imagine there's stuff somewhere to that, all around the country. So, so asking a service provider about that type of stuff, you know, maybe you're new to an area or maybe you're visiting on a delivery or whatever. you know, those are kind of some like T like you sat at tables, like tangent type questions that you wouldn't normally ask somebody but are good questions to ask.
ZACH
That's interesting. Yeah, I hadn't considered that, where it's like, I mean, specifically with what do I use my windshield wipers for it? If you were to say, Zach, what do you use them for? I would just say rain. but just the other day, my windshield was iced over and I obviously didn't know what to do. So I was like, I'm going to spray water on it. And that didn't help. but little things like that that you have to learn, based on where you're located and leveraging resources like your local maintenance provider or community, like that is a great way to start.
So obviously we have some fleet managers who have nationwide fleets and the PM schedule or the things needed for their fleet up in Michigan is going to look different for their fleet down in Alabama. How do they stay in tune to the regional things? and maybe that's the answer that we just had, but how do they stay in tune to the regional needs? Is it a lot of just talking to their team?
JAMES
A lot of it's just going to come from experience, I would think. I mean, Yeah, you're going to use the OEM recommendations, but there, like I said, there are, there are some tweaks you can take to that. you know, one of the things I was going to talk about is, you know, having, having a, a preparedness kit in your trunk, and I always care, always carry, you know, typically the, my washer fluid bottle won't hold a full gallon or there's some in there already. So I can't put a full gallon. I always take what's left and put up my trunk rather than put it on the bench in my garage, because I know that I'm going to need it again here real soon. You know, having a lot of those fluids that you can add yourself, having a small bottle of that or a half bottle of that in your trunk is a good idea. Probably not a bad idea in, you know, like if you've got a cargo van or something like that, or box van, you've got a space behind the back seat that you can, you can maybe put a couple bottles of whatever fluids. consumable fluids. I mean, you wouldn't necessarily need to be carrying oil with you because if you're using oil, then you've got other issues, but, you know, consumable stuff, washer fluid, you know, diesel vehicles, you've got the diesel exhaust fluid you might carry with you. Cause some of the, some of the newer diesel vehicles, if you run out of, DEF the vehicle goes into a limping mode. The vehicle can still be driven, but at a much lower speed and much less performance.
ZACH
That's an interesting thing that I hadn't considered as well. I like that you're talking about having, fluids on standby within the vehicle as well. In my mind, it's like you keep the fluids in the shops so that you can top it off in the morning if you notice it, but you don't want to be stranded on the side of the road during mayfly season and suddenly you're out of washer fluid. and so that's a good point. And yeah, I feel like typically when I think of like emergency packages within a vehicle, it's like a tool set or a safety kit or things like that, but it can go much further than that.
JAMES
Oh, yeah. Yeah. I mean, a safety kit here in Michigan is pretty considerable. you know, stuff like road flares, first aid kits, flashlights, an ice scraper. I would, I would imagine if I went to a Walmart or whatever, down, down in Alabama, I probably couldn't find an ice scraper around the shelf. But if you got, if you had conditions where he had ice down there, what would you use?
ZACH
Um, a credit card.
JAMES
You can use a credit card. You mentioned putting water on there? I would highly recommend not doing that. But a lot of people will take like a tea kettle and heat it up a port on their windshield. And then when you shatter the windshield, some of these new vehicles, that windshield quite expensive, you know, some of the things to think about food, water, Blankets jumper cables, here in the snow and sand or so in ice, kitty litter or a bag of sand for traction, basic toolkits, duct tape. one thing a lot of people don't think about is a cell phone battery pack. And when your battery gets low, most people think, oh, I just plug it into my car and it will be charged. Well, what if the problem, the reason you're on the side of the road is because the battery went dead? Now your phone went dead. Solar charger is another one for phones that they have available out there, a spare belt, spare hoses for your vehicle. And here's another one. you know, thinking about, you're talking about that incident in Virginia, North Carolina, it was a couple of weeks ago and those folks were stranded in their car, medication, people, couple, you know, keep a couple of doses of medication in your car as asthma breathers, whatever. If you got to get out of your car or walk 10 miles and you've got asthma. And you know, and your asthma little pumper thing is war is empty, you're not going to make it. So, you know, any type of medication, keep a couple of days and make sure that you make sure you keep that medication fresh. Don't let it sit in there for years because obviously it's not a little longer going to be of any use.
ZACH
Right, yeah. And similarly, make sure that if you've got a cell phone battery charger or like a jump box, cold weather can obviously affect those batteries as well. And they're going to degrade over time. So make sure that they're topped off regularly and, yeah. That's, that's all good notes.
Do you have any other tips or just general advice that you'd like to talk to people about like, preventive maintenance or maintaining their fleet for the winter or for seasons? Just anything that you'd like to add in.
JAMES
Okay. again, just I'm going to, I'm going to continue to beat this dead horse, review the owner's manual, familiarize yourself with the vehicles maintenance record.
Uh, the other thing I know this is kind of difficult for our fleets is getting in tune with the vehicle, but many times, you know, you'll have different drivers that drive the same vehicle. So they don't really get to know the vehicle, but, as a fleet manager, talk to your drivers. If they're seeing lights coming on, smelling things. If they're hearing things, if they're feeling things, that's going to be your best source of information. Don't wait until don't wait till the fleet man, or until the driver calls, Hey I'm on the side of the road. I'm in the middle of nowhere. the wheel came off, you know, I've got, I got a truck full of whatever, transplant hearts, I don't know…
ZACH
I feel like that happens, yeah.
JAMES
And again, as I, as I mentioned, maintenance is a preventive action. Not at a reactive action.
ZACH
Yeah, I love all of that. I love it.
And that's The Fleet Code, y'all. Thanks again to James for all the awesome tips on seasonality and prepping fleet vehicles for the elements.
If you're looking for some quick notes to take home with you from today's episode: First and foremost, always refer to the owner's manual. It will be your source of truth when determining what fluids and care to provide for your vehicle.
And also, have a complete understanding of not just the temperatures each season brings for your region, but also the intricacies of that season – for James, it's mayflies. Think about what you need to have on hand to help your drivers navigate that season.
If your fleet is spread out or you're new to a geographic region, talk to locals, talk to your drivers, talk to shop owners. Rely on the knowledge of those around you to figure out what to expect with each new season.
If you'd like to keep the learning going, we've dropped some helpful links in this episode's description, including a free fleet maintenance spreadsheet template to help you start tracking your fleet's maintenance data.
We'll be back next month with another episode full of tips and tricks from other fleet vets. In the meantime, check out our Season 2 premiere with Tom Rowlings on implementing technologies if you haven't already, and be sure to subscribe on your podcast service of choice so you don't miss any Fleet Code goodness. Be sure to join our newsletter and follow us on Twitter, LinkedIn, and Facebook to stay up to date on all things Fleetio and get access to all kinds of free tools and resources.