If you're still managing your asset scheduling and assignments on paper, you might be missing out on key insights and opportunities to maximize your fleet's productivity.
Streamline Your Assignment Process with Scheduling
Assigning out assets to operators is a day-to-day responsibility that can be a constant logistical headache for fleet managers if a good scheduling system hasn't been established. When scheduling is managed with paper and whiteboards, it becomes easy for details to fly under the radar, and managers will miss out on important data tracking that can improve their fleet operations.
Implementing a fleet management software facilitates a more granular approach to assignment through scheduling capabilities. Scheduling assets provides the ability to see in real time when vehicles are assigned, who they're assigned to, and how long they will be on the road in an easy-to-track calendar format.
A good fleet management software will allow you to not only pair drivers and vehicles but see exactly how those assignments play out against each other throughout the day. Some systems even make it easy to edit and change assignments within the digital calendar, as well as immediately notify all team members involved, giving fleet managers the power to move faster and more efficiently.
Use Assignments as a Means to Track Utilization
In addition to having greater visibility into the whereabouts of your vehicles and equipment, using fleet management software allows you to gain a better understanding of how and when each of your assets is being used. Tracking utilization data through assignments helps managers maintain an optimal level of vehicles and equipment on hand at any given time, maximizing their fleet no matter its size.
Simply tracking assignments and scheduling can open the door to new insights about a fleet – from an asset's percent of time scheduled to distance and duration on each assignment – that lets fleet managers make more informed decisions about their assets' efficiency and productivity.
Asset assignments and scheduling can also be a vital part of an asset's longevity. When utilization of a particular vehicle or tool is high, preventive maintenance schedules can be adjusted to accommodate high usage. This can help avoid unnecessary downtime and ensure safety with well-kept equipment.
Utilization data can also be a good indicator that it's time to purchase more vehicles and equipment. If the same vehicle or tool is assigned excessively to multiple users, it may signal an opportunity to expand the fleet in a way that may lead to a good return on investment.
Keep Tabs on All of Your Mobile Assets
Taking advantage of a digital assignment and scheduling process helps fleet managers collaborate on the go and maintain constant visibility. By knowing where a vehicle is and who's with it at all times, you're able to observe a consistent trail of use when something goes wrong and respond faster.
Having immediate access to current scheduling information through a robust fleet management software lets you know the minute an issue is reported, eliminating the delay of a paper trail and minimizing the time between the report and the fix. If you utilize an app as a part of your fleet management system, drivers, technicians and managers can all be looped in with a simple push notification to cooperate on specific tasks.
Digital assignments also put a focus on accountability within your organization. When something happens on the road or a piece of equipment goes missing, having a tangible schedule indicating who was responsible for an asset at the time of an issue leads to quick answers without any guesswork or finger-pointing.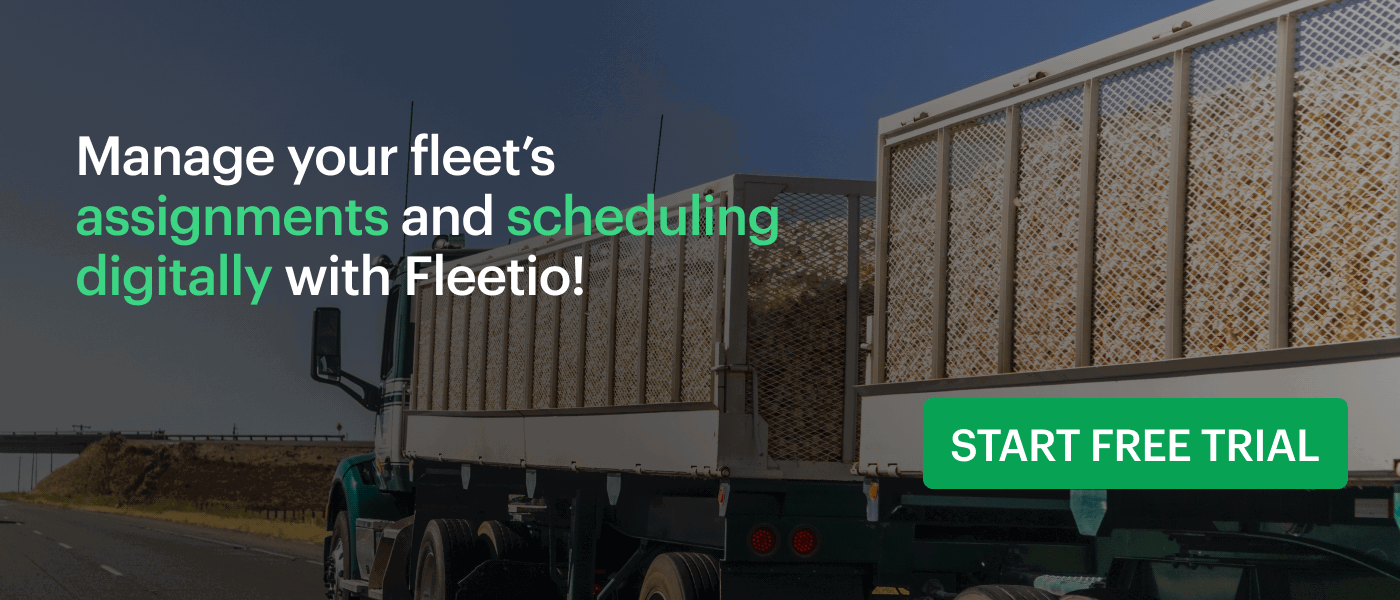 Want to Improve Your Tool Tracking?
A note about equipment: if you're still managing your checkout process on paper, there are better ways to keep expensive tools up to par and ready to go for any job. Some fleet management software can utilize barcodes, QR codes and NFC tags to quickly identify equipment and see all of its info with just a quick scan from a smartphone, or even allow you to track your equipment's last known location.
---
Ready to take your assignment process to the next level? Start your free trial or request a demo today!