Technicians can now clock in and out of line items on Work Orders making it easy to analyze service duration by different technicians, service items and vehicles.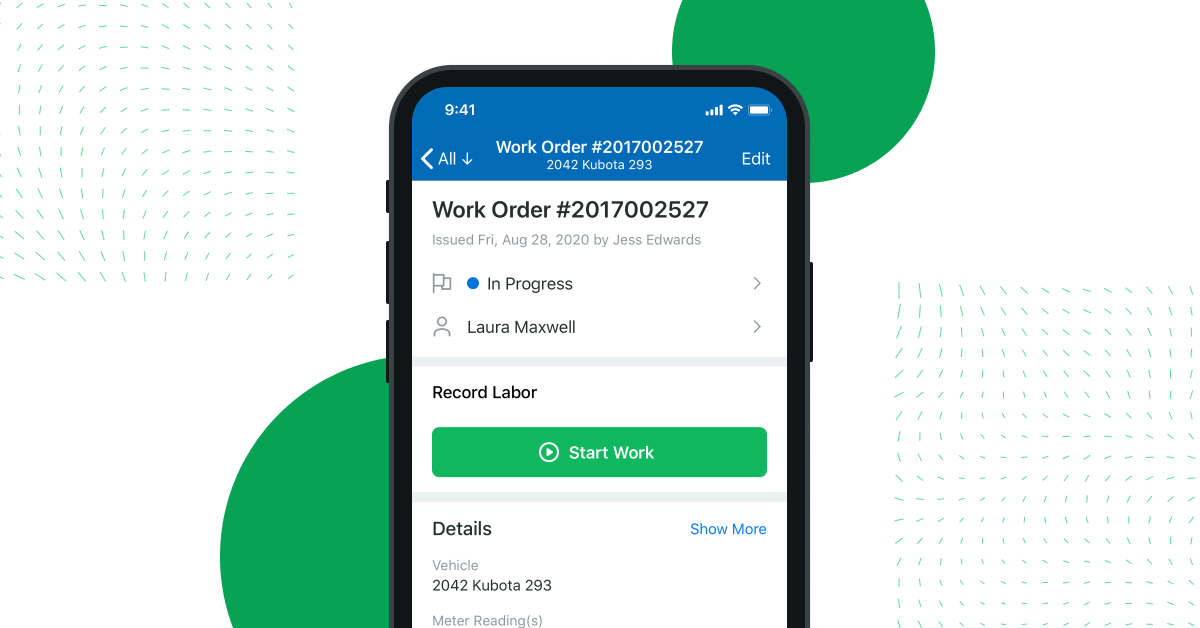 You only have so many resources when it comes to in-house maintenance and how you use them is important for getting the most out of your shop. With the latest improvements to Work Orders in Fleetio, we've made it easy to track technician time for each line item, giving you better insight into repair activity.
Technicians Can Now Clock In and Out on Work Order Line Items
This has been one of our most popular requests. Using the Fleetio Go mobile app, technicians can now clock in and out of individual line items on Work Orders, enabling duration tracking for specific service items. It's incredibly easy for technicians to do, simply press a button and choose a service task to clock-in. Active Work Orders will appear on the technician's Home screen, making accessing current priorities fast and easy.
With these improvements, enabling technicians to track their repair times is second nature for them and you'll be able to report on the data with a new report (see below). Make sure technicians update their app to version 3.2 to start tracking labor times!
Enhanced Admin Features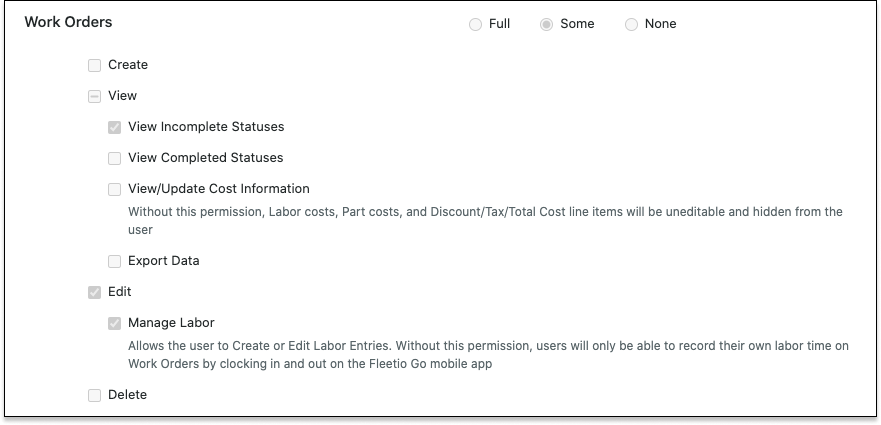 Updated Work Order permissions
Ensuring the data integrity of labor time entries is critical, that's why we've added a new permission setting for Work Orders to help control who can do what in the system. Checking the "Manage Labor" setting gives someone permission to manually enter or adjust labor time entries on Work Orders. This is helpful for administrators or maintenance supervisors who may need to make adjustments to a labor entry. Leaving this setting unchecked limits someone to only clocking in and out of a service task.
This ensures precision in labor time entries by allowing admins to adjust these entries when needed but limits others from making changes.
New! Labor Time Entries Report
A brand new report allows you to see all labor time entries in one place. Think of it like a technician time card. Filter by technician, vehicle, line item and more to gain insight into productivity and spot labor exceptions for similar line items.
Coming soon—
We're expanding our coverage for push notifications for important records in Fleetio. Look out for an announcement in the coming weeks about push notifications for Work Orders via Fleetio Go. These will work just like they do for Issues which we announced recently.
Fleetio Go v3.2 is available on both iOS and Android. Download today!
---
Want to see how Fleetio can help improve your maintenance workflows? Get in touch. We'd love to show you! Start a free trial today!