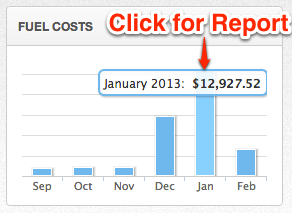 Here at Fleetio, we receive a lot of great ideas from our users through a variety of Feedback channels. We know that our software can always be better, so our team is always happy to know how we can make that possible.
Our Dashboard, being the home and starting point for your vehicle management activities, is designed to give you an immediate overview of what is going on in your fleet. This is why we have Service and Renewal Reminder Updates right next to Interactive Charts of your Fuel and Maintenance Costs by month.
One of our users had the bright idea of taking our Fleet Cost Displays to the next level. It made complete sense that users should be able to click on monthly results in the chart and instantly be taken to the report of that information.
As of today, you can now go directly to these reports from the dashboard, thus saving you time and making your user experience even better.