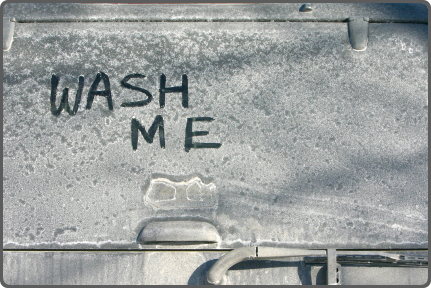 Always Be Marketing with Clean Fleet Vehicles
Potential customers may only come across your company when they see your vehicles out on the road. Of course they'll take notice when a bad driver is all over the place, not obeying the rules of road.
But people also draw assumptions about your company based on the condition of fleet vehicles. One easy and inexpensive way to enhance those assumptions is to keep your fleet vehicles clean.
It's particularly important for service companies. If your vehicles are a mess, what does that say about the work you do? You might think there's no correlation but that doesn't keep the potential customer from thinking it.
Many local car washes will set you up with a business account and bill you for washes each month, giving you a volume discount as well. Then your drivers can get their vehicles cleaned without having to deal with payments. Nice and simple.
Keeping track of drivers cleaning their vehicles is something Fleetio can help you with. Simply setup a recurring service reminder for how often you want each vehicle to be washed, and Fleetio will keep track of who's visiting the car wash…and who isn't.
Much like the [famous speech from Glengarry Glen Ross](http://www.youtube.com/watch?v=wVQPY4LlbJ4 ""Always Be Closing" speech on YouTube"), companies should Always Be Marketing. You never know who's paying attention.