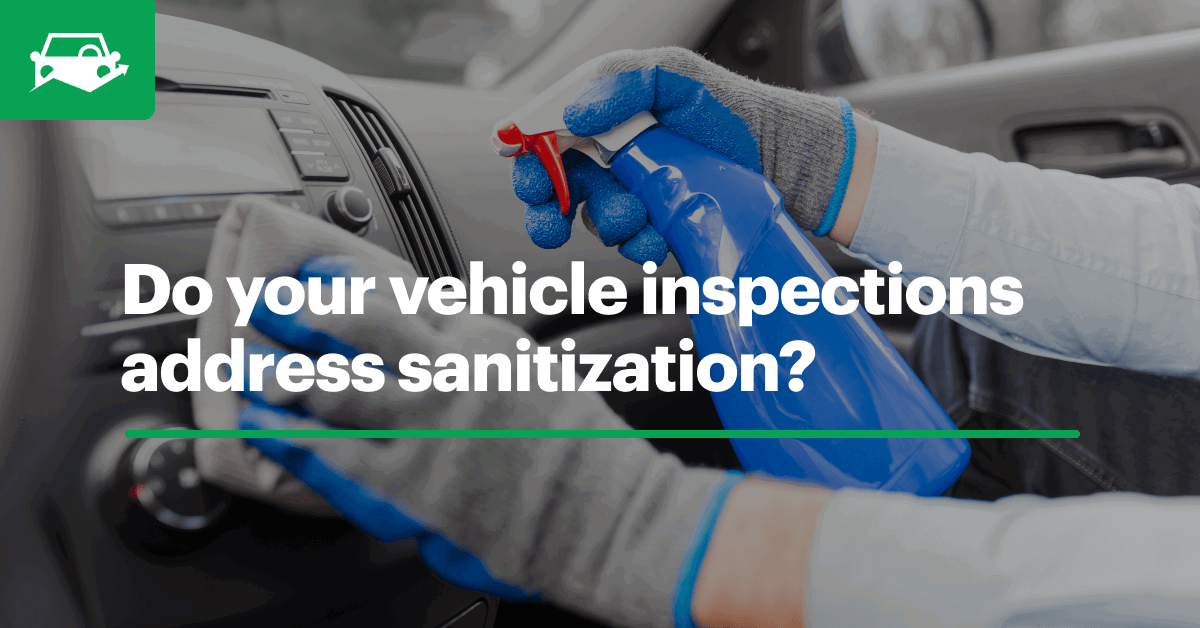 How Fleets Can Limit COVID-19's Spread With Vehicle Inspections
The outbreak of COVID-19 has drastically changed many facets of fleet management in a short period. Being nimble and quickly adapting your processes to evolving situations is a requirement. One way to combat COVID-19 amongst your fleet lies with the use of driver vehicle inspection reports (DVIR).
DVIR's are a compliance requirement for many fleets and are a great measure to obtain immediate vehicle status updates. During times like these, the need for fleet visibility is intensified, especially if you have to manage your fleet remotely. Digital vehicle inspections are a great solution to verify your operators are following proper sanitization protocol to avoid community spread.
Detailed inspection results are relayed to fleet managers' and administrators' fleet management software dashboards in real time. The reduction of communication gaps allows you to initiate necessary preventive measures to immediately address issues and avoid unnecessary downtime.
What Should Vehicle Inspection Forms Include?
During the COVID-19 pandemic, it's crucial to protect employees by encouraging good hygiene and enforcing inspection standards. Typical vehicle inspection forms might include vital vehicle components for functionality but lack sanitization criteria.
Fleet managers should include thorough vehicle sanitization in each operator's pre and post-trip inspection. Inspections should focus on disinfecting high-touch areas such as:
Driver and Passenger-side (if applicable) Exterior Door Handles
Driver and Passenger-side (if applicable) Interior Door Handles
Driver and Passenger-side (if applicable) Seat Belts
Steering Wheel
Gear Shifter
Center Console
Controls
Dashboard
Trunk or Rear Door
Vehicle Equipment
Keys
Watch our Sanitization Webinar to learn more about the best practices for your fleet to remain safe.
Your team is only capable of working within the confines of the resources available for their safety. Ensure operators have the necessary sanitization supplies to disinfect their vehicles and equipment before and after use. Track inventory daily and order supplies in advance to avoid devastating stock-outs.
Operators should also adhere to the suggested six-foot social distancing between colleagues or customers and thoroughly wash their hands throughout the day.
If they are in contact with others, they should consider additional vehicle sanitization prior to operation. With a few helpful best practices, fleet managers can minimize the contagion of the virus and safeguard employees.
A Digital Vehicle Inspection Form Dedicated to Prevent COVID-19's Spread
Trying to quickly create your own DVIR forms with additional COVID-19 checklist requirements can be an uphill battle. Fleet management software like Fleetio provides configurable options to develop inspection forms to fit your fleet.
To protect your employees and make your life easier, Fleetio now has a dedicated COVID-19 Post-trip Vehicle Disinfection Inspection Form! Within Fleetio, you can simply add the inspection template, edit it to your liking or use it as is.
Assign the form across your team and schedule inspections before and after shifts to ensure operators are fulfilling their responsibilities. This will provide you much-needed peace of mind that your team is operating safely.
[![covid-19-tips-cta](https://marketing-cdn.fleetio.com/images/blog/steemer-covid.png)](/)
---
To see the inspection from for yourself and easily manage your operations, start a free trial of Fleetio today!