As the pandemic paved the path for remote work and virtual team management, the need for remote fleet management solutions has risen to help fleet managers stay productive and informed on the status of their entire fleet. Changing your management system to function remotely sounds daunting, but there are a variety of tools you can put in place to help your fleet succeed.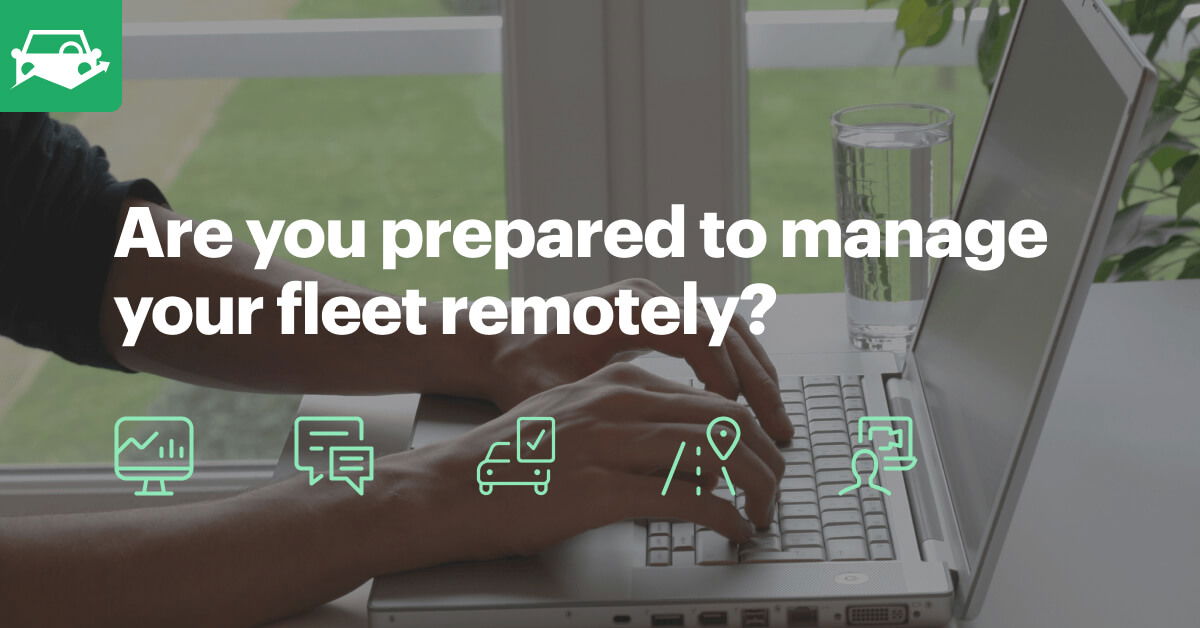 Adjusting to Remote Fleet Management
During the pandemic of COVID-19, fleets across industries began developing strategies for remote fleet management to minimize community spread of the virus. While this is a time of uncertainty, it's more important than ever to implement systems to manage your assets remotely.
At Fleetio, we're uniquely qualified to provide tips on working remotely — over 40% of our workforce is remote (and of course we know a thing or two about fleet management). We've set systems in place to help our employees thrive and produce incredible work, even when they aren't in the same office. Here are some tips we've picked up along the way on how to maximize your time and stay connected to your team.
Tips for Fleet Managers Working Remotely
As a fleet manager, you may be used to managing your assets while they're spread out along their routes, but having to manage assets without any contact for an undetermined period of time brings about new challenges. How you set up your remote management strategy and your workspace during this time will be critical for your fleet's success.
Setting Up Your Workspace
Your daily routine has likely shifted significantly since the COVID-19 pandemic. To adapt to these changes and keep yourself and your fleet productive, it's important to set yourself up for success in your new home/remote office.
Having a dedicated workspace is the key to staying productive while working remotely. Make sure your workspace is away from your bed (no sleeping on the job!) and in a quiet space to avoid distractions. If you have family or others living in your space, consider setting boundaries, like implementing quiet hours or hanging "Do Not Disturb" signs while you're in meetings or focusing on tasks.
Fleet managers should also have a stable Wi-Fi connection and a good mobile phone signal throughout the workspace. You need to be able to view and manage your assets in real-time and stay connected to your team in the field.
Take stock of your current equipment needs. Make sure you have all the necessary resources you need to manage your fleet, starting with the equipment that has helped boost your productivity in the office, like extra monitors or headsets. If your home office is your workspace, it's important to design it for productivity and have every resource at the ready.
Communicating With Your Team
As a fleet manager, your mobile phone is your lifeline. Your success hinges on communication, so be sure to consider what measures you should take at this time.
With drivers on the road and warehouse workers still on-site, it's important to make sure your team has an easy way to call you. Make sure to provide your phone number to all employees who might need it and consider routing your office phone line to your cell phone to ensure you won't miss any calls while working remotely.
For meetings with other members of staff, consider using teleconferencing (video calls). Tools like Zoom, Cisco Webex, Microsoft Teams and Google Hangouts provide a space for you to connect with team members face-to-face, share your computer screen and even host webinars to provide vital information.
See how this company leverages fleet management software to keep up with their remote workforce.
Managing your assets remotely and staying connected to your drivers might sound like a tall order, but using software tools can aid communication. If you use Fleetio and haven't added all necessary users yet (remember — we offer unlimited users!), be sure to add everyone to ensure there are no gaps in communication. More on Fleetio later!
Virtually all businesses use email to communicate, but while working remotely, you may need ways to quickly bounce ideas back-and-forth. Instant messaging services like Slack and Microsoft Teams are a great tool for casual communication, and provide many useful integrations to improve communication and productivity.
No matter how you choose to communicate while working remotely, having a way to manage fleet tasks ensures you stay connected. Many fleets leverage integrated software solutions, like Fleetio, specifically tailored to fleets to streamline operations and gain complete asset visibility. With Fleetio, you can tag team members in on the tasks that matter to them, sending a direct notification when an item needs to be addressed.
Task Management Tips for Remote Fleet Managers
Your team may be operating without your physical presence for an undetermined amount of time. Before you implement remote fleet management processes, be sure to set clear expectations and performance standards to ensure your team remains operating at peak productivity. Now is the time to over-communicate to help your team succeed.
Set daily goals and assignments for your team, and consider having appropriate team members reach out to you each day for status updates. This will empower your team to perform well without you being on-site and help you get a clear view of operations.
Fleets using antiquated processes like paper forms and spreadsheets will have the most difficult time working remotely, as these processes don't provide necessary visibility. For maximum visibility throughout your fleet operations, you need a mobile-first tool to manage your entire fleet operation on the go.
With remote fleet management software, your team can upload valuable fleet data on a mobile device throughout the day, giving you the ability to track fleet operations from anywhere. Not only can you manage day-to-day tasks like work orders and inspections, but you can also monitor expenses, vehicle location and asset utilization to keep your fleet running smoothly.
Using a software like Fleetio streamlines task management and maximizes efficiencies throughout your fleet. Here are some of the best fleet software features to leverage when working remotely.
Vehicle Assignments
Vehicle assignments are a great way to schedule vehicles and equipment, track availability and manage your team. Since you're working remotely, you can also use the vehicle assignment tool to touch base with your team members.
When you assign a driver to a vehicle, post a daily comment highlighting their responsibility and tasks for the day. Have them respond in the Fleetio Go app with any questions to ensure they understand their daily duties.
Some delivery fleets are seeing an increase in demand at this time. Leveraging vehicle assignment tools makes it easy to onboard and over communicate with your new drivers to help them succeed.
Using the vehicle scheduling tool also allows you to track and monitor utilization and driver productivity. Instead of manually calculating driver hours or relying on their paper logs, fleet managers can get a complete view into schedule insights to stay informed.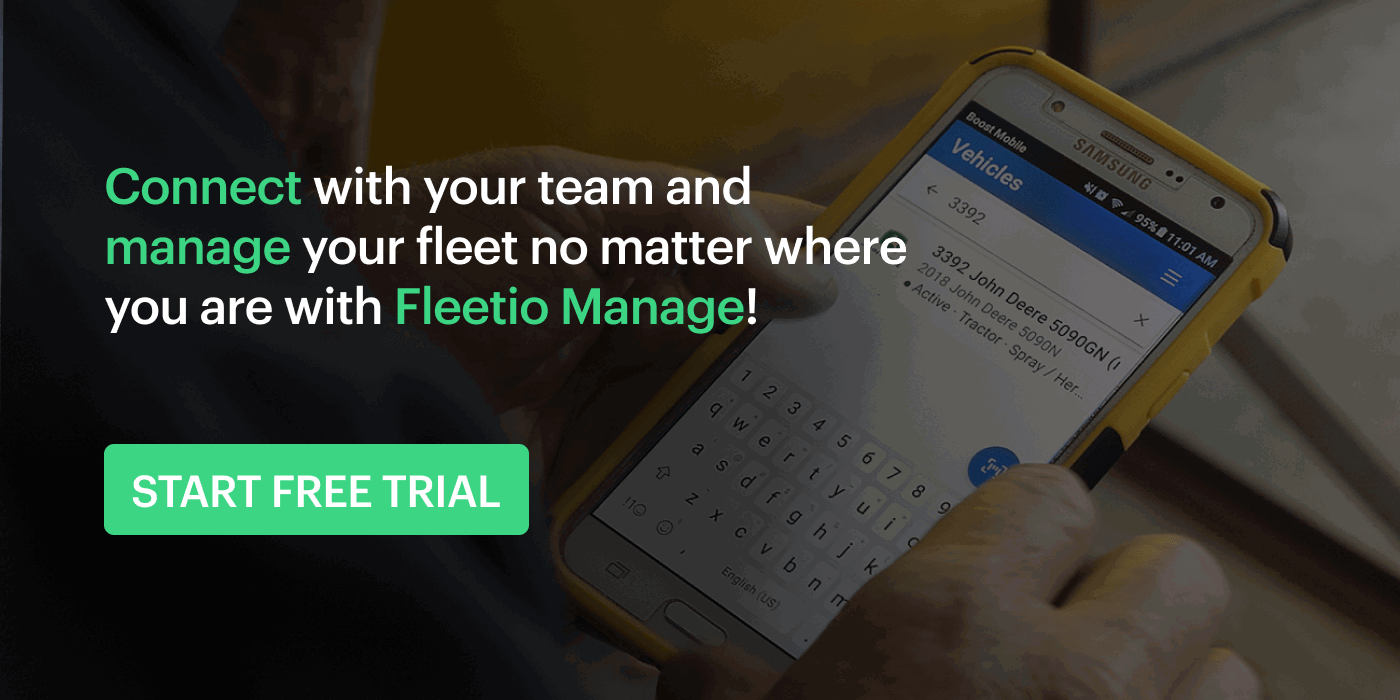 Comments
As a fleet manager, you're juggling a lot of information at any given time while trying to respond to your team's questions. If you're working remotely while your team is on-site or in the field, you need a way to easily communicate information and provide clarity across your operations.
Fortunately, almost every area of Fleetio allows users to make comments on vehicles, service entries and inspections to improve understanding and avoid communication bottlenecks. Drivers and technicians can leave comments in the mobile app for fleet managers regarding vehicle status, and fleet managers can make comments on vehicles and other items to assign tasks and inform their team of upcoming responsibilities.
Notifications
When working remotely, one of a fleet manager's biggest points of focus should be real-time access to information. Receiving critical information hours later can cause increased downtime or unnecessary costly repairs. Having a way to receive notifications about every aspect of your fleet provides maximum visibility into your operations and ensures tasks don't slip through the cracks.
One aspect of fleet management where you might leverage notifications is preventive maintenance. Consider setting up preventive maintenance schedules and service programs for your assets to keep your fleet running smoothly.
Instead of falling behind on PM tasks, service reminders are sent based on odometer readings or engine hour intervals to ensure you keep a proactive fleet maintenance program. As your team may be experiencing more breaks throughout the day, this is a great time to conduct preventive maintenance ahead of schedule. Once your workload returns to normalcy, you'll know your assets are functioning at peak performance.
Notifications are also sent when issues are identified through mobile vehicle inspections. Receiving this information in real-time enables you to jumpstart the maintenance process regardless of where you are on the map.
Inspections
Daily vehicle inspections are the best way you can monitor the health of all of your vehicles. Instruct drivers to perform electronic daily vehicle inspection reports (eDVIR) at a certain time of day to stay informed of any issues across assets.
eDVIR enables your operators to perform fast, thorough inspections in the field and provide photos and comments regarding any issues. When you can't see your assets in person, photos can provide clarity when troubleshooting issues.
Fleet managers can create and schedule inspections on a mobile app and assign them to specific operators. The rest of the process is on autopilot until an issue rolls in. When you're working remotely, setting up an automated system to manage inspections saves you time overseeing compliance and tracking down drivers.
Leveraging mobile inspections also ensures fleet safety. By immediately surfacing failed inspection items, you are able to take swift action to get the vehicle in and shop and resolve issues, reducing the likelihood of an accident due to a failed vehicle component.
In addition to your eDVIR, you can also tailor configurable inspection forms for drivers to complete. Consider creating inspections that center on high wear components and ensuring your drivers have necessary personal protective equipment (PPE).
Work Orders
Maintenance doesn't halt just because you're working remotely. Fortunately, you can assign and track [mobile work orders]/features/digital-work-orders) in fleet management software. Tracking technician progress in Fleetio's dashboard allows you to monitor productivity and determine when assets will be back on the road.
Outsourcing maintenance to a third-party vendor can be a challenge when you're working remotely and still using outdated fleet management processes. With Fleetio's Maintenance Shop Integration, you can approve repair orders, consolidate billing and stop playing phone tag with your shop.
Reports
Monitoring fleet performance is one task on your list that needs to take priority at a time like this. When managing your fleet remotely, data can be one of your most valuable resources.
By managing your fleet on a single system, you can generate configurable reports on virtually any fleet metric to make data-driven decisions. Automatically generate reports on asset utilization, service history and total cost of ownership (TCO) to analyze and share with stakeholders to develop the best strategy for your fleet during this time.
Even if you and your management team are working remotely, you can improve fleet efficiency and maintain uptime by managing operations with a software tool tailored to mobile fleet management.
---
Stay connected to your fleet while you're working from home! Start your free trial of Fleetio or request a demo today.