With 2022 just around the corner, we've drummed up a few fleet industry trends to look for in the new year.
2022 Fleet Industry Trends
While we hoped 2021 might lead us back to simpler, more normal times, about halfway through the year it was clear that businesses — no matter the industry — would have to continue adjusting to the "new normal." For fleets, that meant navigating unreliable supply chains and finding ways to improve operation-wide communication in real time to ensure consistent mobility of fleet assets.
As technology in the fleet space continues to advance, helping businesses meet evolving needs, we thought we'd put together a list of 2022 fleet trends that may affect your operation:
1. Unreliable Supply Chains
Many in the fleet industry have felt the repercussions of supply chain shortages, from replacement parts to vehicle procurement. While some operations have taken to stock piling frequently used parts to ensure fewer business disruptions, others have had to find ways to beef up preventive maintenance (PM) to keep assets on the road beyond their optimal replacement window. Charlotte Ashcraft and her team at Franklin County Commissioner's Fleet Management do both: Supply chain issues have "made our on-site inventory very important. When you can get [a part], you get it and you hold it, because you may not get it later," says Charlotte. When it comes to vehicle procurement, she explains: "You have to order them now and hope you get them next year. That means maintenance and preventive processes are of the utmost importance, because you have to keep that car on the road until you can get another one — and that may be eight, nine months from now."
Adam Bliss, IT and Safety Manager for J. Pettiecord has also experienced firsthand the frustrations from supply chain issues. "We had so many trucks on order pre-pandemic; the pandemic came, some of those trucks did come in after time — they were waiting on various parts that weren't available," he says. As for the rest of the trucks? "They ended up canceling the entire order for all their customers and making everyone rebook their orders. And the price went up." According to Forbes, "The critical base of auto suppliers is struggling with a whole range of issues including material availability, extended lead times, sudden cost increases and an unprecedented shortage of labor."
Industry experts expect the supply chain to recover little by little throughout 2022 but warn that it's an issue that will likely remain top-of-mind in the industry for several years. While bulk-stocking high-use parts may continue to be good practice in 2022, it also wouldn't hurt to check your fleet's maintenance histories and PM schedules for any specialty or infrequently bought parts that may need replacing even three to six months out. Likewise, if you're considering vehicle procurement, order early and be prepared for potential cancellations.
2. Uncertain Fuel Costs
While the cost of fuel is almost always in a state of mild fluctuation, 2022 doesn't offer much in the way of helpful price predictions. Thanks in part to the labor and supply chain shortages, U.S. oil companies are finding it hard to increase production to match increased demand as travel rates climb back to pre-pandemic numbers. Additionally, oil companies are skittish about over producing should demand drop off again. This leaves the fleet industry in a precarious situation, as the current surplus of crude oil may initially decrease fuel costs, creating a false sense of security. Should oil production not increase, we could be looking at higher prices and possible fuel shortages. On the other hand, if demand is reduced due to another pandemic wave, fuel prices should remain relatively stable.
While some fleets have on-site fueling stations, allowing for both bulk savings and "stocking," other fleet managers may want to look into fuel cards to help curb as much cost fluctuation as possible. Additionally, fuel cards help reduce fuel overspend, misuse and theft. Another way to ensure you're using fuel to the fullest is through route optimization. Steering drivers to the most concise route, including limiting left turns when possible to decrease idle time and avoiding construction zones, helps reduce fuel consumption.
3. Increased EV Adoption
2021 saw an all time high in electric vehicle (EV) sales and, as emissions regulations continue to tighten, EV adoption is forecast to increase again in 2022. "Among the driving forces behind electrification are sustainability interests and federal, state, and local government mandates," according to Tim Baughman, Ford Pro General Manager, North America. "Commercial customers are starting to understand that EVs are good for business, from reducing emissions to increasing sustainability, building brand value, productivity gains and a 40% reduction in operating costs as it relates to maintenance."
Rental company Hertz has reportedly put in an order for 100,000 Teslas, half of which Uber has committed to renting for its drivers. While light-duty vehicles may seem easier to procure than medium- and heavy-duty vehicles, original equipment manufacturers (OEMs) are cranking out models for all industries, from construction and utility to long-haul and public transportation.
4. Continued Labor Shortages
As you may have deduced from previous sections, labor shortages are expected to continue throughout 2022, despite roughly 11 million job openings currently in the U.S. According to Bill Witte, author of the Kelley School's U.S. forecast and an associate professor emeritus of economics, "The labor market situation confounds the other supply-side problems. Building new capacity requires labor, both for construction and then eventually staffing." With employment still below pre-pandemic levels during a time of plentiful opportunities, companies are finding it hard to retain — and even harder to hire — employees.
"We've revamped our referral bonus program to in-house employees because we usually get some of the best employees from referrals," Adam says of J. Pettiecord's recruiting efforts. "Being real active on our social media, I think, helps a lot, too, and using Facebook advertising. It doesn't seem like your typical recruiting methods always work for truck drivers and heavy equipment operators and mechanics. They don't all have a LinkedIn profile, or they're not necessarily checking Indeed or stuff like that. You've got to figure out the best ways to try to reach those people, and how to get the message out."
To keep employees and attract new talent, many fleets are turning to incentives — whether bonuses, improving work-life balance through scheduling and PTO benefits or through focusing on employee engagement. "Employee retention is our major project right now," says Liesa Johnson, Fixed Asset Manager/Assistant Fleet Manager for Greene's Energy. "We're receiving bonuses if we can bring an employee in and they stay in, and the new employee is receiving bonuses too."
Some fleets may need to leverage help from other departments or hire outside of fleet entirely to fill management roles, which could cause a dip in fleet efficiency. If you're running into this issue, there are plenty of free resources to bring new fleet managers up to speed, including fleet management manuals, master-class fleet management courses and podcasts. Fleet management conferences are also a great place to learn from experts and network with peers.
5. Automated Automotive Technologies
2022 will see an increase in both autonomous vehicles from OEMs and autonomous vehicle aftermarket technologies. Self-driving car service, Cruise, partnered with GM with the goal of having fully-functioning autonomous vehicles by the end of 2022. Meanwhile, Ford, in partnership with Argo AI, pushed it's commercial self-driving vehicle business launch from 2021 to 2022, citing delays due to the pandemic.
Aftermarket autonomous driving technology is also expanding, with companies like Bosch offering a hands-free park assist system and Comma.ai offering level 2 (active steering, accelerating and braking) autonomous driving systems with driver behavior monitoring included.
6. Automated Fleet Processes
Automation continues to be a theme for 2022, especially in fleet management trends. Fleet management software (FMS) and solutions have been increasing in popularity as indispensable tools for managing maintenance and streamlining daily processes through automated workflows, improved collaboration and mobile capabilities allowing for real-time communication.
Even outsourcing maintenance to third-party vendors has become more streamlined with outsourced maintenance automation, allowing for consolidated monthly billing, digital work orders, in-app communication, auto-approvals and more.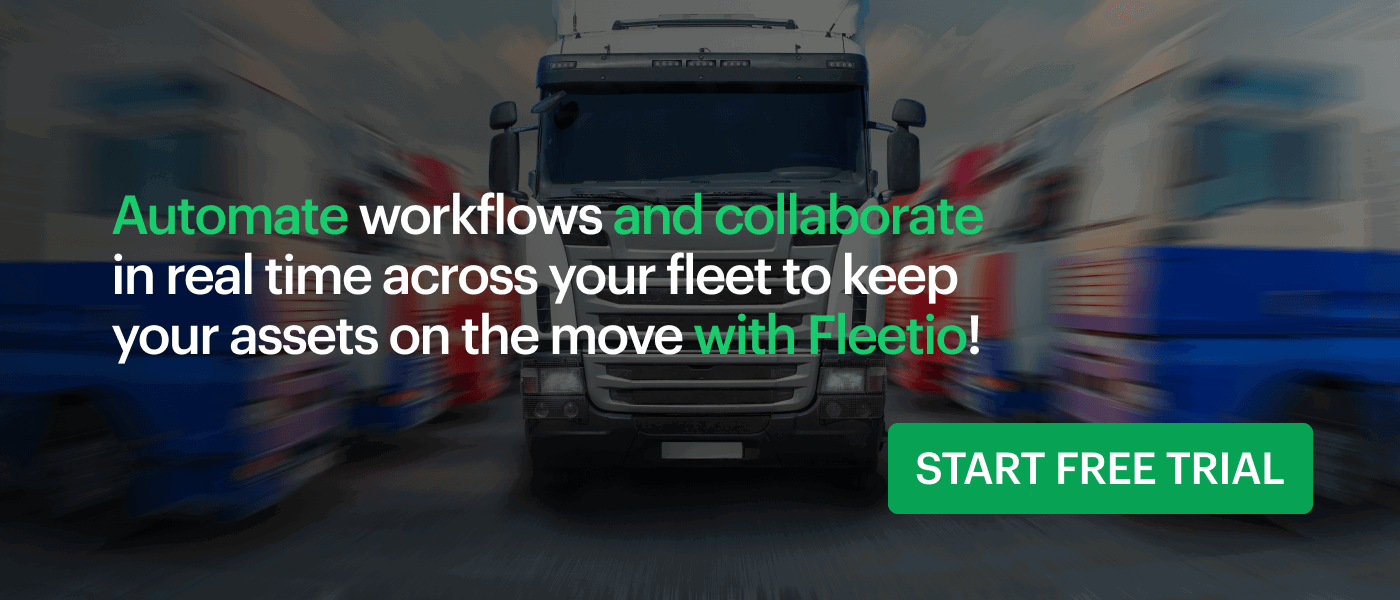 7. Increased Fleet Data Accessibility
Another fleet management technology trend you can expect to continue throughout 2022 is increased data accessibility. Fleet managers can integrate fleet solutions — GPS and telematics, fuel cards, risk and safety solutions, developmental services, etc. — into FMS for automated reporting and to consolidate all their data onto a single dashboard. Such integrations offer a complete view of asset health, driver behavior, productivity, return on investment (ROI) and total operational costs among other data points. Additionally, software with an open application programming interface (API) allows for integrations with business solutions so you can monitor fleet on a larger scale.
With more data readily available via automated reporting, fleet managers can make data-driven decisions to reduce downtime and improve productivity for increased profitability.
---
Ready to ring in the new year with Fleetio? Start a free trial or request a demo to enjoy automated workflows and robust reporting!