1. Mobility
Managing maintenance with a dispersed fleet can be frustrating when you're relying on paper and antiquated processes. Fleet vehicle maintenance apps eliminate communication bottlenecks by connecting you with your drivers no matter where they are.
Leveraging a mobile app to help manage maintenance provides a comprehensive view of asset status, repair needs and related costs. Users can log and upload critical information like inspection failures and repair progress in real time to keep you informed of your fleet's health.
Fleet management processes can be managed via your smartphone or tablet. Instead of waiting to get back to the office or playing phone tag with your drivers, you can manage operations from anywhere to reduce downtime.
2. A Synced Web App
There's no question that fleet vehicle maintenance apps are great for tracking assets on-the-go, but it's equally important that your app syncs to a secure software database. As a fleet manager, you're often managing operations at your computer. All information from the app should sync to your computer in real time.
Fleet management software enables you to track and manage all fleet data uploaded from your team's mobile devices. Fleet managers can view fleet information at a glance in a configurable dashboard, and send and receive maintenance data to maximize productivity.
3. Communication Tools
Staying in constant communication with your team is critical to getting tasks accomplished, but receiving regular updates from your team can be difficult while they're on the road. When you and your team aren't on the same page, directions may be misinterpreted, causing mistakes.
Fleet vehicle maintenance apps foster collaboration and improve clarity by allowing users to comment on virtually any item. For example, drivers can add comments and photos to vehicle inspections to better communicate issues. This allows you to clearly understand the issue at hand and develop the best plan of action regarding maintenance.
You can also tag maintenance techs in the comments within maintenance work orders to provide clear instructions. Providing as much detail as possible ensures your mechanics accurately complete repairs on time.
4. Ease-of-Use
One of the most important aspects of choosing a fleet vehicle maintenance app is ensuring it is intuitive and simple to use. While some fleet managers may be concerned over the difficulty of adopting fleet management software, the best solutions are easy to use and provide excellent support.
Robust fleet maintenance apps, like Fleetio Go, have an intuitive user interface that is easy to pick up, even for team members who are new to technology. The software is also configurable, allowing fleet managers to customize each team member's dashboard, so users only access relevant information.
5. Permissions and Restrictions
No matter how many team members you have, everyone should be able to stay connected in your fleet vehicle maintenance app. Choosing an app that offers unlimited users ensures everyone on your team can collaborate.
Because your internal teams have different areas of focus, creating job-specific permission levels allows you to tailor each team member's app to include only what's relevant to their role. Fleet managers can control who can access, edit and delete items, as well as control admin status for adding users, creating reports and overseeing billing.
6. Maintenance Workflows
Keeping your team in sync is the key to conducting maintenance efficiently, yet many fleet managers struggle to develop and sustain an effective maintenance management process.
The best fleet vehicle maintenance apps allow you to automate maintenance tasks and create natural workflows that improve technician productivity. Vehicle maintenance apps allow you to take a proactive stance on maintenance to avoid downtime and unnecessary expenses.
To stay on top of preventive maintenance tasks, fleet managers can create service reminders based on mileage or hour intervals. Drivers can see when upcoming service is due in their vehicle maintenance app to stay on top of repairs.
Fleet managers can also create and track work orders to monitor progress and view detailed line items. Not only does leveraging a mobile solution enable you to seamlessly communicate with your team, but it also keeps you informed of shop productivity and all expenses in real time.
7. Electronic Vehicle Inspection Forms
In addition to automating workflows to improve your vehicle maintenance programs, your team should be conducting routine vehicle inspections to monitor asset health and uncover any maintenance issues.
Leveraging a fleet vehicle maintenance app enables your drivers to conduct inspections, like Driver Vehicle Inspection Reports (DVIRs), to identify vehicle issues and maintain compliance. Using clicks and swipes, drivers can complete thorough inspections, add comments or photos and instantly upload results in the app.
Instead of waiting days or weeks for inspection results, fleet managers receive instant notification of any inspection failures to begin troubleshooting and initiate maintenance. Fleet managers can link inspection failures to issues and work orders to maintain an audit trail of repairs.
Fleetio Go helps you manage maintenance and connect with your drivers in real time.
Start free trial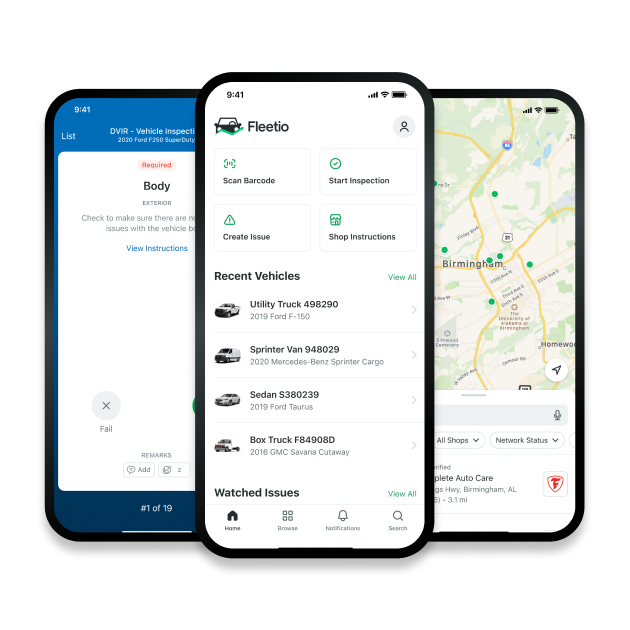 8. Comprehensive Service History
What sets a great fleet management solution apart from the rest is the ability to leverage historical data to improve both present and future operations. In addition to tracking maintenance in real time, fleet vehicle maintenance apps keep a complete record of service history for you to refer to at a moment's notice.
Monitoring service history through vehicle maintenance reports allows you to identify recurring vehicle issues and overarching patterns across your fleet. Spotting repair trends and other issues in your service history allows you to develop strategies to fine-tune your maintenance process.
9. Electronic Approvals at Third-Party Shops
Many fleets outsource their maintenance tasks due to cost or lack of facilities. While outsourcing to third-party vendors can save your fleet money, managing repair approvals and billing can be time-consuming and often result in downtime.
Instead of playing phone tag with mechanics and manually calculating repair costs, the best vehicle fleet maintenance app streamlines repair order management. With Fleetio's Maintenance Shop Integration, fleet managers can instantly view detailed repair orders and electronically approve service to expedite. All repair bills are consolidated into one monthly bill, saving you from hours of number-crunching and data entry.
10. Integrations With Other Fleet Solutions
Many fleets leverage GPS or telematics devices to track vehicles and manage routes, but telematics tools also provide a wealth of vehicle data to leverage in your fleet maintenance strategy.
As a fleet manager, you're often away from your computer. Pairing your telematics system with a fleet vehicle maintenance app provides maximum visibility into all of your fleet's data no matter where you are. Not only does this keep you informed of asset health, but it also enables you to make maintenance decisions based on real-time data and automate preventive maintenance reminders.
Telematics tools provide real-time metrics including odometer readings, diagnostic trouble codes (DTC) and vehicle status. Leveraging telematics data in your fleet management software allows you to automate workflows, determine cost-per-mile based on geolocation and maintain a complete view of fleet operations.
11. Expense Tracking and TCO Calculation
With maintenance being one of your largest ongoing expenses, closely monitoring and controlling costs is essential to sustaining your fleet's success. Tracking maintenance in a centralized fleet management software enables you to view all costs associated with repairs in easy-to-read configurable reports.
While calculating total cost of ownership (TCO) can seem impossible when you're using outdated management methods, managing all fleet data in a vehicle maintenance app enables you to automatically calculate real-time TCO to make data-driven decisions to improve your budget.
12. A Fleet Maintenance App That Has it All
Now that we've covered all of the essential features of a robust fleet vehicle maintenance app, you may be wondering how you can implement these solutions into your fleet management process.
Fleetio Go makes it easy for you to manage maintenance from anywhere. Built for collaboration, Fleetio Go enables fleet managers to communicate with their team in real time and manage every aspect of their fleet on a single platform.
Implementing a tool like Fleetio Go into your maintenance process provides valuable insight, allowing you to measure efficiency, identify areas of improvement and improve your bottom line.
---
Start your free trial of Fleetio or request a demo to see how a mobile-first solution can improve your maintenance process!