Pre-trip inspections are integral to preventing downtime and allow fleet managers to keep a finger on the pulse of their assets. Using technology to conduct pre-trip inspections ensures your drivers complete fast, thorough inspections to confirm the health of your fleet.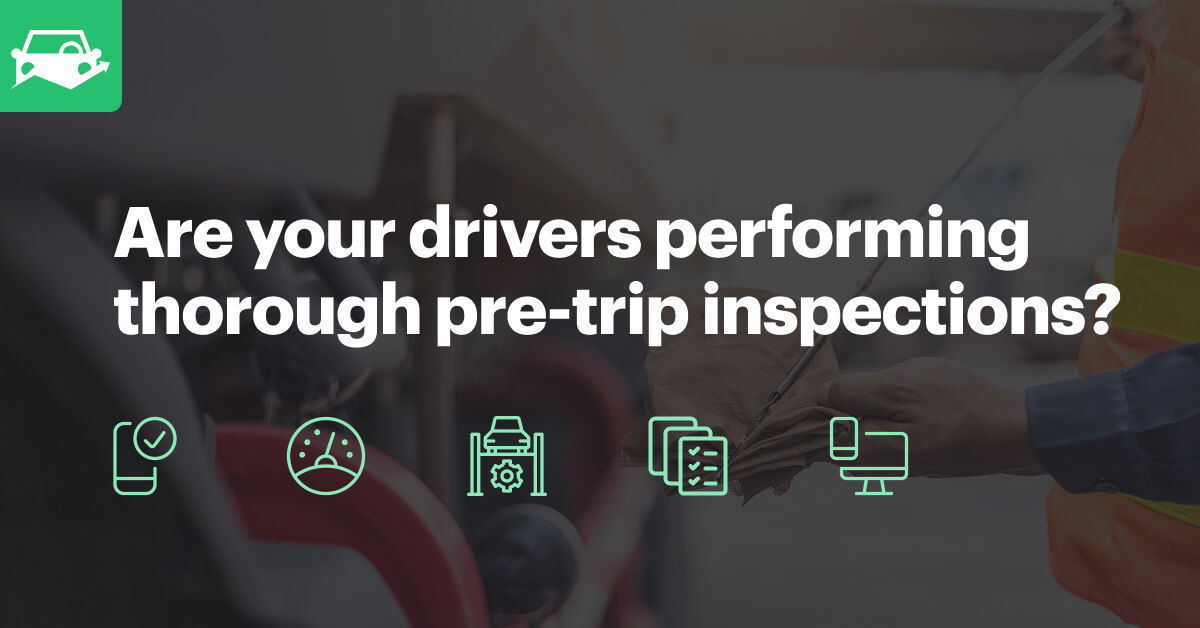 The Benefits of Digital Pre-Trip Inspections Checklists
While pre-trip inspections are required practices for U.S. commercial fleets, they provide immense benefits into increasing the overall performance of your assets and your company's earning potential.
Pre-trip inspections are typically performed each time a driver enters a vehicle (and are usually followed by a post-trip inspection). This allows the driver to check for any vehicle issues and communicate them with their fleet manager.
Many fleet managers still use inefficient paper-based inspection forms to manage their assets. Paper inspection forms are time-consuming for drivers, and issues can't be easily reported to fleet managers in a timely manner, resulting in vehicle downtime.
Pre-Trip Inspection Apps
Trying to make sure your drivers complete pre-trip inspections can be challenging. Some drivers find the pre-trip inspection process tedious, particularly if they're still using paper inspection forms, and rush through them (or skip them altogether). This can result in unplanned downtime, reduced vehicle lifespan or compliance violations.
Many fleets are making the switch to pre-trip inspection apps to streamline the inspection process, eliminate communication gaps and increase driver participation. Digital inspections, like eDVIR (electronic Daily Vehicle Inspection Reports), provide an easy process that empowers drivers to complete thorough vehicle inspections in a mobile app.
Using a mobile app to synchronize vehicle inspections through software can reduce inspection times by 65 percent. When developing your own digital pre-trip inspection form, be sure to include the following aspects to guarantee your assets are in working condition.
1. Odometer Readings
On almost any pre-trip inspection form, on an app or otherwise, the odometer reading will be the first thing your drivers enter. Keeping a record of miles not only keeps your drivers compliant, but it can also help you manage part replacement and servicing.
Odometer readings also provide extensive insight into your assets and allow you to plan and carry out maintenance tasks. Watching your mileage closely ensures you adhere to your fleet's preventive maintenance schedule, monitor asset utilization and track fuel performance.
2. Safety Features
Safety is continuously at the forefront of any fleet manager's mind. Including safety items in your pre-trip inspection not only maintains compliance, but also ensures the safety of vehicles, drivers and the public.
When building your configurable pre-trip inspection form, consider adding items that help verify vehicle safety including but not limited to:
Load security
Wiring
Seat belts
Doors
Emergency medical kit
3. Tires
Reliable tires are perhaps one of the most important parts of any vehicle. They're the key to getting you to your destination, and ensuring that your fleet's tires are in good condition prevents downtime.
Tires should be inspected for proper inflation and tread. Drivers should check for acceptable tire PSI (pounds per square inch) and monitor tire tread depth to ensure proper traction on the road.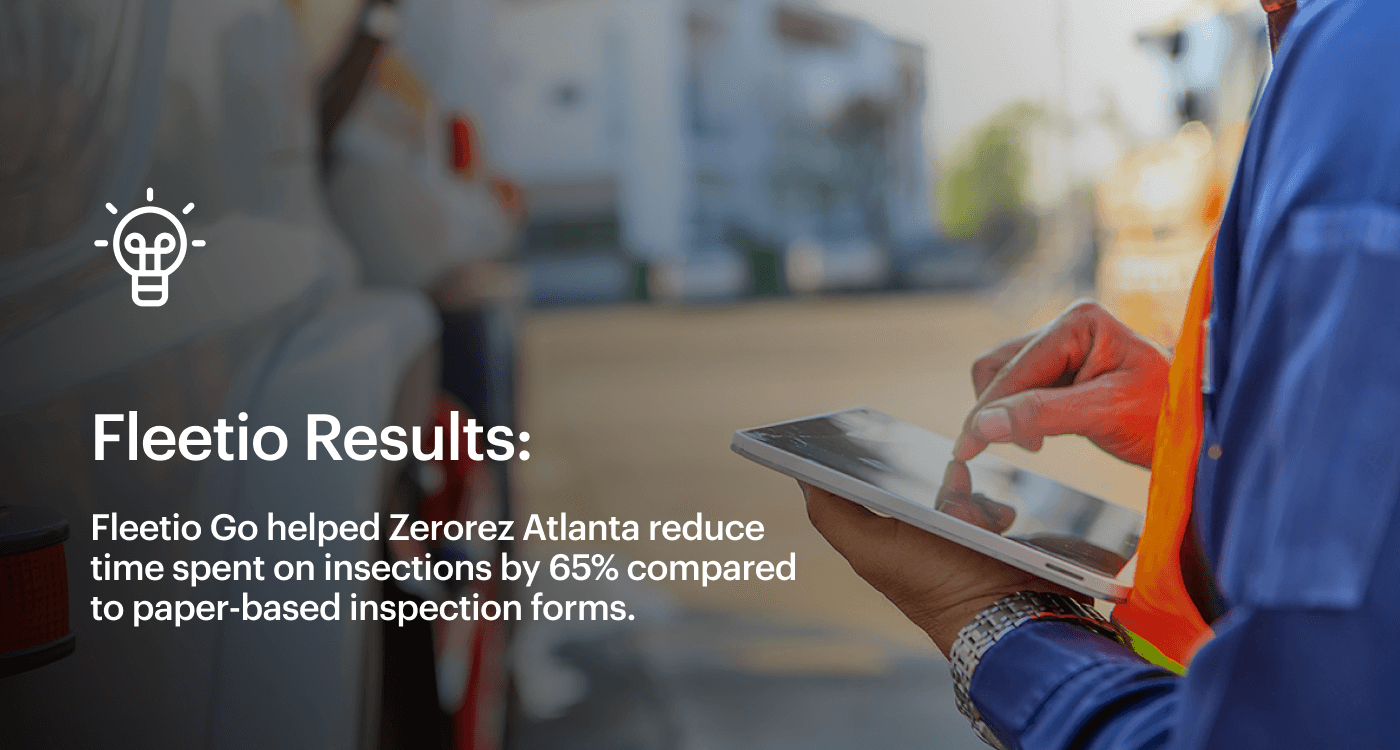 4. Diagnostic Trouble Codes
Many fleets use telematics devices to track vehicles and improve processes such as preventive maintenance and data entry. Telematics devices also alert drivers to any major engine faults through diagnostic trouble codes (DTC).
DTC and fault alerts ensure you're immediately aware of larger issues under the hood and can act quickly. While drivers should check their telematics devices for any DTC alerts, fleet managers can receive automatic DTC notifications in fleet management software to be notified immediately.
5. Vehicle Condition
It sounds basic, but walking around the vehicle and inspecting the body is an often overlooked aspect of pre-trip inspections. That said, checking the body for dents, scratches, or other issues not only helps drivers manage safety and liability, but it also can prevent more serious problems.
If your drivers swap vehicles or often park on their trips, each vehicle should be checked to make sure there is no damage to its exterior. Pre-trip inspection apps help prove chain of custody and can notify fleet managers of issues drivers spot from earlier trips or if the vehicle was hit while parked.
Though vehicle exterior damage is usually minor, it can also indicate more serious issues. If a truck is damaged near the fuel tank, the damage could easily compromise the tank, causing a larger issue.
When using mobile inspection forms, drivers can report these issues and take photos, helping fleet managers determine the severity of the issues and begin planning for repairs.
6. Lights
A vehicle's lights both illuminate the road and provide signals to other drivers. Ensuring proper function of all exterior lights, reflectors and cabin lights should be included on each pre-trip inspection, regardless of the time of day.
7. Fluids
Your assets have a variety of components that require fluids to function properly. While your preventive maintenance plan should include oil changes and fluid top-offs, your drivers should check fluid levels before each trip.
Proper fluid levels can be the difference between a well-performing vehicle and unplanned breakdowns.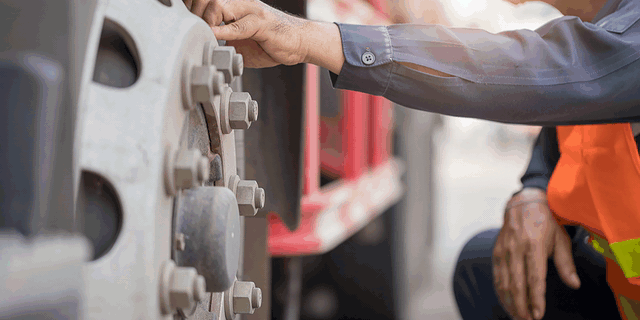 8. Battery
Another aspect of pre-trip inspections that can be overlooked is the battery. One may assume that if the car starts, the battery is in working condition and doesn't need to be checked.
While the battery may be in working order, the battery mounting, terminals and cables should be inspected prior to every trip to avoid any failures throughout a driver's trip. Any signs of issues regarding voltage, corrosion or poor connections should be documented for the maintenance team to inspect.
9. Engine
Checking the engine compartment is one of the most comprehensive aspects of pre-trip inspections and requires thorough examination to ensure performance.
When checking the engine compartment, drivers should pay close attention to hoses and tubing, as well as any fluid reservoirs, for any obvious or potential leaks. All belts should also be inspected for performance, and drivers should document any signs of wear.
10. Brakes
Many types of fleet vehicles, particularly in the trucking industry, have multiple brakes, and every component of the brake systems should be checked daily for the condition. Hydraulic, air and parking brakes should be tested manually for suitable function.
If issues arise during a pre-trip inspection, drivers can document them in detail on their vehicle inspection app. All issues are immediately recorded in fleet management software, and fleet managers can be notified immediately to remove information bottlenecks and begin maintenance quickly.
---
Take your pre-trip inspection process to the next level with Fleetio! Start your free trial or request a demo today.