If you want to ensure less downtime, lower maintenance costs and lengthen lifespans for your dump trucks, a good preventive maintenance program is the key. Fleet management software can make the job even easier with timely automation and data-driven insights.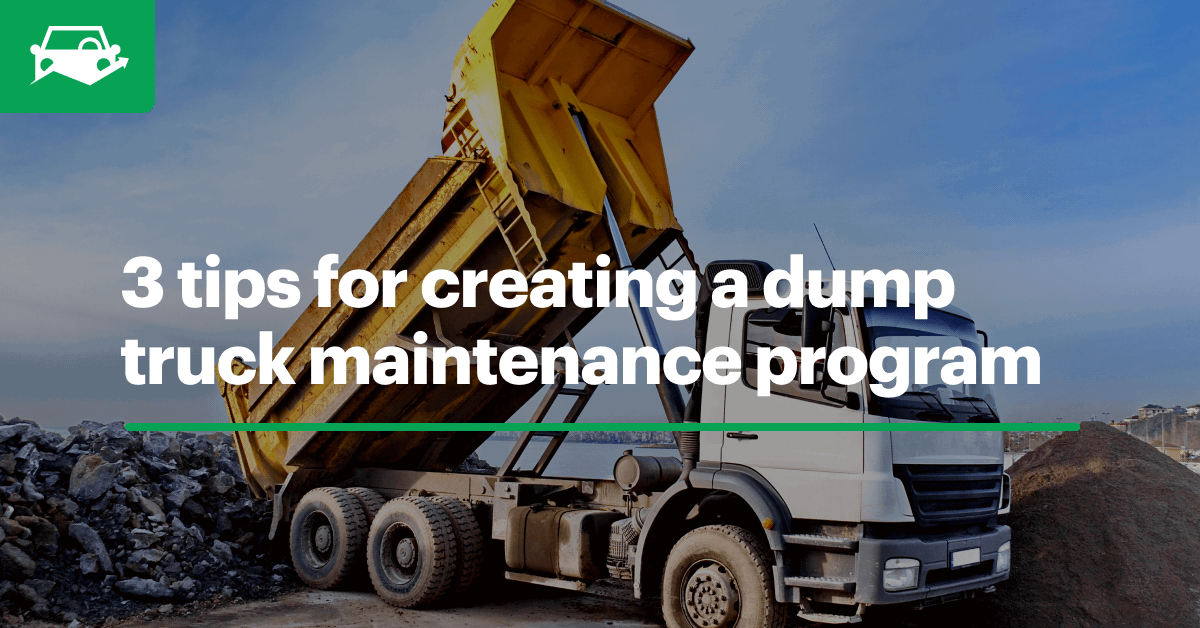 Implementing a Preventive Maintenance Program for Your Dump Trucks
Preventive maintenance can be the differentiator between a productive fleet and a fleet plagued by breakdowns and repair costs, especially for heavy duty vehicles like dump trucks. But many fleets fail to put a preventive maintenance program in place to protect the assets that tend to take the biggest beating on a day-to-day basis.
While dump trucks are an important part of any construction job, they can be a bear when it comes to costs, with poor gas mileage and heavy duty usage from job to job. Managing the preventive maintenance on your dump trucks with a fleet management software can mean cutting fuel costs and extending the lifecycle of your dump trucks by years.
An inefficient fleet management system managed on paper and spreadsheets exacerbates the issue, creating a struggle to effectively track maintenance and repairs. Unorganized maintenance programs can cause vehicles to miss routine maintenance, which increases the risk of unexpected downtime and has a negative impact on productivity.
Fleets can leverage fleet management software to create automated service reminders and manage service schedules and repair histories for individual vehicles, meaning each of your assets get exactly what they need to stay up and running. When you use a system that keeps you organized and standardized, your operation is more likely to stay compliant with both federal regulations and warranty standards, and you get to worry less about your vehicles' health and total cost of ownership (TCO).
Want to streamline your trucking fleet maintenance process? Here are a few ways fleet management software can help.
1. Set Automated Service Reminders Specific to Dump Trucks
Every vehicle requires its own specific maintenance regime to stay at peak efficiency, especially heavy duty construction vehicles like dump trucks. If you want to improve your return on investment and extend the life of your dump trucks, giving them the care and service they require is paramount.
When you're managing a robust construction fleet, it can be easy to let small service tasks on individual vehicles slip through, but using a fleet management software to create automated service reminders can be a great way to fill in the gaps.
Service reminders can be sent by email or push notification to anyone within your operation to ensure that users, technicians and managers all stay up to date with the needs of each vehicle.
You can choose to base your service reminders on calendar dates, engine hours or odometer readings (which is recommended by most manufacturers for warranty adherence). For dump trucks, following manufacturer recommendations means getting the best guaranteed lifespan and maximizing fuel efficiency – which can equate to a lot of savings on fuel costs down the road.
No matter how you opt to trigger service reminders, you'll need to make sure you have accurate readings for mileage and service hours to base those triggers off of. With the right software, you can receive real-time odometer and engine hour updates, whether it's entered by an operator from their smartphone or integrated directly into the software from a telematics device.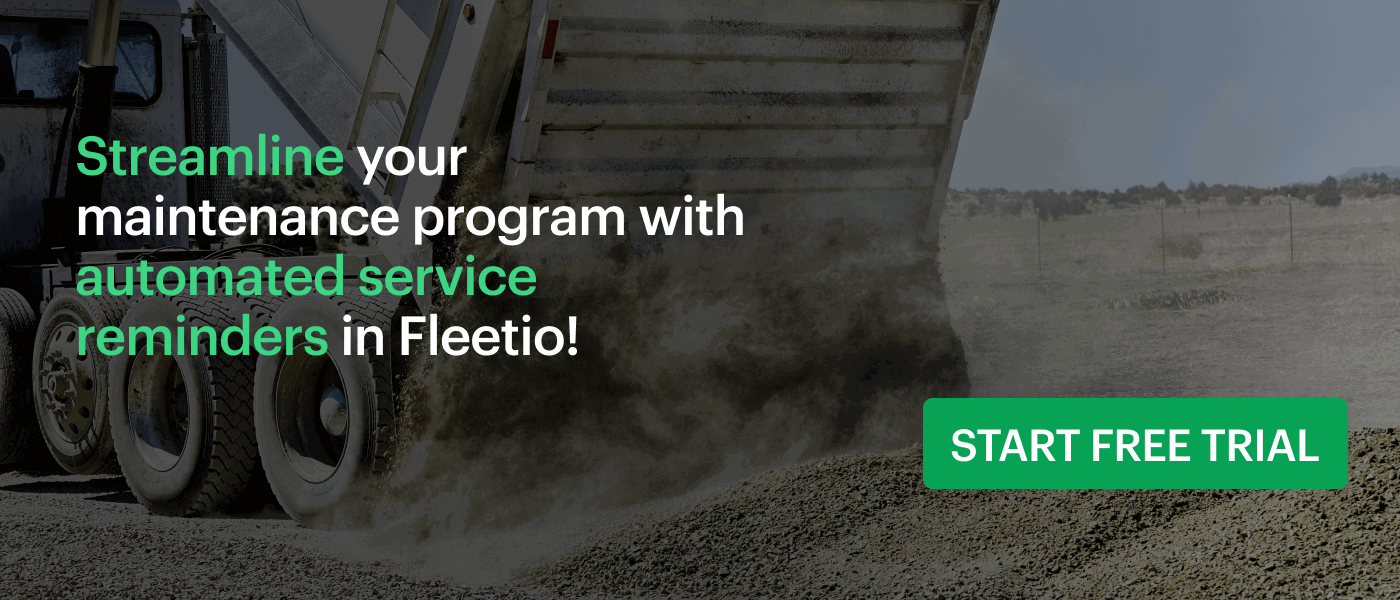 2. Use eDVIRs to Keep a Closer Eye on Vehicle Health
While service reminders are a great way to keep track of routine maintenance, unplanned repairs are bound to happen on the job. You can stay ahead of potential issues with electronic driver vehicle inspection reports, or eDVIRs.
Much like regular paper DVIRs, eDVIRs allows you to not only keep your commercial fleet compliant with Federal Motor Carrier Safety Association (FMCSA) regulations, but to see the underlying issues that can arise onsite. eDVIRs can be completed from a smartphone by each operator before and after the day's work, and the resulting report can be stored alongside other vehicle information in your fleet management software for easy visibility.
Fleet managers can get more accurate and consistent information from eDVIRs, as they are easier to complete and are customizable to ensure that operators are providing all of the information necessary for a thorough inspection. Using eDVIRs also allows issues to be communicated much quicker than the normal paper trail, meaning everyone gets on the same page faster and work orders can be assigned and created without all of the bottleneck.
3. Use Service Histories to Plan for Future Maintenance
Where preventive maintenance and DVIRs allow you to see into the future of your dump trucks' potential maintenance issues, looking at the past can be just as beneficial. Using service histories as a way to analyze and automate down the line allows you to monitor productivity and spot trends that can benefit your whole operation.
Fleet management software allows you to keep an ongoing record of service logs, giving you a visualization of completed service and helping you avoid overlooked or repeated repairs. This is especially important for cost savings on repairs for vehicles like dump trucks, where repeated issues with certain components might be covered by the manufacturer warranty.
If you outsource maintenance for your fleet, integrating your third-party maintenance shops with fleet management software can be an important part of your service history analysis. Maintenance shop integrations allow you to not only speed up the repair process with electronic approvals, but also to maintain a more accurate record of service performed and eliminate third party data entry.
---
Want to leverage a robust software that can streamline your construction fleet? Start your free trial or request a demo today!