With this year's CVSA Roadcheck approaching (May 4-6), now is a good time to brush up on the DOT's inspection requirements and analyze the process your fleet uses to complete DVIRs every day.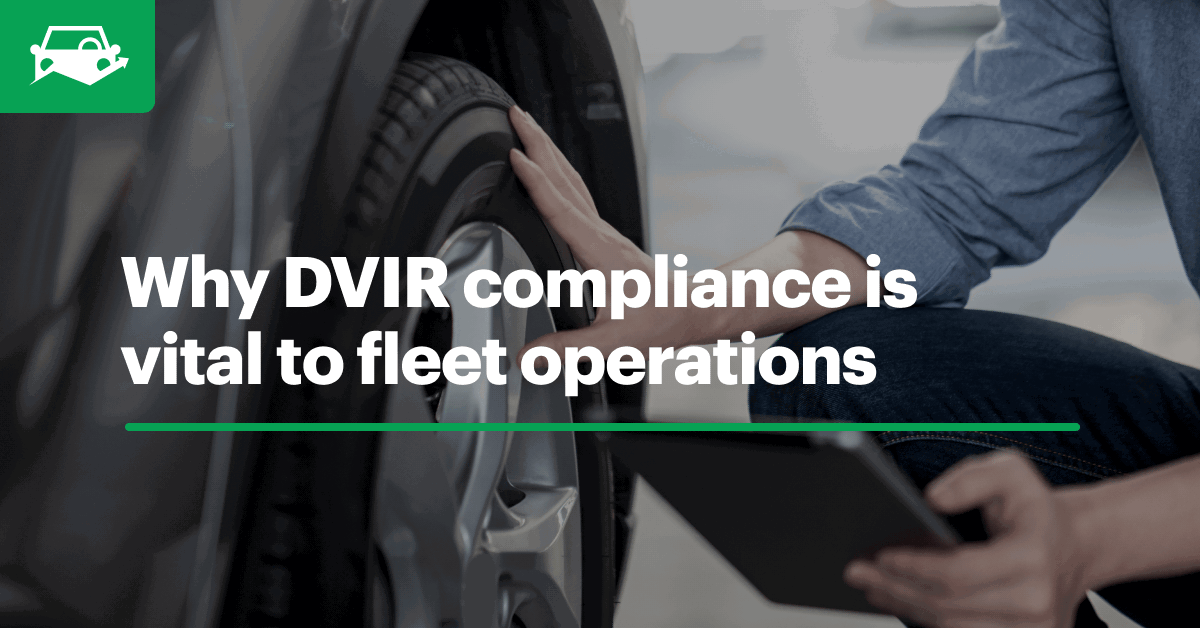 What's Needed in a Compliant Daily Vehicle Inspection Report (DVIR)?
Daily pre- and post-trip inspections are required by the Federal Motor Carrier Safety Administration (FMCSA) for commercial fleets, specifically large vehicles transporting heavy loads, commercial passenger vehicles and busses, and vehicles transporting hazardous materials. While these guidelines are compulsory for commercial fleets, utilizing an inspection system like the one outlined by the FMCSA is a good north star for any fleet that wants to maintain safe and reliable vehicles.
There are three primary steps involved in overall FMCSA compliance:
1. Post-Trip DVIR
This involves thoroughly inspecting a vehicle at the end of every day to look for defects that could possibly compromise the safety of the vehicle or result in a breakdown. When defects are found, they must be reported through a DVIR, which is then kept for 90 days, and the defects reported must be triaged and certified by a third party (usually, a mechanic) to indicate whether or not the issue requires immediate service.
2. Pre-Trip Inspection
Before operating a vehicle each day, drivers must confirm that the vehicle is safe and ready to operate and certify that any repairs required from a previous DVIR were made.
3. Annual Inspection
Every vehicle has to undergo a periodic DOT-approved inspection at least once every 12 months, either by the DOT itself or by an approved third party in states without a federal inspection program equivalent. Once the inspection is passed, carriers have to maintain the documentation and sticker issued for 14 months.
Maximizing uptime is key to a productive fleet, but when your vehicles and drivers aren't compliant, your operation can take a huge hit. In 2020, just over 5% of all driver inspections and 20% of all vehicle inspections resulted in an out-of-service (OOS) designation. In addition to taking resources off the road, unresolved critical defects can result in fines anywhere from a few hundred to tens of thousands of dollars.
While it may be easy to view DVIRs as inconvenient red tape in your operation, it can be instrumental in keeping an eye on the overall performance of your fleet by indicating small defects you might not have found until they took one of your vehicles off the road. Utilizing DVIRs as a guide for fleet health takes them from just another process to an important metric, and there are steps you can take to make obtaining and tracking that data a bit easier.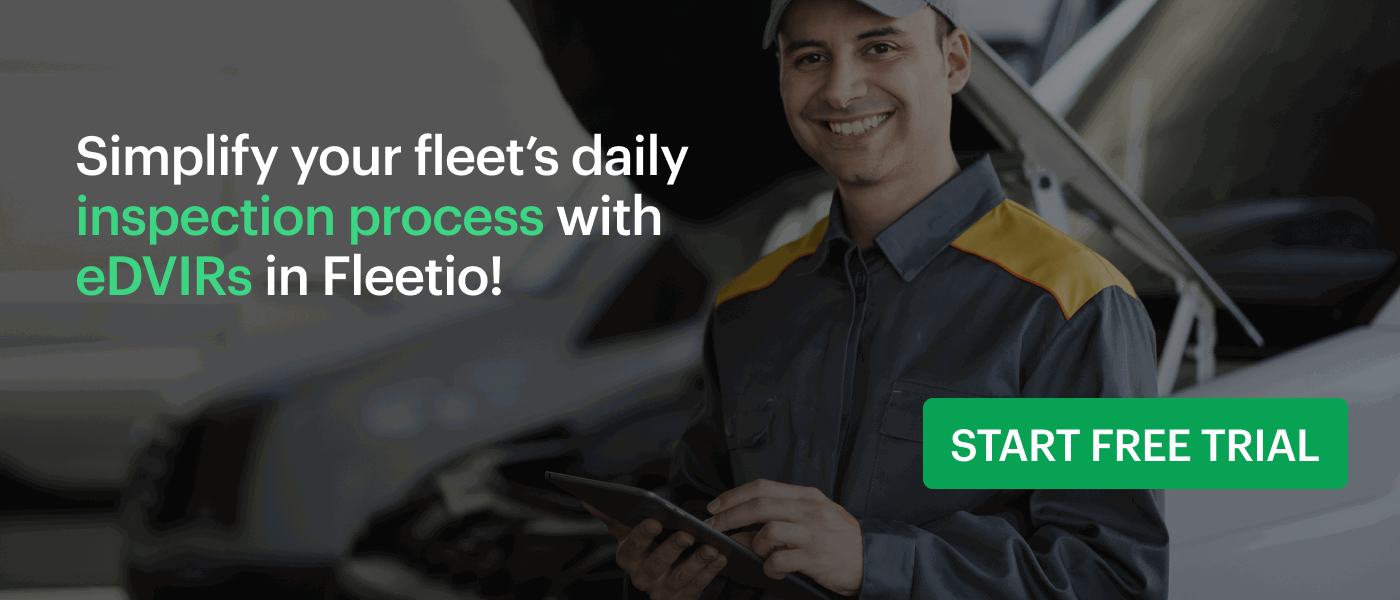 How Can eDVIRs Help?
An electronic DVIR, or eDVIR, allows you to bypass all of the variables that come with paper-based inspections by entering inspection details directly into a phone, tablet or computer and keeping all of that information stored in one secure location. Because the FMCSA does not specify any specific medium or formatting for DVIRs as long as the correct information is used, eDVIRs are a perfectly valid means of presenting DVIR records for annual inspections and other regulatory checks.
In fleet management software like Fleetio, eDVIRs let you standardize pre- and post-trip inspection lists to take the guesswork out of interpreting individual DVIRs. Drivers can even upload photos of defects and provide detailed notes to aid in diagnosis.
Here's a couple of reasons why eDVIRs simplify the compliance process from an operational standpoint:
1. eDVIRs are Faster
Traditional paper DVIRs present a two-pronged issue that affects everyone when it comes to speed: They take longer to complete for operators, and they create a lot of data entry responsibility for managers. With eDVIRs, inspections can be completed in a fraction of the time with greater accuracy and detail.
Stanley Steemer, one of the U.S.'s largest cleaning companies, transitioned to eDVIRs to save time on their inspections. With a growing fleet of thousands, DVIRs quickly became an operational sore spot due to the process of managing data entry from paper to computer. When doing inspections through Fleetio, Stanley Steemer's drivers were able to reduce their time investment from hours to as little as 10 minutes per vehicle.
Not only are eDVIRs faster to complete, they also present the opportunity to respond to reports with more expediency. As soon as an inspection is submitted in the app, managers can receive a notification, see the issues the driver has indicated and begin seeking out maintenance or other fixes immediately, bridging the time gap between problems and solutions.
2. eDVIRs are Easier to Complete
Another major issue with paper DVIRs is that they can be a complex process to complete for operators, between requiring two hands to fill out the report while they are manually inspecting their vehicle and being difficult to properly store and keep track of. The more difficult a process is to complete, the easier it is for it to potentially be undervalued or ignored, resulting in incomplete records and potential infractions.
Completing inspections on a phone means having an extra hand to move through the check more efficiently, as well as reducing paper trails for drivers to keep up with, ensuring there's always a well-kept record for each vehicle. Making inspections easier for drivers better incentivizes full compliance.
3. eDVIRs are Less Error-Prone
When you have predetermined criteria set in an eDVIR checklist, drivers can select options from drop down menus and enter information into required fields, meaning no entries get left blank for lack of clarity. Because eDVIRs are digitized, there's no need to re-enter handwritten information, and an entire step for potential miscommunication is avoided.
Plus, when DVIRs take less time overall, drivers are less likely to blow through a checklist too quickly and can be more thorough in their inspections without sacrificing time.
4. eDVIRs are More Trackable
Because DVIRs are required to be kept for 90 days, being able to simply keep track of all the inspections your fleet conducts can mean avoiding significant unnecessary downtime. You can store all documentation on each vehicle and driver so that when federal inspections or CVSA Roadchecks roll around, drivers have direct access to all significant documentation on their phone.
Having all of your inspection data tracked in a fleet management software means you can also use that to maintain better data visibility into your fleet for decision making. You can use custom alerts when certain reports are submitted, and when defects come up or recurring issues are identified, you'll have all the information you need to quickly make an informed decision.
Want to learn more about DVIRs and FMCSA compliance?
Check out Fleetio's white paper to get a better understanding of the regulations that keep your fleet on the road and how to improve your company's compliance standards.
---
Ready to digitize your DVIRs? Start your free trial or request a demo today!