Compliance, while vital, isn't the only reason to install electronic logging devices, or ELDs.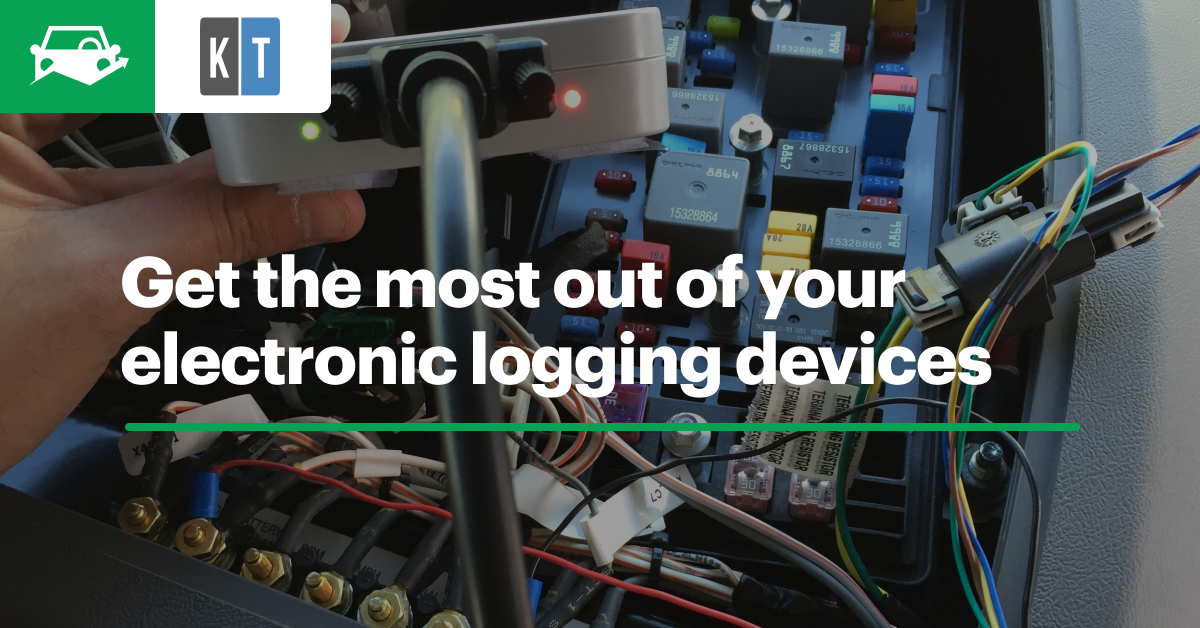 Guest Blog Post by Kevin Lynch/KeepTruckin Staff
There are numerous ELD benefits for both the individual, owner-operator and the fleet manager overseeing an enterprise-sized fleet. When used effectively, ELDs can streamline operations, reduce operational cost, maximize productivity and increase profits.
If you're on the fence about whether the cost of an ELD is justifiable, check out these 10 benefits that go beyond compliance.
1. Safety Saves Lives
Safety is the priority in this biz. According to an estimate by the Federal Motor Carrier Safety Administration (FMCSA), ELDs help save 26 lives and prevent 562 injuries every year.
Plus, with more efficient route management, GPS tracking, fault-code monitoring, and timely identification of bad driving behaviors like distracted driving or driving fatigued, ELDs can help prevent numerous accidents.
2. Vehicle Diagnostics
As an ELD is automatically connected to the vehicle's diagnostic port, it allows the device to actively monitor fault codes. As a result, you can stay ahead of vehicle maintenance issues with real-time alerts and detailed reports.
Not only do you get real-time alerts whenever a fault code is detected, but you can also identify recurring issues with historical fault code reports. You can then use these reports to strengthen your fleet's preventive maintenance (PM) schedules.
Precautionary and preventive measures can be taken at the right time, which leads to higher efficiency and productivity.
3. Reducing Liabilities
Accidents happen. Meaning companies (guilty or not) find themselves in court now and then.
ELDs give drivers, and your company, a far better chance of exoneration when the commercial driver isn't at fault. The data recorded by ELDs can be presented as evidence. If there was no violation, no hard cornering and no speeding, it shows that the driver was probably not at fault.
When accidents occur, you may also be asked to provide proof that the vehicle involved has been properly maintained. For example, if your driver rear ends another vehicle, that vehicle's owner (or insurer) may point at faulty brakes as the cause. Using ELD data, you can prove the vehicle in question has been properly maintained and thus is not at fault.
Another ELD advantage is the accuracy and consistency of the recording. A written log is only as good as the driver's record keeping ability. The slightest inconsistency or missing detail in the written logs could harm an innocent driver's case and/or lend support to a plaintiff's claim that the company is responsible for a crash.
Unlike paper logs that can become disorganized or lost, electronic logs ensure accurate, easily accessible information will be there when you need it.
Giving drivers the tools needed to log their activity electronically is the best way to avoid legal issues, prevent lawsuits and decrease liability.
4. Reducing Fuel Waste
ELDs monitor idle-time. This is valuable data, especially in these days of ever-rising fuel costs. When you track exactly how much time each driver spends idling, you can identify drivers who idle for too long or too frequently, saving thousands of dollars in the long run.
5. Location Tracking and Better Route Management
ELDs allow fleet managers to actively monitor vehicles through GPS tracking, giving them real-time visibility while improving productivity.
GPS tracking—along with breadcrumb trails and location history—can help fleet managers and drivers plan the perfect and shortest routes. Shorter routes save time, fuel and money.
6. Minimizing Administrative Burden
Fleet managers and drivers shouldn't be spending the majority of their time doing administrative work. ELDs put an end to manually recording Hours of Service and the costly act of saving and storing records, saving you a lot of time, money and effort.
7. Automated IFTA Calculation
As you know, every fleet must file IFTA reports at the end of every quarter. Without ELDs, this is a paperwork-heavy, manual process. With so much calculation, there is always a chance of human error.
ELDs completely automate the IFTA calculation process, saving hundreds of manpower hours and thousands of dollars. By reducing administrative burdens and operational costs, automated IFTA reports—with no errors or inconsistencies—also reduce audit risk.
8. Lower Insurance Premiums
When companies are found negligent and/or liable for a crash, insurance premiums increase considerably. In terms of maintaining affordable insurance premiums, ELDs pay for themselves many times over.
ELDs have the potential to reduce insurance premiums in two ways:
Currently, premiums are based largely on CSA scores. By syncing with a truck's engine, ELDs allow carriers to monitor driver safety and identify the type of risky behavior that results in higher CSA scores.

ELDs can provide the insurance industry additional data (when explicitly shared) to consider when determining risk models. This can reduce the impact a driver's CSA scores can have on insurance premiums.
The simple act of implementing ELDs across your fleet provides carriers with extensive, up-to-the-minute data, helping carriers minimize risk and prove there was no negligence if accidents do happen.
In the event of an accident where a plaintiff may attempt to claim negligence where there was none, carriers using ELDs can provide a clear record of a driver's history—down to their braking habits—and dispute any claims of negligence in employing them. Manual logs often don't include enough information to prove a driver involved in a crash was indeed a historically safe driver.
9. Identification of Poor Driving Behaviors
Another ELD benefit is that they track driving behaviors. This includes identifying bad driving behaviors, such as excessive acceleration, hard braking and hard cornering. Once you know which drivers have bad driving habits using the data gathered from ELD, you can talk to them and help them improve.
Identifying high-risk drivers can reduce the number of potential accidents and liabilities. Without ELDs, there is no way to efficiently track and gather this information.
Fleets can also make a list of their best and worst performing drivers. The worst performing drivers can undergo proper training while the best can be rewarded and/or publicly acknowledged, increasing motivation and driver retention rates. As you can see, with the right data, the opportunities are endless.
10. Higher Profits
Last, and best of allt, ELDs have a direct ROI. The lack of administrative burden reduces operational cost. Decreased liabilities and better insurance rates have a direct positive impact on the balance sheet. And, with proper driver management, fleets are also able to improve the driver retention rate.
Add to this, better route management, idle-time tracking, vehicle fault-code monitoring, automated IFTA calculation, and reductions in fuel usage, fleets can reduce the cost of operations, all of which translate into greater profitability.
More Than a Compliance Tool
ELDs can help fleets streamline their operations, increase productivity, maximize profits and explore new business opportunities by getting more efficient at what they do.
The information ELDs gather can also help fleet managers pinpoint growth opportunities, allowing trucking companies to grow at a much faster pace.
Yes, ELDs were primarily introduced for compliance with the FMCSA's final ELD rule, but with advanced telematic solutions, such as KeepTruckin's integration with Fleetio, ELDs are now much more powerful and serve many different purposes.
---
Request a free demo of the KeepTruckin ELD system to see how it can help your fleet.