Equipment checkout software enables fleet managers to track equipment assignments and location in real time. Tracking equipment with software improves team accountability and productivity.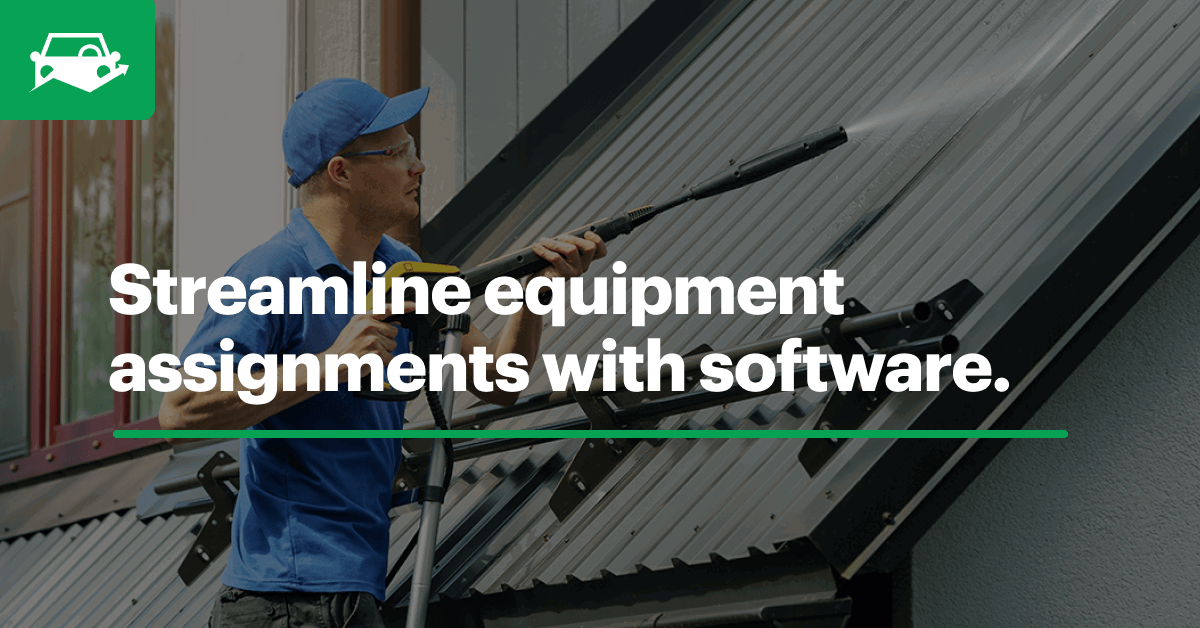 What are the Benefits of Equipment Checkout Software?
Leveraging equipment checkout software provides fleet managers with comprehensive visibility into their assets. By streamlining tool and equipment checkouts with software, managers can track productivity, monitor equipment location and hold team members accountable.
Using a manual equipment checkout system brings about many challenges for fleet managers. Not only do you have insubstantial equipment visibility throughout the day, but communication is limited across your team.
Implementing a system using equipment checkout software ensures you can easily view equipment location and monitor assignments on the go. A software that has a compatible mobile app also enables real-time communication with your team. This eliminates the common communication gaps between field and office.
When choosing the best equipment checkout software, it's important to find a solution with the right features for your fleet. Make sure the software provides real-time equipment visibility, enables collaboration and has the following must-have features.
An Easy Equipment Checkout Process
You and your operators are on a tight schedule, so checking out tools and equipment should be a simple, fast process. Instead of trying to schedule equipment assignments on messy whiteboards, using an equipment checkout software streamlines assignments and checkouts.
Fleet managers can create and edit equipment assignments in centralized software. This provides a clear view of equipment status, location and past or current operators. Managers can easily monitor equipment and ensure operators are informed of assignments on time.
Instead of signing equipment out on clipboards, operators can log assignments or available equipment in a mobile app. Based on availability, they can quickly check out tools and equipment in the app and get to their job. Not only does this boost productivity, but it also ensures managers stay informed of equipment usage in real time.
Requires No Additional Hardware
Implementing a new equipment checkout system should be simple and not require the additional expense of separate hardware. Purchasing barcode scanners for your team isn't just expensive, it also requires additional training and the potential for technical issues.
The best equipment checkout software helps you avoid expensive hardware and use familiar devices you and your team most likely already own. With an easy-to-use mobile app, operators can scan barcodes, QR codes or NFC stickers to quickly check out power tools and equipment.
Using phones and tablets to check out equipment is a portable, simple solution that provides increased clarity and productivity. When operators scan a piece of equipment, they can quickly view equipment details, start an inspection, assign equipment to themselves or check it in for others to use.
[![equipment-checkout-cta](https://marketing-cdn.fleetio.com/images/blog/equipment-checkout-cta.png)](/pricing)
Real-Time Equipment Visibility
With all of the responsibilities of a fleet manager, staying on schedule is the best way to maintain productivity. Unfortunately, it's easy to get sidetracked when you don't have real-time equipment visibility.
Tracking down missing tools and equipment and managing assignments manually can derail your plans and cost you countless hours each week. Maximizing equipment visibility and enabling collaboration helps avoid these common roadblocks and helps you stay productive.
Using an organized equipment checkout software provides clarity into equipment assignments, location and usage. It also empowers your team to proactively view assignments and be accountable for their equipment.
Managing tools and equipment in an organized system enables fleet managers to access equipment locations and easily track and manage inventory. Equipment checkout software provides key insight into usage including past and current operators, location and status.
Maintaining a complete view of equipment inventory ensures you and your team know which pieces of equipment are available at any given time. With real-time equipment status updates, your team can proactively checkout equipment when needed instead of asking for your permission. Keeping everyone informed and in sync maximizes productivity and keeps you on schedule.
A Configurable Dashboard
We've discussed real-time equipment visibility, but it's important to note that when choosing an equipment checkout software, your visibility is only as good as your dashboard. Make sure you leverage software that provides a complete view of operations in a simple, yet powerful configurable dashboard.
While some software solutions have static dashboards, choosing a robust equipment checkout software (like Fleetio) enables you to build and organize a dashboard that fits your needs. Optimizing your dashboard by dragging high-priority data like equipment location, status and inspection results ensures you can monitor operations at a glance and easily dive into a granular view of fleet operations.
You can also tailor dashboards for different members of your team. Controlling what your team sees in their mobile apps allows you to streamline their view and hide irrelevant data. Controlling data access with permission levels ensures your team can access the information they need while still keeping more sensitive data secure.
To increase equipment insight, fleet managers can also access and create configurable reports to track equipment metrics, measure productivity and maintain a complete audit trail of power tool and equipment usage.
Staying on top of equipment metrics is important to ensuring fleet efficiency. To regularly measure certain equipment metrics or fleet KPIs, managers can add reports, charts and graphs to their dashboard. Monitoring operations in equipment checkout software ensures you have complete visibility into equipment usage, technician productivity and day-to-day operations.
---
Equipment checkout software can keep your team productive and accountable! Start your free trial of Fleetio or request a demo today.