While the best of spreadsheets can be a great tool for fleet managers, they require a lot of manual effort and can hinder communication and data accuracy if they're not painstakingly maintained. Making the switch to modern fleet management software automates data collection and enables collaboration to increase your team's productivity.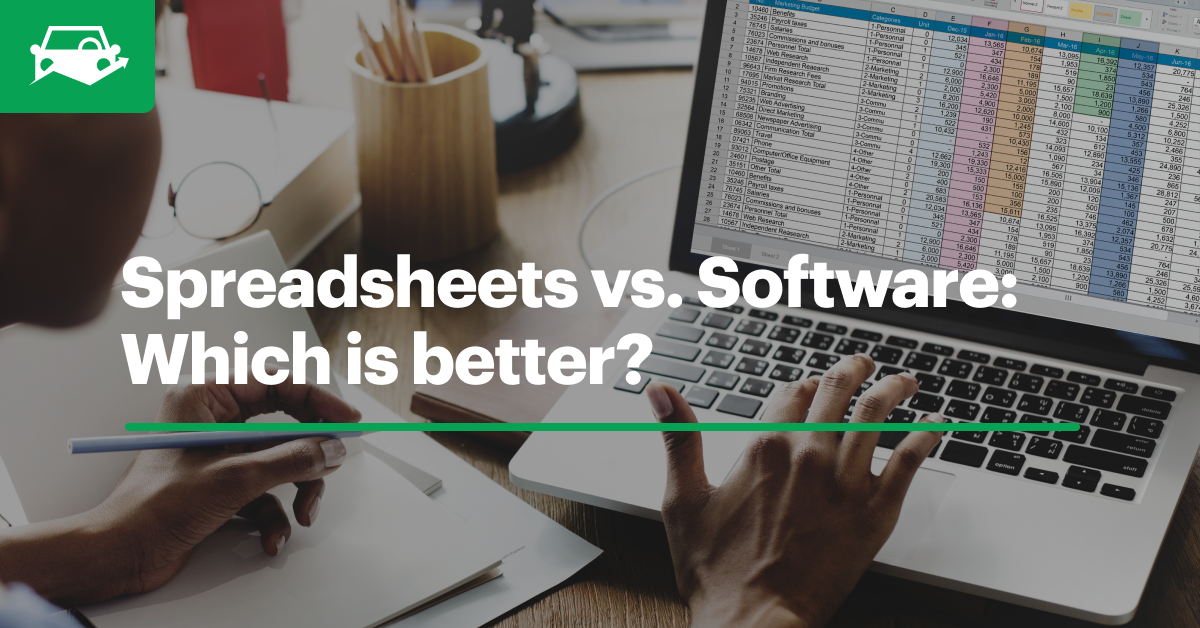 Fleet Maintenance Spreadsheets vs. Fleet Maintenance Software
While fleet maintenance spreadsheets were once the norm for managing repairs, many fleet managers recognized their downfalls and made the switch to modern fleet management software. Using fleet management software is one of the best solutions for monitoring maintenance tasks.
Fleet managers who leverage software can eliminate manual data entry, improve team communication and maintain complete fleet visibility. Managing your fleet in a centralized system allows you to easily track maintenance progress and collaborate with technicians.
Here are a few ways modern fleet maintenance software outperforms spreadsheets to help organizations maximize fleet efficiency.
1. Maximizing Fleet Efficiency
As a fleet manager, your days are filled with a variety of duties, not to mention unexpected interruptions that can happen at a moment's notice. Having to dedicate time to inputting data into fleet maintenance spreadsheets takes you away from more important tasks.
Rather than waste time with manual calculations and spreadsheet formulas, fleet maintenance software automates data collection and aggregation. This allows you to focus more time on actively managing your fleet and less time crunching numbers and keying in data.
Users can input accurate maintenance, inspection and vehicle data from anywhere in the field with a mobile fleet management app . To further streamline data collection, fleets can integrate other systems , like fuel cards and telematics devices, to automatically sync updates that trigger maintenance workflows.
2. Ensuring Data Accuracy
Fleet maintenance spreadsheets are only as accurate as the data you input, and unfortunately, we're all prone to error. When you have errors throughout your data, it can often result in poor decision making in the long run.
While some mistakes are easily fixed when caught early, the problem with spreadsheets is that it's often difficult to pinpoint where an error occurred. You may not even notice errors until much later, resulting in even more inaccurate data across your business.
One of the best ways to avoid inaccurate data sets is leveraging fleet maintenance software. Not only do you receive error-free data synced from other systems, but you can also easily spot and correct any issues with simple data visualizations.
3. Simplifying Data Analysis
In addition to actively managing fleet maintenance tasks, fleet managers must also be able to monitor data to ensure repairs are completed on schedule and on (or preferably under!) budget. They also need to analyze current and historical data to make informed decisions regarding maintenance, replacement and acquisition.
Instead of wasting countless hours configuring spreadsheet formulas and manually creating charts to visualize data, fleet maintenance software provides a simple solution for data analysis. Fleet managers can monitor data at a glance in their configurable dashboard or generate easy-to-understand reports to analyze and share with stakeholders.
Leveraging software to track and manage fleet management allows you to make sense of complex data sets and easily understand every aspect of your fleet. Not only does this allow you to easily visualize data day-to-day, but you can analyze areas of your fleet over time to spot trends and make improvements.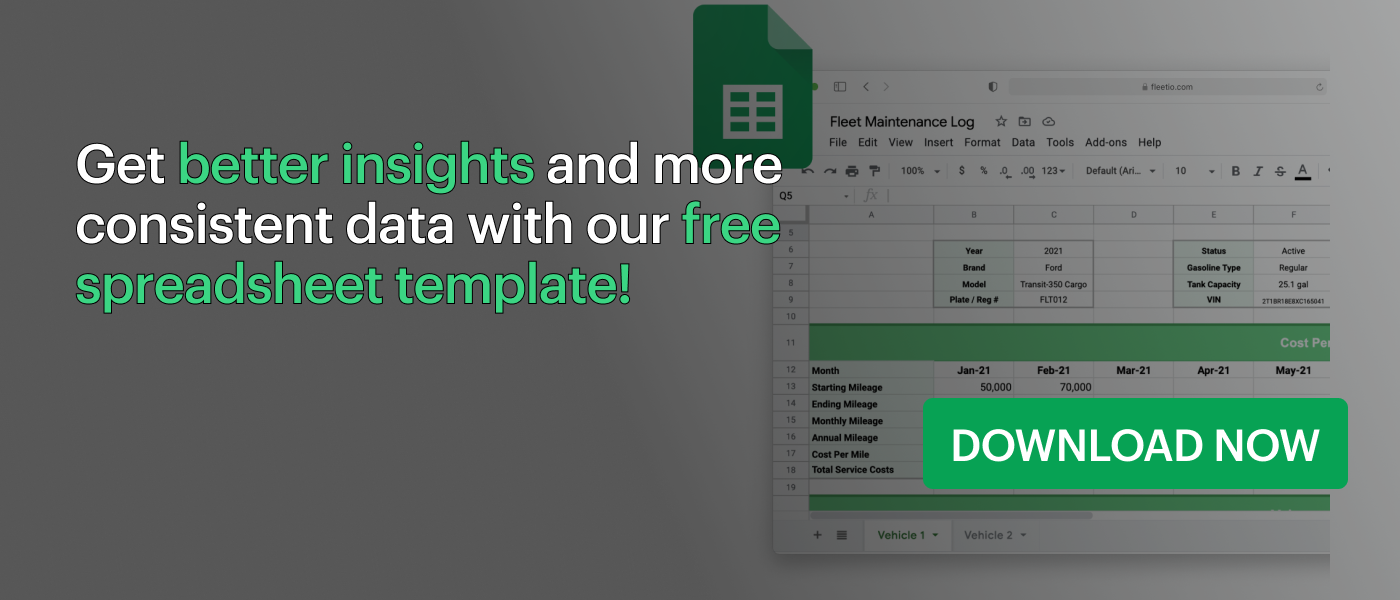 4. Providing Real-Time Updates
Your fleet maintenance spreadsheets are only accurate to the date they were last updated. Because you can't be expected to spend all of your time updating spreadsheets, this means your spreadsheets are weeks or even months behind.
Without an easy way to track maintenance data in real time, you can't get an accurate view of your fleet's performance, health or budget. Fleet managers need an easy way to collect and organize real-time data. Fleet maintenance software helps automate data entry to give you a real-time look at your fleet. Managers can get the most up-to-date metrics from user inputted data from the field, as well as data from odometers, fuel cards, in-house work orders and third-party maintenance work orders.
Your fleet management dashboard is instantly updated as new information comes in, giving you a complete view of progress throughout the day. Instead of tracking down information from your drivers and technicians, you can stay informed of all fleet maintenance tasks in real time.
5. Fostering Collaboration Across Teams
If you're using spreadsheets, almost all of the data entry falls on your shoulders. Not only is this tedious, but this also doesn't allow other stakeholders or team members to easily view and edit data.
As a leader, you know the value of your team's insight. Whether it's stakeholders who can analyze data to make operational improvements or your technicians in the field providing information on maintenance trends, everyone on your team has valuable input that can improve operations.
Having a solution to collaborate with your team in real time is essential to your success. Instead of trying to attach spreadsheets to emails or print out pages for meetings, fleet maintenance software allows you to seamlessly collaborate across your team.
The best fleet maintenance software offers unlimited users and easily configured access levels. This allows you to sync with everyone on your team while restricting the view of sensitive data with certain employees.
6. Enabling Mobility
Collaboration only happens when teams can easily communicate. While they can be readily accessible to anybody on a phone with the right permissions and apps, fleet maintenance spreadsheets don't easily enable direct communication and can create extra steps for on-the-go collaboration.
By contrast, fleet maintenance software is a mobile-friendly solution for collaborating across teams and maintaining real-time fleet visibility. No matter where your team is in the field, they can upload information in their mobile app to keep you informed.
Fleet maintenance software streamlines communication to reduce downtime. Fleet managers can create mobile work orders based on information from the field, jumpstarting the maintenance process to maximize uptime.
7. Maintaining Historic Updates
Having comprehensive data visibility isn't just about current data—you also need to be able to look to past metrics to make decisions or revisions as needed. While spreadsheets don't log historic updates, fleet maintenance software enables you to maintain past records with ease.
Instead of your previous data being replaced with new metrics when you update a spreadsheet, fleet maintenance software allows you to track every update on a granular level. You can view which user made which changes and gain complete insight into your data.
Keeping historic logs of fleet data allows you to easily conduct audits, as well as maintain compliance. Users can access past records for maintenance, inspections and other critical data when needed.
8. Centralizing Data in an Organized Software
The amount of data you're required to collect can mean managing multiple spreadsheets. Keeping things organized can cause a massive headache, and it can be hard to make sense of all of those rows of numbers.
Using a comprehensive fleet management software allows you to aggregate all of your fleet data in a single, easy-to-use dashboard. This keeps all of your information organized to offer insight at a glance. Fleet managers can also dig into certain areas of their fleet to analyze operations on a granular level.
With simple data visualizations and real-time information from the field, you have everything you need to easily track and manage your fleet maintenance plan. Ditching the spreadsheets for a software increases your fleet's efficiency while allowing you to make the most informed decisions for your fleet's future.
Still not sold on software?
That's okay! There are still plenty of ways to improve your fleet maintenance tracking without the full onboarding commitment and cost of a fleet management software.
If you choose to stick with a spreadsheet approach, the most important thing to ensure in your system is that you're tracking all of the metrics that matter in a way that mitigates any duplication of effort or excessive manual entry. Spreadsheets should work for you, not the other way around.
Want an easy way to level up your spreadsheet game? We have a free downloadable resource that has every field you need to maximize your data visibility and can easily be copied and used for your own fleet. And the best part is, when you decide you're ready to switch to a software-based solution, all of your vehicle data can be uploaded into your new platform straight from this sheet.
Editor's note: This blog post was originally posted in March 2017 and has been updated for accuracy and relevancy.
---
Want to improve your maintenance data tracking? Schedule a demo to try out Fleetio, or check out our free downloadable spreadsheet template.