Perhaps you're tasked with managing a fleet but you're not a certified fleet manager nor do you possess advanced vehicle knowledge. This is somewhat common since certification isn't required for fleet managers. Nonetheless, these fleet management tips could be a potential lifesaver for anyone managing a fleet of ten or 10,000 vehicles.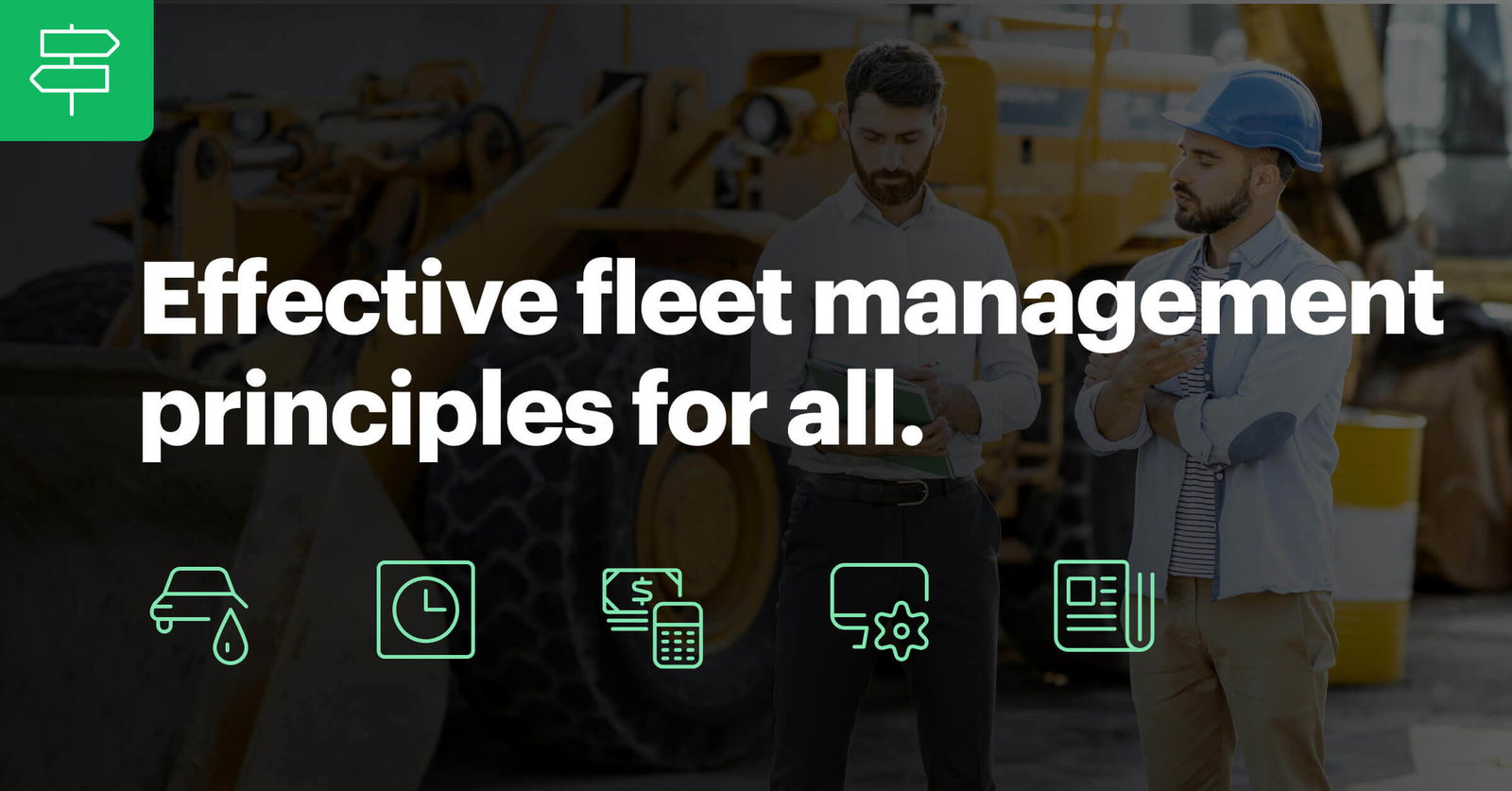 Fleet Management For All
Managing a fleet without being a certified fleet specialist is possible. Like vehicle maintenance, you just need the right tools for the job. For fleet managers, it's technology and software you'll want to holster.
The essence of fleet management is a blend of managing people and costs, maintaining healthy assets and overseeing stakeholders and tasks to maintain the fleet. Whether it's fuel costs, preventive maintenance, asset utilization or driver safety, you need a comprehensive solution to manage it all.
Regardless of experience or certifications, here are five useful tips to help you effectively (and more easily) manage your fleet.
1. Use Software To Satisfy Your Fleet Management Tasks
A fleet manager's focus is to keep fleet vehicles on the road without issue or overspending. It's the only way most businesses can operate. If you want to properly manage costs while limiting vehicle downtime, you can't rely solely on spreadsheets or outdated technology.
Fleet management software is the backbone for overseeing your fleet. It enables you to automate processes while easily collecting valuable data. Whether it's vehicle inspections, fuel and maintenance management, work orders, parts inventory, vehicle history and everything in between, you'll have all the necessary information at your fingertips.
Gathering fleet data from your vehicles and drivers, and managing it within fleet software like Fleetio, allows you to make data-driven decisions in real time.
2. Determine Your True Total Cost of Ownership (TCO)
The total cost of your fleet might be one of the most important metrics to monitor. Its importance presents difficulty in trying to determine an accurate amount, especially per vehicle. There are two primary categories for fleet costs, fixed and variable.
Fixed costs:
Taxes
License/Permits
Insurance
Loan/Lease Payments
Variable costs:
Fuel
Maintenance
Parts
Tolls
Your fleet's fixed costs are typically due on a recurring schedule, so you can set up automatic payments and configure alerts when payments process. The beauty of fleet management software is that it can automate the collection and calculations for both types of costs.
Fuel and maintenance are typically the two highest operating expenses for fleets. If you want to maintain an airtight budget, these two costs require much of your attention. Conveniently, fuel card data and your fleet's maintenance costs can easily be determined with the help of software.
Fleet fuel cards can be integrated with fleet software to transfer details of fuel purchases in real-time. Through this, fleet managers won't have to wait on drivers to return from their shifts with paper receipts (which don't always find their way back to your desk).
Fleet managers can determine each vehicle's cost per mile without the use of complex spreadsheets. Not only does this expedite the ability to immediately calculate costs, but it also helps prevent fraud and fuel theft.
[![non-fleet-managers-blog-cta](https://marketing-cdn.fleetio.com/images/blog/non-fleet-managers-blog-cta.gif)](/pricing)
3. Manage Your Maintenance
Whether you conduct in-house fleet maintenance or outsource to service vendors, there's a solution to fit your needs. If you operate fleet maintenance in-house, there are several workflows you must oversee and fleet management software can streamline the process tremendously.
One of the primary functions of managing maintenance is determining a service schedule. Having to rely on drivers to report when a mileage threshold has eclipsed isn't optimal. Instead, fleet managers can configure notifications when each asset is due for maintenance. From there, you'll be able to assign work orders electronically so your technicians can quickly conduct the necessary services.
For those that outsource your fleet's maintenance, Fleetio's Maintenance Shop Integration (MSI) is a comprehensive maintenance management feature unlike any other. It integrates your repair shops directly with the software enabling you to manage the entire maintenance workflow from your computer.
Repair orders can be created by issues or preventive maintenance schedules electronically. Moreover, you can review and approve all maintenance items generated from the shop so you only pay for the services you want. Your billing can be consolidated from all your vendors and be paid monthly. No more shuffling through paper invoices and having to play phone tag with providers.
Learn more about Fleetio's MSI solution and how it helps fleet managers save time and money.
4. Use Configurable Vehicle Inspections
Daily vehicle inspections are one of the best ways to gain insight into the health of your fleet assets. You can configure these for drivers to provide the most critical data for you. Some of the health checks can include vehicle fluid levels, tire checks and any structural damage.
Electronic daily inspection vehicle reports (eDVIR) allow drivers to use a mobile app to complete inspections. eDVIR enables drivers to upload vehicle details from anywhere in the field and transmit the results to a manager's fleet software dashboard immediately.
In addition, drivers will be able to complete inspections much quicker and free from error. With the immediate transmission of this insight, you can take any necessary action to initiate work orders and services to address issues before they lead to costly downtime.
![stanley-steemer-saves-with-fleetio](https://marketing-cdn.fleetio.com/images/blog/time-saved-inspections.png)
5. Stay in the Know
Trends in fleet management are ever-evolving. Technological advancements transpire on what seems like a daily basis. The fleet industry is undergoing a digital transformation and being informed can help you apply findings to your fleet.
The best way to stay up to date on industry news, relevant best practices and tangible solutions is to subscribe to a newsletter from an industry leader. Fleetio provides a monthly newsletter delivered conveniently to your inbox. It highlights the latest updates and information for all types of fleet. Scroll down and subscribe!
---
Effective fleet management is attainable, especially with the help of Fleetio. Start your free trial or request a demo with one of our fleet experts today!