So you want to buy your own fleet, but you don't know where to start. Here's our quick breakdown of everything you need to know about owning a fleet.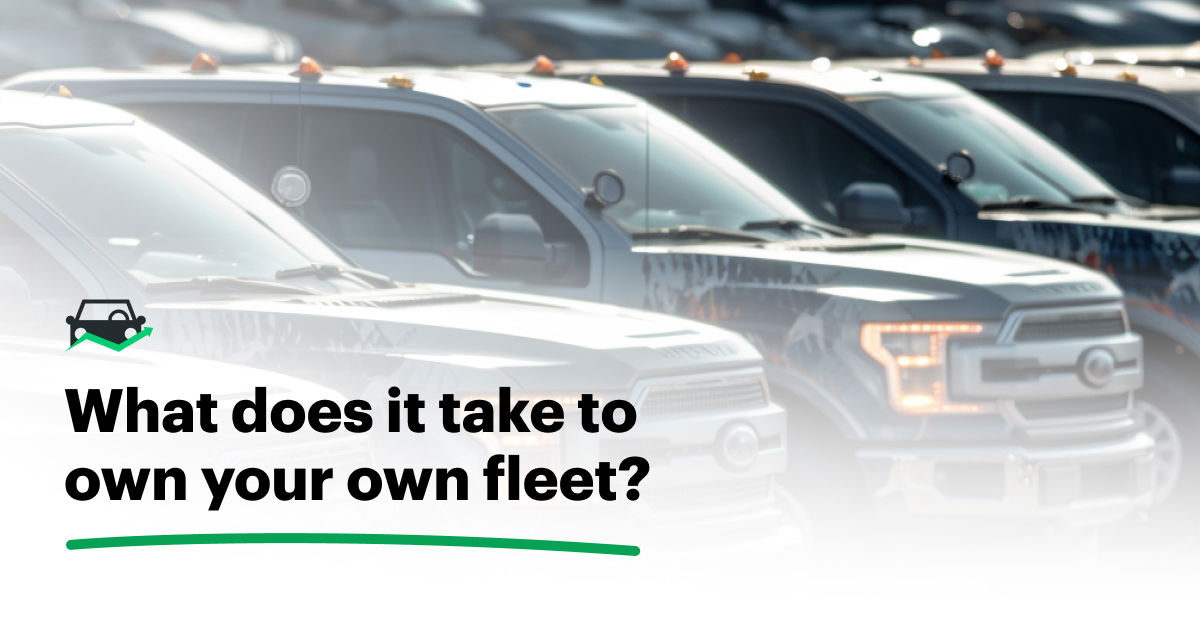 What is a fleet owner?
A fleet owner is just that – someone who owns a fleet, though there is a measure of management involved, as well. Fleet owners are responsible for:
Vehicle acquisition
Vehicle maintenance
Driver management
Route planning
Compliance
Financial management
Customer service
Business development
How do you start a fleet company?
Develop a business plan: This should include details such as your target market, types of vehicles you will offer, pricing strategy, marketing plan, and financial projections.

Choose a business structure: There's a few different ways you can go about structuring your business, from a sole proprietorship, partnership, limited liability company or corporation.

Obtain necessary licenses and permits: State and local governments have different requirements for businesses to operate, and fleet companies are well regulated for compliance , so check in to see what licenses and permits you'll need.

Explore financing: You'll need to secure capital to fund your business at the start, so figure out how much you need and how you'll get it, whether it's loans, grants or investors.

Purchase or lease vehicles: Figure out what vehicle you want to offer and purchase or lease them.

Hire staff: You'll eventually need a staff to help better distribute the workload of running a fleet company, so figure out who you need (drivers, dispatchers, mechanics, fleet managers) and hire accordingly.

Implement a marketing strategy: In order to start bringing in more customers and partners, you'll need to find a way to catch their attention to earn their business. Explore your target market and consider using things like online advertising, social media, and local print advertisements.

Find the right software and technology: Fleets are a very tech-forward industry, so you'll want to get set up with the right software and devices to help manage your vehicles, routes, and drivers.

Develop safety protocols: Safety is paramount in the fleet industry, so make sure you have a surefire plan for drivers and vehicles, and ensure that all staff are properly trained.
Fleet pros share proven actions to better your fleet
The Fleet Manager's Manual is a compilation of articles and resources to help fleet managers take on their daily challenges.
Get Your Free Copy
Requirements
If you want to become a private fleet owner, there's a few things you'll need, depending on your situation:
USDOT and/or MC number – A USDOT number identifies interstate commerce carriers, and an MC number is for carriers who transport regulated commodities for hire in interstate commerce, so if you'll be functioning in that capacity, you'll need to have that squared away.

Intrastate licensing – You'll need to be licensed for driving in the state you plan to operate in. Chances are you'll have to operate your vehicles in some capacity, so a CDL will come in handy.

HVUT tax payment – A Heavy Vehicle Use Tax is an annual fee assessed on heavy vehicles operating on public highways if their weights are at or over 55,000 pounds.

IFTA credentials – International Fuel Tax Agreement credentials are intended to show that your business is licensed to report and pay fuel use tax.
Pros & cons of fleet ownership
As with any business decision, there's a lot you should consider before you purchase your own fleet.
Pros
Control: When you own a fleet outright, you get control over all of the decisions around it, like purchasing, maintenance, and management.

Revenue potential: Over time, fleet ownership can become profitable, allowing you to grow your business more over time.

Branding: Fleets can be a built-in branding opportunity, as you can advertise your business on the vehicles themselves.

Versatility: You can initially purchase vehicles to meet a variety of needs, as well as add to or offload them to compensate for demand.
Cons
High upfront costs: Purchasing a fleet requires a pretty big upfront investment with no immediate guarantee of returns, and maintenance, equipment, and insurance can get pretty pricey as well.

Maintenance and repairs: Maintaining a fleet is a full time job and can be very costly.

Depreciation: Vehicles are assets that will depreciate in value over time, and you'll need to constantly update your fleet.

Liability: There's a lot of risk with fleets due to accidents that can happen while vehicles are in use.

Competition: The fleet industry is flush with competition, so you'll need to do your research and niche down to find your spot in the market. ##How Fleetio helps fleet owners
Vehicles are the core of any fleet operation, and fleet management software is the best way to track all of your assets from day one. With a fleet management platform like Fleetio, you can easily manage things like:
vehicle tracking
maintenance scheduling
driver management
fuel management
asset management
and reporting
---
Start your fleet on the right track with Fleetio. Get a free trial or request a demo today.