The key to keeping your fleet in Department of Transportation (DOT) compliance is staying organized, yet many fleets have trouble managing all of the documentation to remain compliant. The ability to efficiently record and access your fleet data from anywhere ensures your vehicles remain in DOT compliance and avoid violations.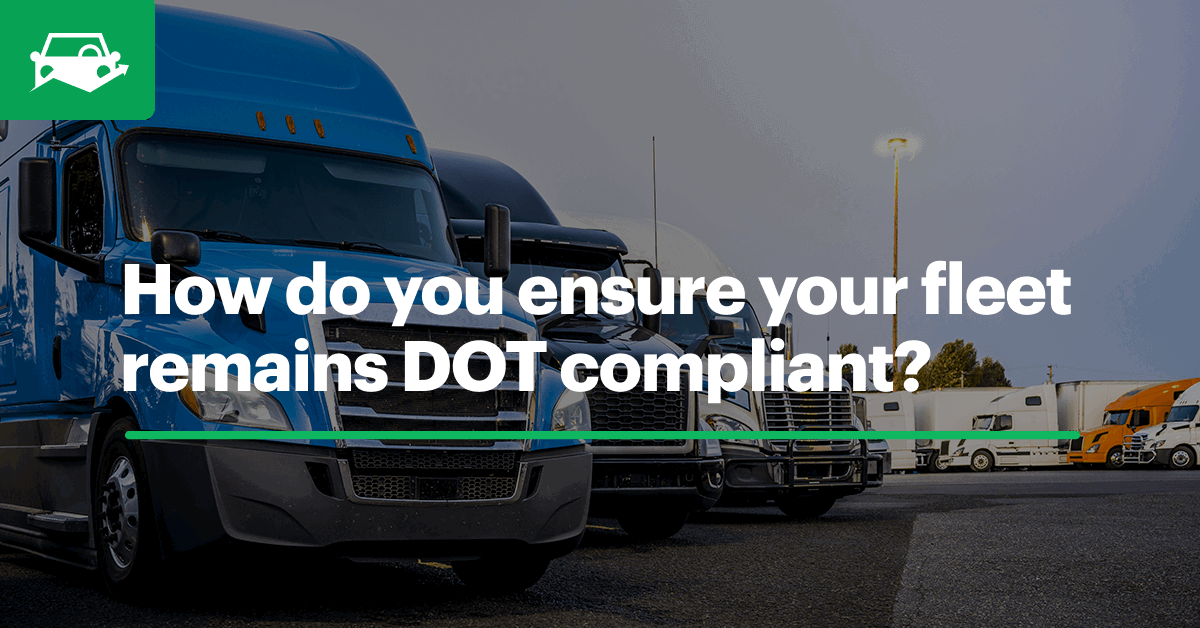 Maintaining DOT Compliance For Your Fleet
As any commercial vehicle fleet manager knows, maintaining DOT compliance is the best way to keep your fleet safe while avoiding hefty fines and violations. Following the DOT's Federal Motor Carrier Safety Association (FMCSA) regulations ensures every aspect of your fleet, from maintenance and inspections to licenses and registration, is safe and compliant.
For some fleets, remaining DOT compliant is easier said than done. Because DOT compliance relies so much on documentation, driver safety and guaranteeing vehicles are well-maintained, fleets who don't have an organized fleet management strategy struggle to keep vehicles in compliance.
To comprehensively manage fleet operations and foster DOT compliance, many fleets are turning to cloud-based fleet management software. By leveraging software, fleets can store and manage all documentation, including registration and insurance, and manage vehicle inspections to keep up with DOT compliance and effectively manage maintenance.
Store All Documentation in a Single System
In accordance with FMCSA regulation 379, commercial vehicle fleets must maintain a comprehensive record of vehicle information, including titles, inspection forms, driver logs, technician certification and more. Maintaining an organized system of record ensures your fleet is storing all necessary documents for the appropriate amount of time.
Whether your fleet is small or large, preserving fleet records can be a challenge if you're using a paper filing system. Tracking down all necessary documents for a DOT audit is quite the headache if your records aren't organized.
Going paperless and uploading all necessary documents into fleet management software allows you to store all necessary documents for each vehicle in your fleet. Storing fleet documents in a single, cloud-based system ensures you and your drivers can access any document quickly to prove compliance.
Managing your fleet's information with the help of software can also help you keep up with registration renewals. Users can set vehicle renewal reminders to ensure all registration and credential renewals for vehicles are completed before they expire.
Leverage a Mobile App to Perform Vehicle Inspections
Completing vehicle inspections ensures DOT compliance under FMCSA section 396.11. While performing Driver Vehicle Inspection Reports (DVIR) is a daily practice for drivers, using electronic DVIR (eDVIR) increases efficiency across your fleet.
According to commercial vehicle regulations, drivers must complete DVIR each day a vehicle is operated to inspect parts and accessories including, but not limited to:
Steering mechanism
Parking brake
Interior and exterior lighting and reflectors
Service brakes
Coupling devices
Tires
Rear-vision mirrors
Wheels and rims
Emergency equipment
Clutch
Fifth wheel
Tie-downs (open deck)
Electrical connectors
Compliance can be a challenge when you're keeping up with vehicle inspections on paper. Paper DVIR logs are often misplaced or damaged while on the road, causing drivers to have gaps in their records.
Keeping vehicles in a safe condition can also prove difficult when using paper inspection forms. When drivers are on their routes for days or weeks at a time, issues uncovered in paper inspections aren't communicated to fleet managers quickly and maintenance can't be performed to ensure vehicle safety.
To maintain a complete record of all vehicle inspections and communicate issues in real time, fleets can leverage a mobile vehicle inspection app. All vehicle inspection data is uploaded into a centralized software, eliminating concern over misplaced forms, as well as immediately alerting fleet managers to any uncovered issues.
Electronic DVIR (eDVIR) enables drivers to perform fast, thorough inspections by employing the use of clicks and swipes. Drivers can also take photos and add comments to provide clarity in reporting, ensuring fleet managers have all the information they need to troubleshoot issues and schedule maintenance.
In addition to eDVIR, fleet management software offers a variety of configurable inspection forms for you to tailor to your fleet's specific needs. Forms for eDVIR and the DOT Annual Inspection are integral to remaining compliant, but safety doesn't end there.
Amid the COVID-19 pandemic, ensuring your vehicles are properly sanitized is more important than ever. Fleetio offers a configurable COVID-19 Post-trip Vehicle Disinfection Inspection Form to protect your team and the public at large.
Record Fleet Service History in Aggregate
As FMCSA regulation 396.3 states, fleets must maintain a record of maintenance completed. To remain in DOT compliance, fleets must record the date and nature of the repairs.
While spreadsheets and handwritten records have been the norm for many fleets, manual entry of maintenance details can be tedious and often incomplete. In contrast, managing maintenance in centralized software is a simple solution for automatically tracking and recording service history.
Leveraging fleet management software to manage maintenance automates comprehensive data collection for all repairs. Information including detailed line items, who completed the service and all maintenance costs are detailed in easy-to-read service history reports.
Service history can be accessed from anywhere, making it easy for your team to gain insight into completed service tasks. Not only does this allow you to easily remain in commercial vehicle compliance, but it also allows you to efficiently manage fleet maintenance from end-to-end.
[![dot-compliance-cta](https://marketing-cdn.fleetio.com/images/blog/dot-compliance-cta.png)](/pricing)
CVSA International Roadcheck Reminder
The Commercial Vehicle Safety Alliance (CVSA) is composed of local and regional federal commercial motor vehicle safety officials and routinely conduct roadchecks across North America to ensure commercial motor vehicles are complying with commercial vehicle regulations.
This year's CVSA International Roadcheck will occur May 5-7. Officials will conduct roadside inspections on CMVs and drivers to ensure safety and compliance. This year, they will be focusing on driver requirements during their inspections.
As the CVSA Roadcheck approaches, now is an excellent time to ensure your fleet is safe and compliant. When preparing for the roadcheck and any upcoming DOT inspections (don't forget that your vehicles should be inspected by a professional every 12 months!), leveraging fleet management software will help your fleet stay prepared.
---
Keep your fleet DOT compliant with the help of Fleetio! Start your free trial or request a demo today!