Developing a fleet safety program is the best way to ensure your team, assets and the public are protected while your team performs their duties.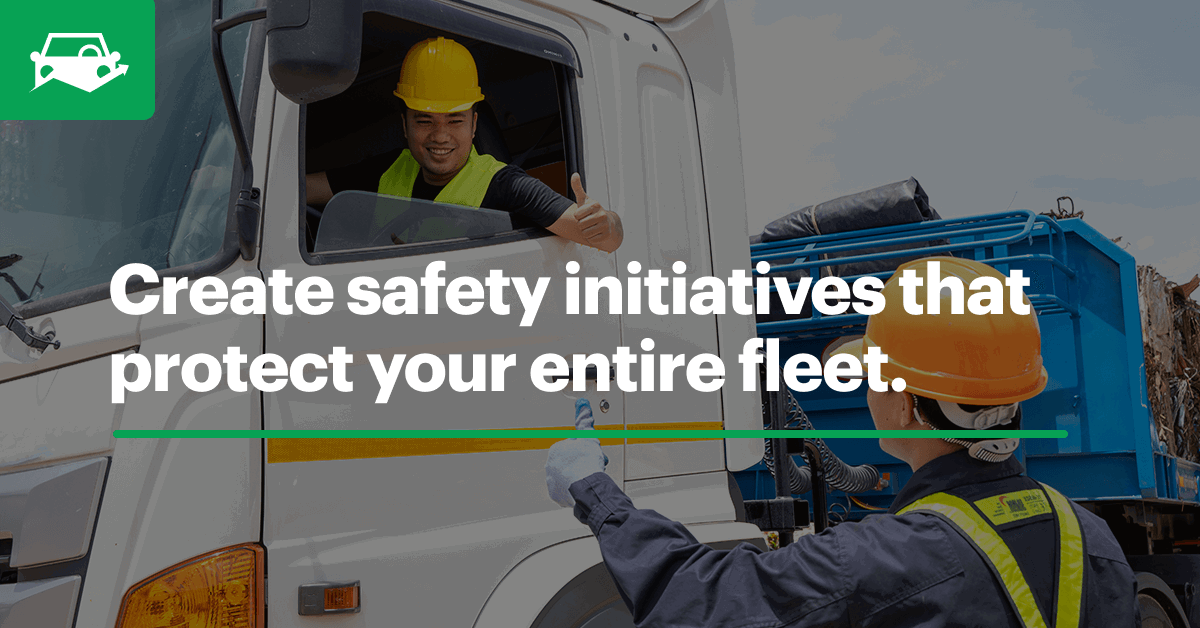 What is a Fleet Safety Program?
A fleet safety program is a plan to protect the safety of your assets and employees through close asset monitoring and proactive maintenance plans. Creating a fleet safety program is imperative to ensuring your team and assets avoid work-related catastrophes.
Because your assets pose an inherent risk, setting safety standards can mitigate liabilities and safeguard the well-being of your assets and operators. According to the Bureau of Labor Statistics, the ten most dangerous jobs in America based on fatal injury rates per 100,000 workers are:
Loggers
Fishermen
Aircraft Pilots
Roofers
Garbage and Recyclable Collectors
Truck Drivers
Farmer/Ranchers
Steel Workers
Construction Workers
Landscapers
Notice a pattern? All of these jobs require vehicles, heavy machinery or small equipment to function. Due to the increased threat of danger, fleet managers in these and similar industries must be particularly vigilant.
When developing standards for your fleet safety program, consider measures for both your assets and your employees. Enforcing safe driving behavior and wearing personal protection equipment (PPE) is just as important as inspecting a vehicle's brakes and securing cargo.
That said, setting safety standards without a way to monitor your assets and employees is insufficient. When you're a manager of one of the most dangerous jobs in the nation, you must have a way to track fleet safety in real time.
How Can I Track Fleet Safety?
Fortunately, there are many solutions you can leverage to ensure the effectiveness of your fleet safety program. Technology has made it easier than ever to monitor asset health, analyze driver behavior and collaborate with your team to ensure fleet safety.
Fleet management software increases the effectiveness of your fleet safety program by providing maximum visibility into your drivers and assets. Managers can receive real-time data, including inspection and telematics data, to track fleet safety and identify areas to improve.
Using a centralized software to track all of your assets, including vehicles and equipment, allows you to track your fleet from anywhere. Because your fleet is often dispersed, your team can upload vital fleet information in real time to keep you informed.
Conducting Routine Vehicle and Equipment Inspections
Sometimes the simplest solution is the most effective. When it comes to fleet safety programs, regularly inspecting your assets is one of the best ways to avoid accidents.
While commercial fleets must complete Driver Vehicle Inspection Reports (DVIR) to maintain compliance, other industries aren't required to complete routine inspections. That doesn't mean you shouldn't, though.
Having your team conduct routine vehicle and equipment inspections allows you to closely monitor asset health. Regular inspections ensure your team uncovers any issues immediately, allowing you to schedule maintenance before issues compound.
Instead of using inefficient paper to complete inspections, electronic inspections allow your team to efficiently evaluate vehicle conditions in a mobile app and instantly upload results. Fleet managers are immediately notified of issues, helping bridge the gap between field and office.
Many dangerous jobs require specialized assets. While paper inspection forms are static, electronic inspection forms can be tailored to your assets. Managers can create as many inspection forms as their fleet needs to ensure asset safety.
Monitoring Driver Behavior With Software and Telematics Devices
You're often away from your team, so having a solution that allows you to monitor real-time driver behavior is the only way to ensure your drivers are upholding safety standards. Fleet technology can provide key insight into driver behavior and actionable data to help you enforce safe driving habits.
Many fleets are required to track driver assignments and hours of service to avoid overwork and potential accidents. Using fleet management software to assign drivers to assets helps you keep up with service hours and keep your drivers from overexerting themselves.
Fleet managers can also leverage GPS and telematics devices to monitor vehicle conditions and driver behavior. Pairing your telematics system with fleet management software provides real-time vehicle data, including diagnostic trouble codes (DTC), to help you track vehicle safety and condition.
Telematics devices can also inform fleet managers of unsafe driving behavior, like speeding or harsh braking. Real-time visibility into your team's driving behavior helps you hold them accountable for their driving habits and uphold safety standards.
Performing Preventive Maintenance
Many job-related accidents are the result of assets being in poor mechanical condition. Taking the time to perform preventive maintenance on your vehicles and equipment doesn't just lengthen asset lifespan and help avoid downtime—it can also save a life.
With so many duties to juggle, some fleet managers have trouble keeping track of maintenance schedules. This can cause assets to go without the manufacturer recommended maintenance for weeks or months at a time.
The longer an asset goes without service, the more likely it is for breakdowns, accidents and catastrophic failure to occur. Creating preventive maintenance schedules in fleet management software is the best way to keep up with service tasks and ensure asset health and safety.
Fleet managers can automate service reminders to alert them of upcoming service tasks. Service reminders can be based on meter intervals, engine hours or calendar days. Instead of trying to track maintenance on messy whiteboards, fleet managers can receive reminders in their inbox to proactively schedule service.
[![fleet-safety-cta](https://marketing-cdn.fleetio.com/images/blog/fleet-safety-cta.png)](/pricing)
Cultivating a Culture of Fleet Safety
You've probably heard the saying, "teamwork makes the dream work." It's true. Getting your entire team invested in your fleet safety program is the best way to ensure accountability and avoid accidents.
Creating a culture of fleet safety begins with communication. The more you communicate the importance of following safety protocols, the more likely it is your team will follow them.
Regular safety training sessions help drive the point home to your team, but we all know that these sessions can be repetitive. To avoid team members zoning out during training, get them involved!
Make training sessions interactive by asking questions and taking their suggestions into account. They might have great insight to include in your fleet safety program.
Also, consider gamification and accountability measures. Use incentives like gift cards or free lunch as rewards for maintaining safe protocol. For assets often on the road, place "How's my driving?" stickers on vehicles to increase accountability.
Your fleet safety program shouldn't just be a list of safety protocols. It should be an interactive part of your company's culture, with every team member invested in protecting their assets and each other.
---
Start your free trial of Fleetio or request a demo to see how real-time asset visibility can keep your fleet safe!