Fleet tracking apps are a handy solution for fleet managers, and their capabilities are quite powerful. Using mobile apps allows fleet managers to track important aspects of their fleet assets from anywhere.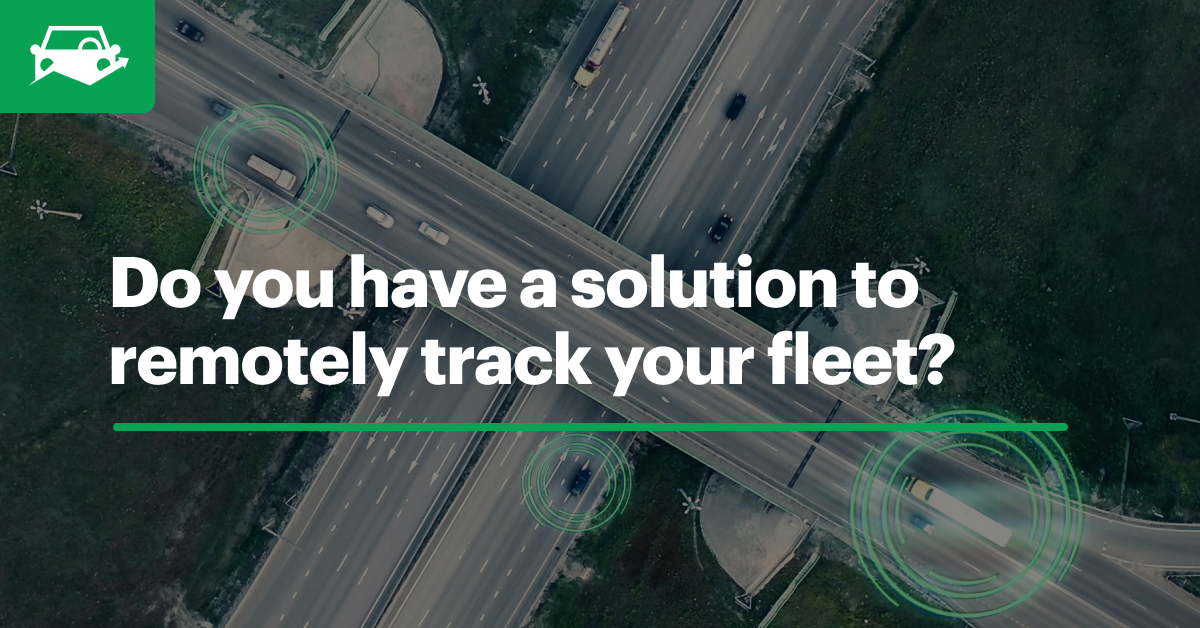 Benefits of GPS tracking for fleets
Improved Efficiency: With features like GPS and route optimization, fleet tracking apps make it easier to get real time updates on the locations of your fleet vehicles as well as ways to get them where they're going faster, leading to greater efficiency in your operation.
Reduced Costs: Fleet tracking apps help you quickly identify adverse driving behavior, nonoptimal routes and vehicle performance issues that you can quickly fix, which means less time wasted on the road or in the shop and more time completing jobs that make your business money.
Better Safety: Tracking your drivers and vehicles with fleet tracking apps means you get a greater visibility into things like driving habits and vehicle diagnostics, so you can catch potential problems before they cause major issues on the road. ##7 features to look for in your fleet tracking app
As a fleet manager, you want to take advantage of modern technology available to help make your life a little easier. Fleets are mobile by nature, and your fleet management solution should be too. Fleet tracking apps help fleet managers monitor their fleet from anywhere, so you're always informed, no matter where you are.
When it comes to choosing the best fleet tracking app, be sure it offers these seven features.
1. Syncs Data With Fleet Management Software
First and foremost, the best fleet management app should pair directly with web-based fleet management software. With this, your data syncs automatically on a computer and fleet tracking app, which you can download on a mobile device.
Fleet tracking apps are incredibly convenient, but not all mobile app functionality is created equal. You should have access to your most important tracking information for each of your registered fleet assets. Additionally, location data sourced from telematics devices should be available on your fleet tracking app in real-time.
Track all of the data in your fleet that matters. Fleetio Go is a modern mobile app that surfaces all of your fleet information, no matter your location.
2. Enables Real-Time Communication
As a fleet manager, your goal is to be as proactive as possible. Leveraging a fleet tracking app will keep fleet managers informed of locations while facilitating real-time communication between you and operators in the field. An ideal solution also allows you to configure notification criteria to prioritize issues and initiate workflows to address them.
Real-time fleet location updates are also beneficial to prevent fuel and equipment theft, something that is harder to track with a fuel log spreadsheet. By focusing on a vehicle's location and comparing it to the location where fuel was purchased (through fuel card data), you can verify a purchase was only to fill the fleet vehicle.
3. Coordinates Geofencing Parameters
You can manage geofencing locations from anywhere with a fleet management system that pairs with a fleet tracking app. This is incredibly efficient and helps maintain control of your fleet's location without having to track every mile they travel.
If you're not familiar with geofencing, it's a preset virtual boundary surrounding a given area. Once you set geofencing parameters, you'll receive notifications when a vehicle in your fleet enters or leaves a geofence area.
4. Is Easy to Use
A constant struggle for fleets is finding technology that is easy to implement and use across the team. If you can't easily pinpoint critical information or your drivers can't figure out how to input details, your investment won't be fruitful.
Take the time to go through the fleet tracking app features and test the functionality. Ask yourself the following questions:
Is the layout easy to navigate?
Can you configure details?
Is it easy to update information?
Can you use it offline?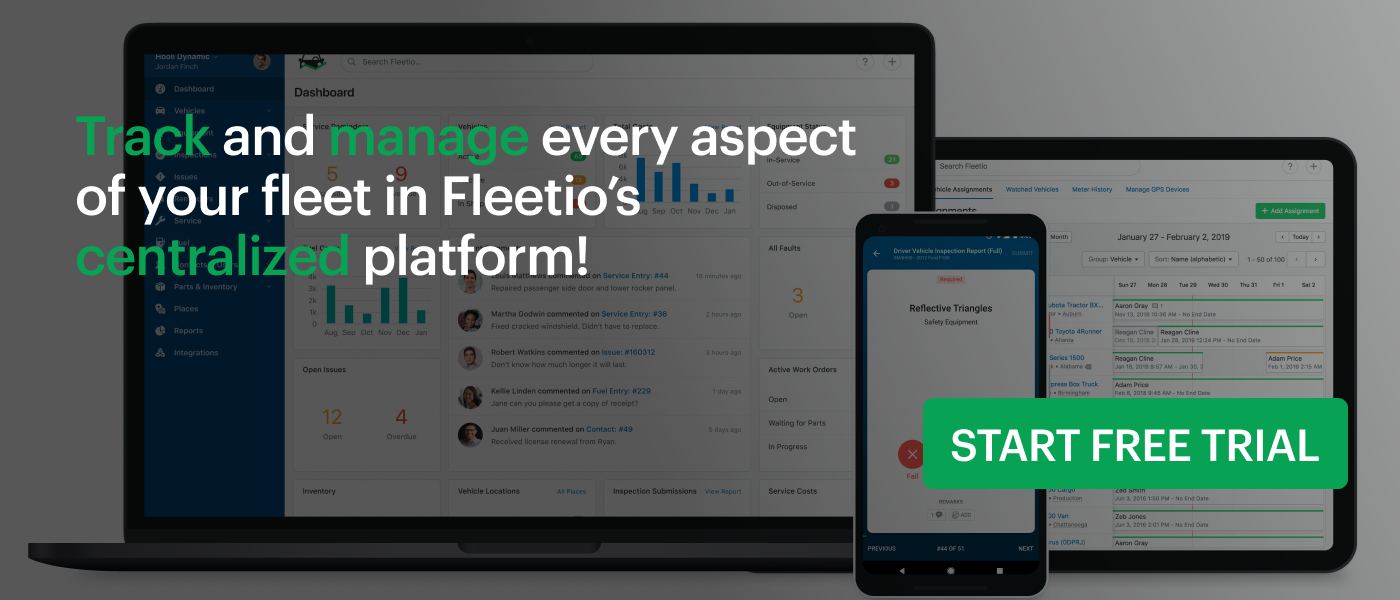 5. Allows Unlimited Users
Managing a fleet is a team effort and you have various stakeholders involved in each of your processes. Unfortunately, many fleet management software providers that also offer a mobile app, have pricing models based per user.
When you have a team of drivers and other users like mechanics, the per-user pricing can become very expensive. You want all of your stakeholders to have access to the mobile app to communicate updates in real-time.
6. Determines Access Levels
Once you've chosen a fleet tracking app and software that allows unlimited users, you'll want to verify user restrictions are in place. Locations, sensitive information, and other fleet metrics should only be accessible to fleet managers and administrators.
The best fleet tracking app allows you to set certain restriction levels for specific users. Drivers should only have access to features catered to their daily functions like inspections and communication tools to update issues.
7. Offers More Than Location Tracking
Many attribute fleet tracking solely with location, through GPS or telematics devices. While location tracking is a useful feature, it's just scratching the surface of what fleet managers can track.
Fleet tracking apps like Fleetio Go help you track the most critical fleet data sets in a centralized system. Other fleet aspects you can track include:
asset and team member assignments
vehicle usage metrics
preventive maintenance schedules
fuel tracking and consumption
work orders and statuses
fleet operating expenses
configurable vehicle inspections
Fleetio's mobile-friendly platform empowers fleet managers to track what matters, encourages collaboration and keeps you informed at all times. When you're able to track everything in a single dashboard, it not only makes your life easier, it provides a solution for you to analyze your fleet data from every angle and make informed decisions to optimize your budget and operation.
5 best fleet tracking apps
1. Fleetio
While Fleetio doesn't provide GPS tracking hardware, it's a cloud-based fleet maintenance platform that offers powerful integrations to keep all of your tracking data in a single platform. You can use the GPS tracking hardware of your choice and integrate it into Fleetio to sit alongside your inspections, work orders and maintenance data so your entire fleet rests at your fingertips.
Fleetio offers a 14-day free trial and bills per vehicle, per month, with a discount for paying annually. There are three pricing tiers available, ranging from $3 per vehicle per month to $7 per vehicle per month.
2. Geotab
Geotab is a full-stack fleet management platform that allows you to track GPS and telematics data, diagnostics, driver behavior and more. Geotab is customizable to the fleet and different features can be added on to support the fleet's needs. They provide hardware, support and training and integrate with a wide variety of other software platforms.
Geotab prices for software range from $35-100 per vehicle per month. Hardware pricing is separate. Geotab doesn't offer a free trial, but you can receive a guided demo.
3. GPSWOX
GPSWOX is a GPS-focused product that lets you track assets in real time, as well as implement geofencing and monitor for driver safety. It's designed for fleets of all sizes and is relatively customizable.
GPSWOX includes a free plan that includes one tracking device and basic features. Paid plans scale from $2.99 to $12.99 per device per month and feature different platform offerings, though those prices will vary from fleet to fleet depending on their needs.
4. Samsara
Samsara offers robust capabilities in GPS tracking, driver insights, route optimization and more. Best for enterprise businesses that need an all-in-one solution, Samsara integrates with a wide variety of other software platforms and offers a high level of customization to users.
Software and hardware are priced separately, with software running between $27 and $33 per vehicle per month. Samsara doesn't offer a free trial or demo.
5. Verizon Connect
Verizon Connect features many of the same tracking features as others on this list, including GPS and telematics, safety monitoring, fuel tracking and more. Verizon Connect is flexible and can be used by fleets of all sizes.
Verizon Connect has two pricing tiers, Reveal Starter and Reveal, and charges monthly. Verizon Connect doesn't offer a free trial or free version, but offers a demo for more detailed pricing information.
Choose the best location-tracking app for your fleet
If you want to track your fleet assets, you'll first need to choose a GPS and telematics device provider. GPS and telematics devices offer a means to track vehicle locations, pull odometer readings and receive notifications when diagnostic trouble codes (DTC) appear on a vehicle's dash. Having access to this information in real time can help you avoid downtime that can cost your fleet $400-700 per day in productivity.
Fleet management software integrates with various GPS and telematics providers, so you can track your fleet's location in the same dashboard or app as you would maintenance, fuel consumption and expense breakdowns like cost per mile.


Fleetio's fleet tracking app has all the features you need to successfully track your fleet operations. Start your free trial or request a demo and experience the power of an essential fleet management solution.