Across urban and rural America, public transportation agencies provide an indispensable service to the communities they operate in. Without reliable and affordable rail and buses, millions of Americans wouldn't be able to go to work, school or important appointments.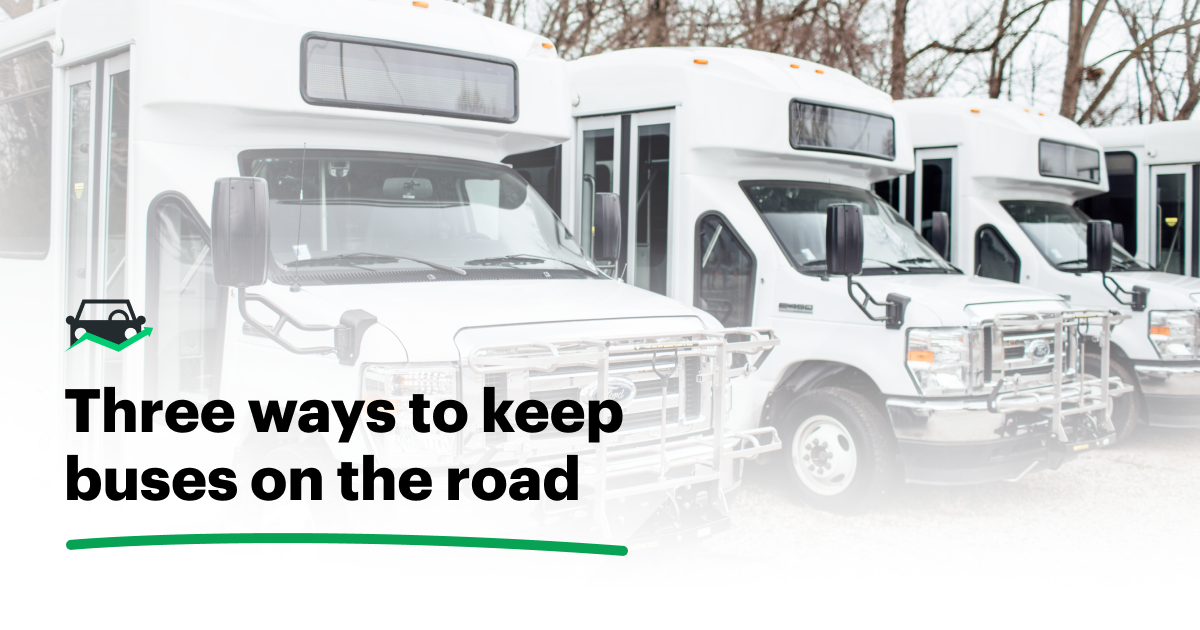 According to the American Public Transportation Association, passengers traveled a total of 56.1 billion miles in 2019 (nearly evenly split between rail and buses). Their research found that half of all trips were commutes to and from work while a third were for shopping and other recreational spending. On top of that, when you consider that public transportation agencies employ over 448,000 people nationwide, their contributions to our country's economy becomes abundantly clear.
Because of that economic importance (and for plenty of other reasons completely removed from business), it is vital that public transportation agencies maintain as high vehicle uptime as possible. When the buses and other forms of transit folks rely on to get to where they need to be are unavailable, the downstream consequences can have a significant impact on people's livelihoods.
Fortunately, there are a number of proactive fleet management tools and tactics public transportation agencies can use to keep their fleets operating without unplanned interruptions. Let's go over three techniques agencies of all sizes and locales can use.
Collect feedback from drivers
After spending so much time behind the wheel and from conducting so many fleet inspections, experienced drivers often know the vehicles they operate like the back of their hand. In many instances, drivers can distinguish between vehicles of the same model and age by their unique quirks or driving feel.
This tribal knowledge often never makes the jump from driver to mechanic to system of record. As a result, vehicles that should receive additional maintenance work (or even be replaced ahead of other vehicles) often go unrecognized by fleet managers.
To improve cross-departmental communication, public transportation agencies should seek their drivers' feedback on the condition of their vehicles. Periodic surveys are a simple and proactive way to solicit such opinions. In addition to general questions about the state of their fleet, agencies should prompt users to identify any specific vehicles they feel aren't performing as well as they should. By collecting and reviewing this feedback, agencies can gain a deeper understanding of their fleet and address previously missed vehicle issues.
Develop comprehensive maintenance checklists
At public transportation agencies both big and small, mechanics have their work cut out for them. Because of how vital each vehicle is to the community they serve, mechanics often work under tight deadlines. In the rush to get vehicles back on the road, sometimes mechanics accidentally neglect to perform the more minor tasks of fleet preventive maintenance. And while failing to check a vehicle's air filters a single time is unlikely to result in a breakdown, repeated maintenance failures can add up over time.
To combat this, public transportation agencies should equip their mechanics with comprehensive maintenance checklists for all of the scenarios they are expected to encounter. For instance, many agencies develop distinct checklists for certain models and certain mileage readings. Through this standardized approach, mechanics can devote the entirety of their focus to performing the service tasks asked of them, without the risk of anything slipping their minds.
Leverage fleet management software
When conducted with paper documents or spreadsheets, transport fleet management often proves overwhelming for even the most experienced fleet managers. Fortunately, fleet management software provides public transportation agencies with a much more effective means of keeping track of their maintenance work, monitoring expenses and running reports.
With the help of a fleet management app, agencies can easily set pm schedules that align with their mechanic's workloads and the operating statuses of their other vehicles. As a result, mechanics aren't overburdened and the impact of a vehicle being temporarily out of service can be properly accounted for. In addition, automatic reminders helpfully notify mechanics of upcoming maintenance tasks, allowing them to prepare in advance. You can read about how fleet management software enabled a rural transportation system to improve their on-time maintenance rate in this case study.


Looking to maximize your fleet's uptime? Fleetio can help you achieve that goal. Start your free trial or schedule a personalized demo today!