We've redesigned Contacts in Fleetio to make it easier to manage User access and gain visibility into all of the different people that touch your fleet!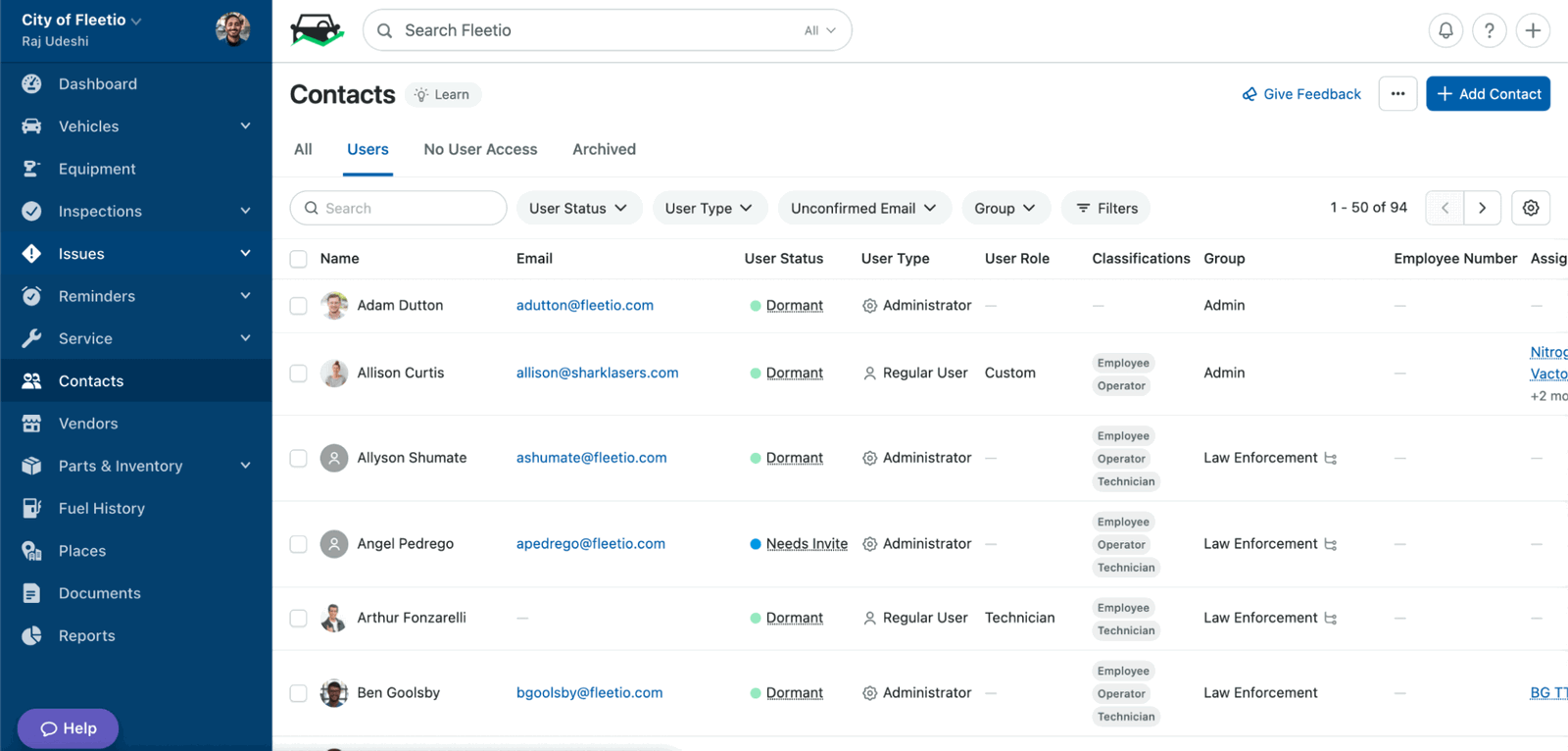 Fleetio makes managing your Contacts easy. You have the ability to add Contacts, anyone that touches your fleet (internal or external employees), and manage their access in Fleetio.
Over the last several months, we've focused on revamping our product to make it even more intuitive! Some of our key goals for these enhancements include:
Creating a consistent user experience and making it easier to use
Speeding up Fleetio to increase your productivity
Remove dated back-end code to lay a foundation for future innovation
We've made these updates to Contacts, where you can now easily toggle between Contacts who do and do not have Fleetio User Access. This gives you a birds eye view of your entire organization and everyone's access level in Fleetio. Activate/deactivate User access in bulk to save time and have complete control over your fleet data and who has access to it.
You can also easily view the status of Users across your fleet, gain visibility into who needs to be invited as a User and view their Fleetio activity. Monitor Contact activity to better understand how they are interacting with and contribute to your fleet.
We've also made it easier to add Contacts and adjust their User Access quickly. As you add Contacts, you can enable/disable User Access and manage their permissions, including what their Role is and what Record Sets they have access to. To learn more about Contacts, check out the video below from Josh Shores, Product Manager at Fleetio, who walks through these recent enhancements.
We hope you find it easier to manage Contacts in fleetio. To learn more about Contacts, check out our Help Center article and as always, feel free to reach out to us if you have any questions or feedback! We're always looking for feedback to make managing your fleet a breeze!
---
Start your free trial of Fleetio or request a demo today to begin centralizing your fleet data, manage maintenance efficiently and control your total cost of ownership!