Leave and view feedback on Maintenance Shops with Shop Reviews. Gain insight into the experience other fleets have had and make the right decision when selecting a maintenance shop for your assets.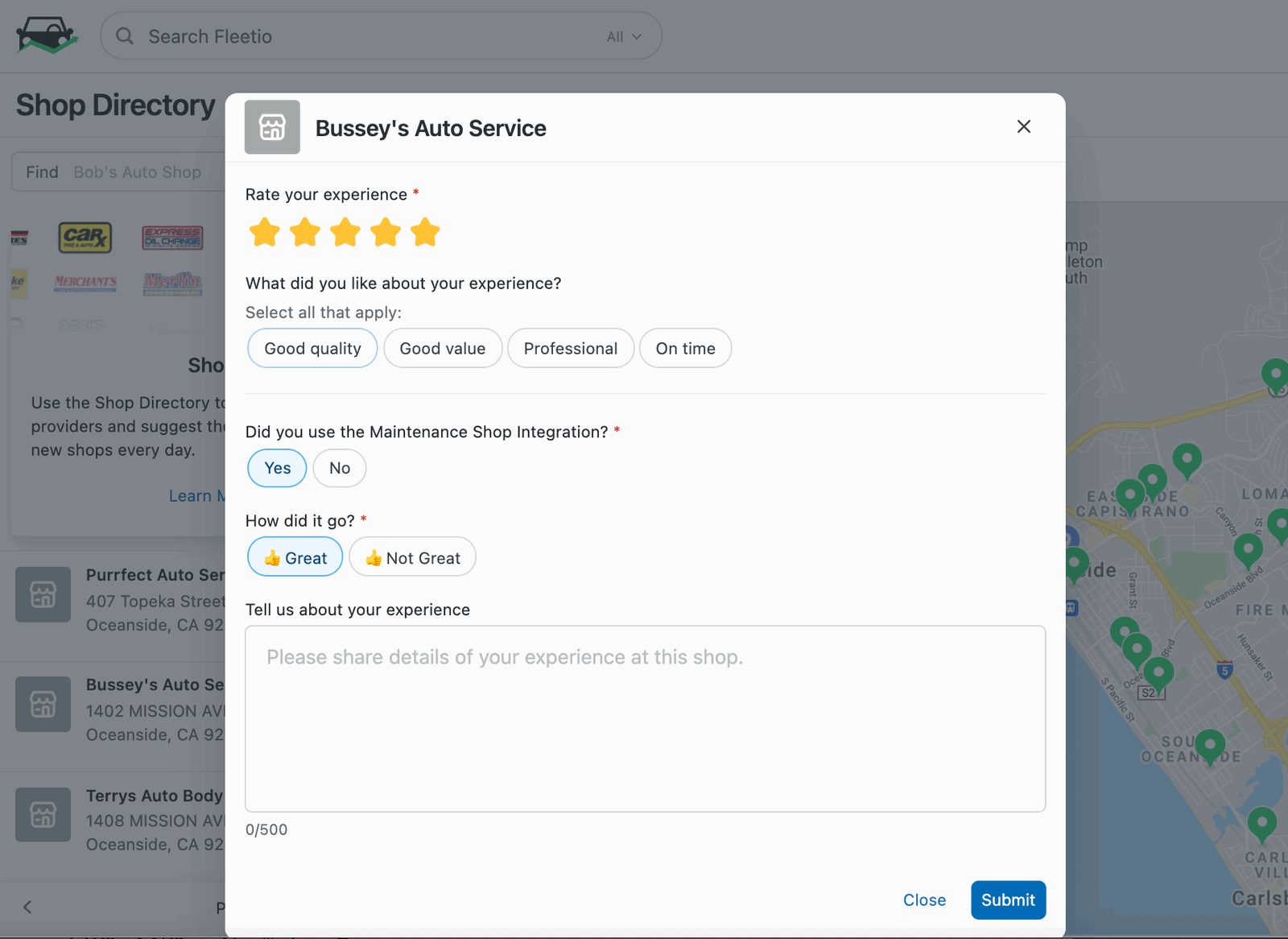 Managing outsourced maintenance can be tough. Fleetio's automated outsourced maintenance streamlines workflows, automatically records service data and consolidates billing from over 85,000+ U.S. shops.
Fleetio Go allows you to find shops in your local area that your drivers can bring vehicles into for specific or general maintenance service. With all of this, it can still be difficult finding a maintenance shop that meets your needs.
We've released Shop Reviews to make finding shops even easier for you and your drivers! With Shop Reviews, you can view detailed feedback from other fleets to help drive your decision making on shop selection. Part of this feedback is a 1-5 star rating, details on experience and whether the fleet used the Maintenance Shop Integration to streamline their maintenance operations.
It's just as easy to leave feedback on a shop that you use as well! Easily leave feedback for any shop at any point in time to help other Fleetio users gain insight into your experience. One of our primary goals is to make it as easy as possible for you to conduct maintenance activities, and offering the ability to view and leave feedback will continue to help all our customers do just that.
Learn more about Outsourced Maintenance Automation and as always, feel free to reach out to us if you have any questions or feedback. We're always looking for feedback to make managing your fleet a breeze.
---
Start your free trial of Fleetio or request a demo today to begin centralizing your fleet data, manage maintenance efficiently and control your total cost of ownership.