In a recent webinar titled "How to Shift Your Maintenance from Reactive to Proactive," I covered tactics and tools fleets can use to get ahead of their assets' service needs.
Here are my five top takeaways from the webinar:
1. Putting off maintenance only exacerbates future costs
[Conversation starts at 1:52]
It's easy to understand the motivation of fleets that put off servicing their vehicles and equipment as much as possible. By running their assets until they fail, these fleets temporarily minimize their maintenance expenses and reductions to their operational capacity (caused by planned downtime).
But, as you likely already know, any temporary gains in profitability and productivity achieved by kicking service work down the road never last in the long run. In fact, costs and losses in productivity due to breakdowns that inevitably occur from lack of maintenance always exceed any short-term savings.
During the webinar, we illustrated this dynamic by comparing the costs associated with common preventive maintenance (PM) procedures and vehicle parts. According to AAA, a standard oil change will run a fleet about $40 to perform. Conversely, data from J.D. Power indicates that replacing a typical work vehicle's engine will set organizations back approximately $4,000. The stark contrast between these two costs showcases the efficacy of preventive maintenance. By keeping assets in top condition and addressing minor defects before they snowball into major issues, fleets ultimately spend far less on service work and parts than they would by neglecting their assets' service needs.
2. Data can help fleets develop a game plan for becoming proactive
[Conversation starts at 8:30]
Preventive maintenance schedules are the cornerstone of any proactive fleet. But before you can develop truly effective PM schedules, it's important that you take stock of your maintenance resources and the needs of your assets. The easiest and most-effective way to determine those factors is by reviewing your service histories and inspection records.
When analyzing your data, keep your eyes peeled for outliers and trends. Outliers can manifest in any number of ways, ranging from a particular issue that pop ups across your entire fleet to a specific model of asset that is significantly less reliable than comparable vehicles or equipment. By developing countermeasures to these especially common issues, your fleet will be able to make considerable headway towards becoming proactive.
As for trends, identifying connections between fleet activities and asset issues can be immensely beneficial. For example, you might find that a certain issue tends to arise after an asset is used for a specific kind of job. Alternatively, you could discover that a common defect occurs mostly during a particular season. Taking the time to connect the dots between the circumstances in which assets are used and what issues they experience can help you determine how to prevent such problems from arising in the first place.
Finally, it's often eye-opening for fleets to closely examine their maintenance categorization data. Until they take the time to look, many fleets don't realize how often their service efforts are disrupted by breakdowns. If you find that your ratio of planned to unplanned downtime isn't where you'd like it to be, performing this analysis can help you set realistic goals towards getting ahead of your service backlog.
3. Earning buy-in from personnel is pivotal for success
[Conversation starts at 12:57]
For reactive fleets to truly turn the corner on their maintenance struggles, they need more than the drive of their fleet manager alone. Technicians, drivers and other fleet personnel play a huge role in the maintenance operations of any organization. By getting them onboard with your organization's plan to become more proactive, you'll be far more likely to realize your goals.
For technicians used to a less structured approach to work, adapting to PM schedules might take some getting used to. If you find that your technicians are skeptical of any new workflows, explain how greater structure will result in their workdays being more predictable and less hectic. Once technicians hear how fewer breakdowns will mean they'll spend less time "under the gun" to turn around urgently needed repairs, they typically get onboard with maximizing PM however possible.
As for drivers, it's important to remember that, while they aren't the ones that perform maintenance work, the inspections they execute play a pivotal role in managing your overall maintenance workload. To encourage buy-in from them, explain how a greater focus on PM will result in the vehicles they spend so much time in being cleaner, safer and more reliable.
Finally, you can show your appreciation to your technicians and drivers whose efforts contribute the most towards proactive maintenance through the use of incentives. By providing top-performers with meaningful rewards, you can almost "gamify" the tasks your personnel conduct and encourage greater consistency and quality of work. Through the use of telematics and by analyzing your maintenance and inspection data, you should be able to identify team members whose contributions have the largest impact on your maintenance performance with little difficulty.
Best practices delivered to your inbox
The Fleet Beat is a monthly newsletter filled to the brim with helpful resources designed to improve your fleet operations and boost your growth as a fleet manager.
Sign up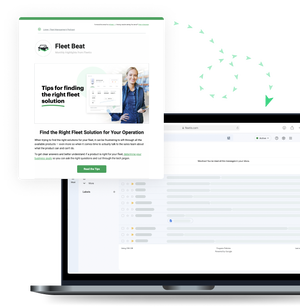 4. Particular KPIs can help fleets gauge their maintenance effectiveness
[Conversation starts at 16:57]
Going from reactive to proactive requires a significant shift in your fleet's maintenance workflows. To ensure the effort and resources you devote to improving your maintenance approach are paying off, it's helpful to measure your performance along the way. With the help of some specific KPIs, fleets can determine the areas where they're excelling and the areas that could do with further improvement.
On-time maintenance task completion rate
This metric is great at highlighting how effective your technicians are at meeting the deadlines set in your PM schedules. If you find that your fleet is falling short in this metric, dive deep into your data to see if underperformance stems from problems with particular technicians, too few technicians assigned to too many tasks, etc.
Repair priority class breakdown (scheduled, unscheduled and emergency)
Because the goal of becoming more proactive is to minimize unscheduled and emergency maintenance as much as possible, monitoring the percentage breakdown between these repair priority classes can be helpful in setting goals and tracking improvement.
Overtime spend
By placing a greater focus on preventive maintenance, more time-intensive service tasks (commonly necessitated by breakdowns) should become less prevalent within your fleet. Keep track of this metric to see if your efforts towards proactivity are improving the workloads of your technicians.
Overall maintenance spend
Perhaps the most-important maintenance metric of all, you should see your overall maintenance spend decline the more proactive you become in your maintenance approach. To account for any forces that might obfuscate this figure, make sure to account for expansions in fleet size or the hiring of new technicians when calculating this figure.
5. The right software can greatly streamline maintenance workflows
[Conversation starts at 19:16]
We closed off the webinar by highlighting how fleet maintenance software (FMS) can make the process of going from reactive to proactive much easier. For starters, by acting as a centralized communication hub for all of your personnel, FMSs accelerate cross-departmental collaboration. With just a few clicks, a driver can convert a defect discovered during an inspection into an issue and create an associated work order. Once that work order is assigned to a technician, that technician is instantly notified, allowing them to prepare to receive the asset in need of service right away. This seamless flow of information and notifications ensures tasks don't end up forgotten and shortens response times, resulting in greater efficiency.
Next, we discussed how FMSs can assist with the creation of maintenance schedules. In addition to just being more customizable and easy to use than other methods like paper or spreadsheets, FMSs have the ability to auto-populate service recommendations provided by original equipment manufacturers (OEMs). No one has more data on how their products hold up in the field than these OEMs, so their advice on when to perform oil changes or what kind of service should be done at 100,000 miles is well-worth listening to. By automatically displaying the latest OEM guidance, FMSs allow fleet managers to optimize their service intervals without having to take time out of their busy schedules to find that information on their own.
And lastly, the value of FMSs is taken even further when they are capable of exchanging information with telematics devices. FMSs already record an incredible amount of data regarding your fleet, so adding data from telematics devices into the mix just makes sense. Through the use of integrations, you can easily add real-time meter readings to the profile page of any telematics-equipped vehicle in your fleet. Having all of your fleet-relevant data in one place (as opposed to a telematics portal and a spreadsheet or a telematics portal and a ton of paper documents), provides a level of all-encompassing visibility that simply cannot be matched.
Elevate your maintenance operations with Fleetio
Increase your assets' uptime while reducing maintenance spend. Ensure service tasks are completed on-time via automated reminders.
Learn more