Trucking and logistics fleets face a major hurdle when it comes to on-time arrivals and departures. This issue stems from several sources, including poorly planned routes, not accounting for weather and/or traffic conditions, unscheduled downtime or delays in the shop and manual dispatch and scheduling. Fleets are increasingly adopting automated fleet and business technologies to overcome these obstacles.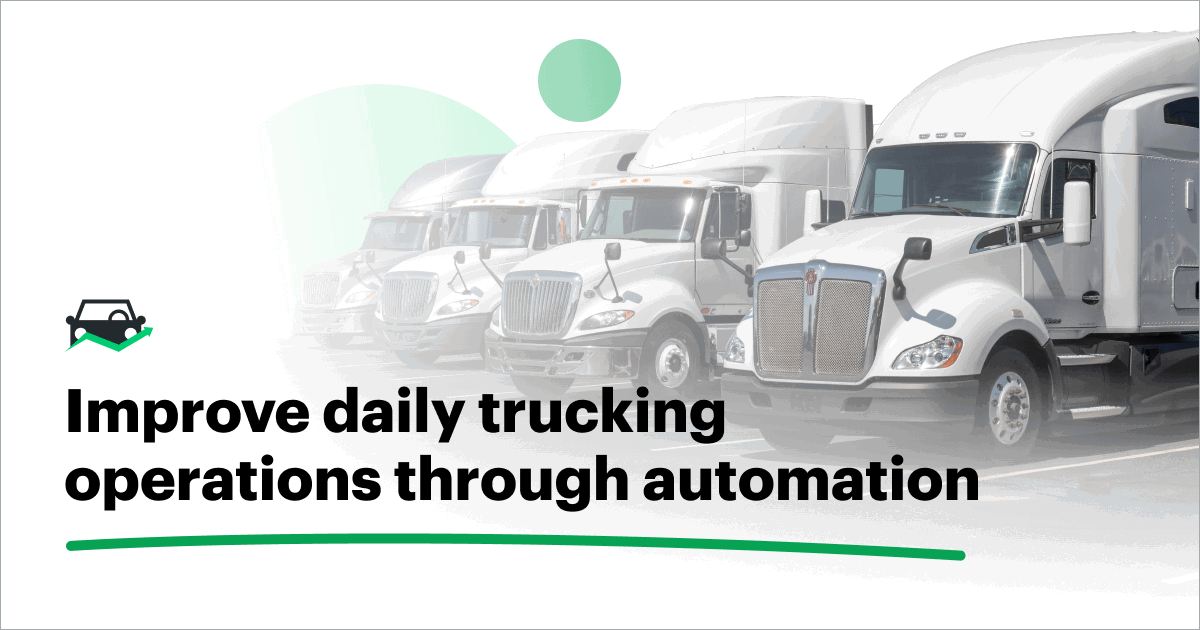 Major Obstacles for Trucking Fleets
Like most industries, trucking and logistics companies are feeling the impact of supply and labor shortages and increased fuel costs. The increase in e-commerce over the past few years has also become an obstacle, and with trucks putting in more miles per year, fleets are seeing an increase in maintenance and repair spend. Additionally, "[v]ast item selections, same-day shipping options and advanced order tracking have all become necessities to compete for business," according to Cimcorp.
Because there are so many moving components to trucking and logistics, companies are starting to look at switching from manual to automated processes, including using warehouse management software, data capture software, inventory management software, AI fleet technology and fleet management solutions. Cargo tracking with global navigation satellite systems (GNSS) is also growing in popularity due its time-saving benefits, including: "automatically redirect[ing] drivers to faster, safer routes […] and accurately predict[ing] the estimated time of departure/destination to allow for coordinated scheduling within the supply chain," according to Brian Estep.
With the increase in available automated technologies geared toward trucking and logistics fleets, even third-party logistics (3PL) partners are turning to automation to improve end-to-end management and help streamline processes to improve productivity for their clients. When it comes to managing the fleet side of things, truck fleet management software (FMS) provides a host of automation tools and granular data collection that helps keep assets on the move and provides insights to improve cost management.
Fleet Automation Benefits
There's been quite a bit of chatter around autonomous vehicles (AVs) over the past few years, so when talking about fleet automation that can often be the first thing that comes to mind. Automated truck management systems or truck management software, like integrated FMS, provide fleets with process automation that improves preventive maintenance (PM), streamlines service workflows and simplifies operational communication.
PM and In-house Service Workflow Automation
For fleets servicing all or a portion of their trucks in-house, process automation takes a lot of the stress out of managing service workflows. Account admins can set reminders based on a truck's (or group of trucks') PM schedule, including assigning the reminders to both drivers and technicians. This allows fleets to optimize maintenance scheduling to decrease downtime and improve compliance.
Drivers can use digital inspections in trucking software to improve issue resolution, as any failed item will alert admins to the issue in real time to quickly kick off the service workflow. Technicians can use digital work orders to clock in and out of jobs and add comments or suggestions as needed. Fleets can use this data to measure active time on service jobs against service durations (the time a truck has spent in the shop from drop off to pick up) to surface any inefficiencies that are causing increased downtime.
PM and Outsourced Maintenance Automation
For fleets outsourcing a portion or all of their truck fleet maintenance, you can still improve fleet productivity with a software's outsourced maintenance automation (OMA) feature. OMA allows you to streamline the service approval process; when a work order line item is entered into the software, you receive instant notifications to approve or reject the order, expediting the service workflow.
All maintenance is under your full control, eliminating surprise line items on invoices, and you can further expedite maintenance by setting auto-approval or rejection rules based on shop, cost or service code, or review all requests manually. Once approved, shops can complete the maintenance quickly and have your driver back on the road for improved uptime. Payments are handled automatically, and maintenance data is, likewise, automatically captured in your management software, eliminating manual data entry.
Enhanced Operational Communication
In truck management software, users can quickly and easily communicate via commenting, and use tags to ensure the proper person is notified of the comment — including third-party maintenance shops. Additionally, in-house techs can comment directly in digital work orders to quickly communicate any issues or suggestions, ensuring communication around specific tasks are easily retrievable.
Improved Data Visibility and Reporting
FMS and other truck management technologies don't just automate workflows, they also automate the collection and aggregation of fleet data for maximized reporting and analysis. Highly-visible fleet data means you're getting a full view of your fleet operations, allowing better operational insights on which you can make data-driven decisions to improve productivity. Plus, you can integrate other automation software with FMS, including finance, warehouse management and dispatch solutions for improved end-to-end management.
---
Find out how Fleetio can help your fleet improve workflow processes and streamline communication. Start your free trial or request a customized demo today!