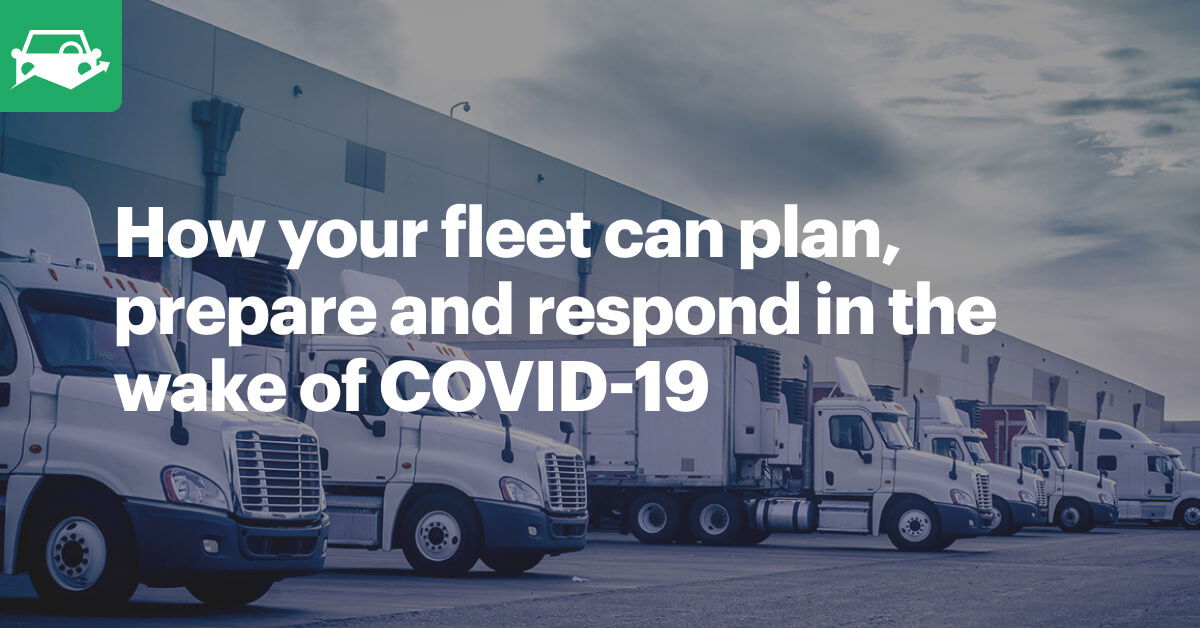 Since the spread of the coronavirus began, we've been communicating with our customers diligently to understand how this global pandemic is, directly and indirectly, affecting their everyday business operations. And one thing is true - everyone is affected, us included.
While there's no perfect recipe for success in this uncertain environment, we can follow the guidance of the Center for Disease Control and Prevention (CDC) to plan, prepare and respond accordingly. We've paired our expertise with what we've learned from customers over the last few weeks to provide some guidance.
Here are seven quick ways that fleet managers can not only prepare for the effects of COVID-19 but ensure they are minimizing impact on their business.
1. Set your team (and yourself) up to work remotely and stay proactive.
As a fleet manager, you likely are not used to managing day-to-day operations from your home. Though your team may be operating without your physical presence right now, managing your fleet while working remotely doesn't have to be a challenge. If you're using paper or installed software to manage your fleet, it's tough to get a comprehensive view of your assets and monitor team productivity. To stay informed, many fleet managers leverage mobile-first software to efficiently manage operations and view fleet data in real time.
2. Set expectations and ensure communication channels are in place.
Since your drivers and technicians are still on-site and on the road, constant communication is critical for effective fleet management. When implementing a remote fleet management strategy, it's important to set clear performance standards for your team and ensure you have proper communication channels in place for real-time task management.
Fleet management software allows you to create and manage tasks remotely and enables your team to upload maintenance and inspection data to keep you informed on critical issues. In addition to communicating with your team through software tools, be sure to regularly reach out to see how you can help them succeed during this uncertain time. Your support and communication will empower them to work diligently to ensure your fleet's success.
3. Take measures to prevent the spread of COVID-19 and protect your employees.
With a few helpful best practices, fleet managers can minimize the contagion of the virus and safeguard employees. Operators should always adhere to the suggested six foot social distancing between colleagues or customers and thoroughly wash their hands throughout the day.
You should provide every operator with adequate sanitation supplies to establish a clean work environment. Prioritize ample access to gloves, masks, sanitary wipes and other disinfectants. Include thorough vehicle sanitation in each operator's pre and post-trip inspection. They should focus on high-touch areas such as (but not limited to) dashboards, controls, steering wheels and handles.
4. Educate your drivers on updated safety and sanitary policies.
Your operators rely on you now more than ever. Turn to the CDC's recommendations to combat COVID-19 and announce new sanitary and safety policies across your entire team. Communicate with each operator directly and provide an avenue for them to update you on any concerns (cleaning supply needs, questions, concerns, etc.). Track vehicle assignments and review operator's vehicle inspections daily to confirm they completed all necessary sanitation tasks and comment on any areas of concern.
To help ensure your vehicles are being disinfected, we recently released a dedicated COVID-19 Post-trip Vehicle Disinfection Form. Within Fleetio, you can simply add the inspection template, edit it to your liking or use as is, assign it to vehicles and schedule inspections to ensure drivers make it happen. This template includes 18 inspection items that consist of daily cleaning and disinfecting of vehicles' high touch areas including keys, door handles, dashboards, steering wheels and much more. Going the extra mile to verify your operators adhere to these new policies can have a profound impact on mitigating community spread.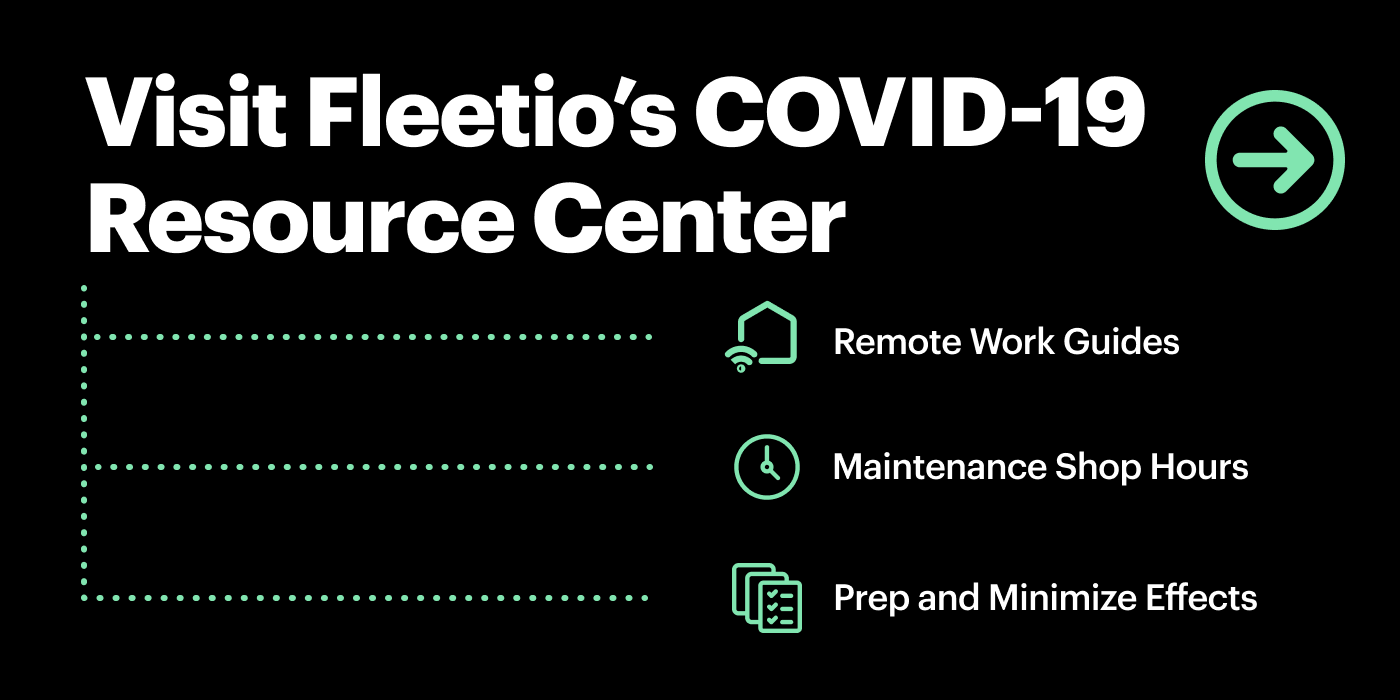 5. Stay current on evolving national and regional maintenance vendor hours.
Your fleet's preventive maintenance needs are ongoing despite how COVID-19 is affecting your business. Thankfully, maintenance shops are considered an "essential business" and remain open for service. While demand for service remains, not all maintenance providers can operate at 100 percent capacity without being impacted by the circumstances. As new developments emerge, stay up to date on national and regional maintenance shop hours here.
6. If you're experiencing a slowdown, use that time to get ahead on maintenance and TCO analysis.
Like many businesses at this time, your fleet may be experiencing a reduction in demand over the coming weeks. This doesn't mean your team shouldn't be busy! Use this extra time wisely by getting ahead of preventive maintenance tasks. When business bounces back, you can maintain peace of mind knowing all of your assets are operating at optimal efficiency.
It's also imperative to closely monitor costs and prepare for any potential impact from the coronavirus outbreak. Use this time to analyze your fleet's total cost of ownership (TCO) to forecast future operating costs and avoid unnecessary expenses in the weeks and months ahead.
7. If you're experiencing an uptick in demand, stay calm. We're here to help.
Acquiring additional business can be equally exciting and intimidating, especially during this time. Fear not, fleet management software provides visibility across your operation and effectively fills the resourcing void. It's the essence of what we do at Fleetio. Our solutions are optimized for mobility so you can manage your fleet remotely in any situation, at any time.
We help you bridge communication gaps, centralize necessary fleet data and streamline processes. Conveniently track the metrics that matter most to your fleet. With insight into expenses, utilization, inspections and maintenance, you can make informed decisions to maximize efficiency.
---
While we don't know how the effects of COVID-19 will evolve as the days go by, we do know that our customers around the globe are leveraging Fleetio to keep their fleet and employees focused, organized and functioning remotely during this uncertain time.
To see if Fleetio might be a good match for your operations during this time (and in the future), simply start a free trial.
*This post was co-authored by Laura Flowers, Content Marketing Specialist at Fleetio.*