Keeping tabs on work orders can be tricky, especially when a fleet relies on paper documents. But with the help of the right software, tracking work orders from creation to completion can be much easier.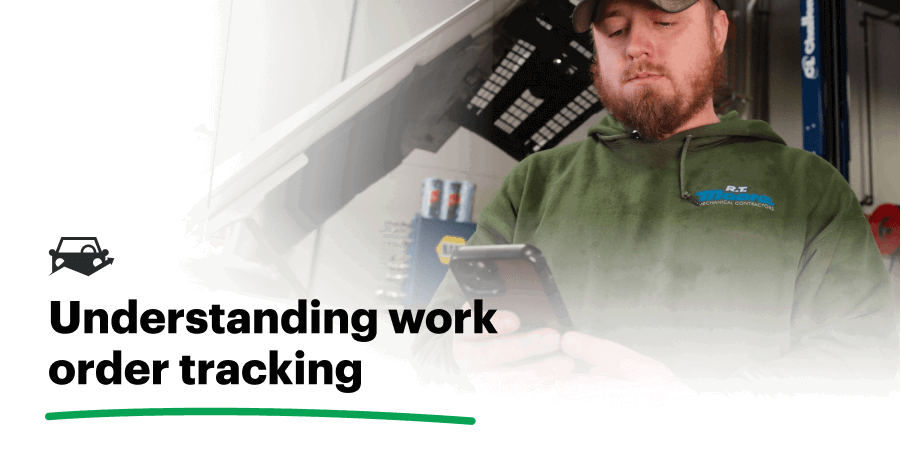 For virtually every fleet you can think of, work orders are a fundamental aspect of their maintenance operations. Whether printed on paper or displayed digitally, they provide technicians with the information they need to get work done. In fact, work orders are so intrinsic to fleet maintenance that it's hard to imagine a world without them.
Because of their importance, it's not an exaggeration to say that the more effectively fleets can track their work orders the better their maintenance efforts can perform. That's why we'll be exploring tips and tools organizations can use to enhance their work order tracking.
Tips for tracking your work orders
Regardless of fleet size or industry, these work order software tips can help you track your service tasks more effectively.
Go digital
Ultimately, work order tracking is simply a specialized form of data management, and managing data is much easier digitally than with paper. By adopting a work order tracking software solution, fleets can access, update and analyze their work orders far more efficiently. Even the most well-organized filing systems can't compete with basic search and sort functions that come standard with software. Less time filling out work orders, printing documents and transporting paper from Point A to Point B results in more time for actual productivity.
But if dedicated work order tracking software isn't in the cards for your fleet right now, you can still unlock some efficiency gains by standardizing how your work orders are laid out. Our printable work order template has fields for all of the information your technicians need to know.
Sort and categorize work orders effectively
More often than not, sifting through a sky-high pile of unorganized work orders makes for slow, tedious and frustrating work. Fortunately, with work order tracking software, fleets can sort and categorize their work orders however they like. Sorting by due date instantly surfaces urgent tasks so managers can see how they're progressing. Categorizing work orders by priority makes allocating resources across high, medium and low-level maintenance tasks easier.
Check progress ahead of deadlines
Many work order apps allow users to add checklists that technicians can mark complete step-by-step as they work. This allows managers to view work order progress on a more granular level in real-time. By checking work orders ahead of their due dates, managers can spot service tasks that are lagging behind schedule and intervene as necessary. Additionally, because many apps allow users to leave comments and tag teammates on work orders, checking in allows managers to view those communications and jump into any conversations as needed.
Take advantage of mobility
Mobile work orders enable fleet personnel to access and update service tasks without the constraint of having to be next to a computer. Because many service bays often have little to no PC access, the ability to interact with work orders from their smartphone or tablet is liberating to many technicians. And for personnel in the field, the ability to create work orders from anywhere (without having to return to a place of business) significantly accelerates maintenance workflows.
Keep a close eye on performance metrics
When focusing on individual service tasks, it's easy for assessing the overall performance of your maintenance teams to fall by the wayside. Fortunately, most work order tracking solutions offer robust reporting tools. With just a few clicks, managers can pull up illuminating stats like on-time completion rate, average service duration and more. Fleet managers should keep a close eye on these metrics to ensure productivity remains high.
Benefits of a work order app
Digital work orders provide a wide range of benefits to fleets. Here are the four most notable:
Better control of service spend - Customizable dashboards and reports make it easy for managers to track what resources they're using to complete maintenance tasks and how much they're spending on them.
Greater productivity - Compared to paper work orders, digital work orders are far faster to create and access, which enables technicians to spend more time wrenching.
Easier performance monitoring - With work order apps, key performance indicators like on-time work order completion rate (and a whole host of other KPIs) are always just a few clicks away.
Improved collaboration - Many work order apps allow users to leave comments and tag fellow personnel, making it easier for teams to exchange information and help each other complete tasks.
Key features of work order tracking software
While every work order tracking solution has a unique feature set, there are some core functions fleets should expect. Here are five must-have features organizations should look for when shopping for software:
1. Customizability
While default work order templates are often good enough for most fleets, the ability to add custom fields is great for fleets with unique assets or workflows.
2. Attachments
While notes can do a fine job of explaining the state of a vehicle, when it comes to work orders, a picture is still worth a thousand words. The ability to attach photos (and related documents) to work orders provides technicians with a more complete picture of their assigned tasks.
3. Precise expense tracking
Granular cost breakdowns help fleet managers budget more effectively, identify problems and develop appropriate countermeasures. Look for work order tracking software that provides detailed cost, labor and parts subtotals.
4. Mobility
Not having to be tethered to a computer enables fleet personnel to work more agilely. Many work order tracking solutions offer downloadable apps and mobile-optimized views for smartphones and tablets.
5. Robust reporting options
Fleet managers shouldn't have to dive deep in order to see how their maintenance teams are performing. The best work order tracking solutions feature customizable dashboards and reports to provide managers with actionable intelligence.
The best work order tracking software
Best work order tracker for fleets - Fleetio
Designed from the ground up for fleets, Fleetio is a cloud-based fleet maintenance solution for scheduling and automating in-house and third-party maintenance processes. Fleetio emphasizes mobility, collaboration and simplicity to empower users and accelerate productivity.
Best work order tracker for manufacturers - Fiix
Fiix's primary selling point is how it streamlines maintenance activities via automation. Best-suited for manufacturers, Fiix offers multiple pricing plans meant to accommodate organizations of varying user counts and needs.
Best work order tracker for utilities - eMaint
Since 1986, eMaint has been helping utility, manufacturing, food processing and oil and gas organizations reduce downtime, increase productivity and extend equipment lifespan. Their solutions boast extensive reporting capabilities, the ability to submit work requests via email and a wide range of useful integrations.
Keep track of your work orders
Asset maintenance management is inherently complex, but with the help of the right software, fleets are more than capable of keeping their vehicles road-ready and their costs under control. Fleetio helps organizations streamline their maintenance and repair workflows, develop detailed service histories and rein in service expenses. By enhancing visibility and fostering collaboration, Fleetio helps fleets of all sizes and industries achieve greater maintenance productivity.
---
Looking to track your work orders more effectively? Start your free trial in Fleetio or request a demo today.