We launched an integration with Zubie, a low-cost fleet GPS tracking solution that plugs into a vehicle's OBD-2 port.
Zubie is a great solution for fleets primarily looking to track the location of their vehicles (in real-time) and monitor driver behavior. There are lots of great options for fleet GPS tracking on the market, but we were immediately impressed by Zubie's simplicity and focus on user experience.
Similar to our Geotab integration, Fleetio's integration with Zubie includes automatic odometer updates along with the ability to see a vehicle's current location within Fleetio. We plan on adding more integration points in the future.
Automatic Odometer Updates
Every day at midnight (in your account's timezone), Fleetio will automatically update the current odometer reading for each vehicle mapped to a Zubie device. You can also manually trigger an odometer update anytime you want from the vehicle profile screen in Fleetio.
Current Vehicle Location and User Navigation Links
See a vehicle's current location, driving status and more in Fleetio! You can navigate directly to the map view or device view for particular vehicle in Zubie from Fleetio.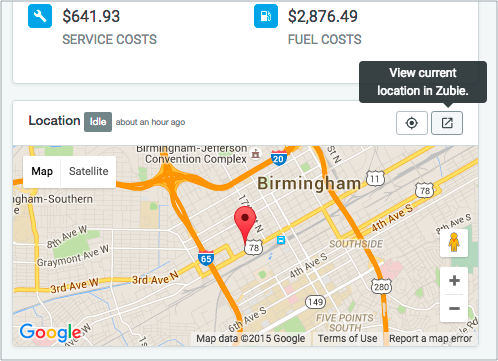 Personal Thoughts
I've been personally testing Zubie in my vehicle and my wife's for a few weeks. Installation was simple: just install the iPhone or Android app first, scan the barcode on the Zubie device within the app, then plug it in to the vehicle's OBD-2 port.
My favorite feature is the weekly leaderboard email. My wife and I can now compete to be the best driver each week. Here's an example week where I "let" her win ;)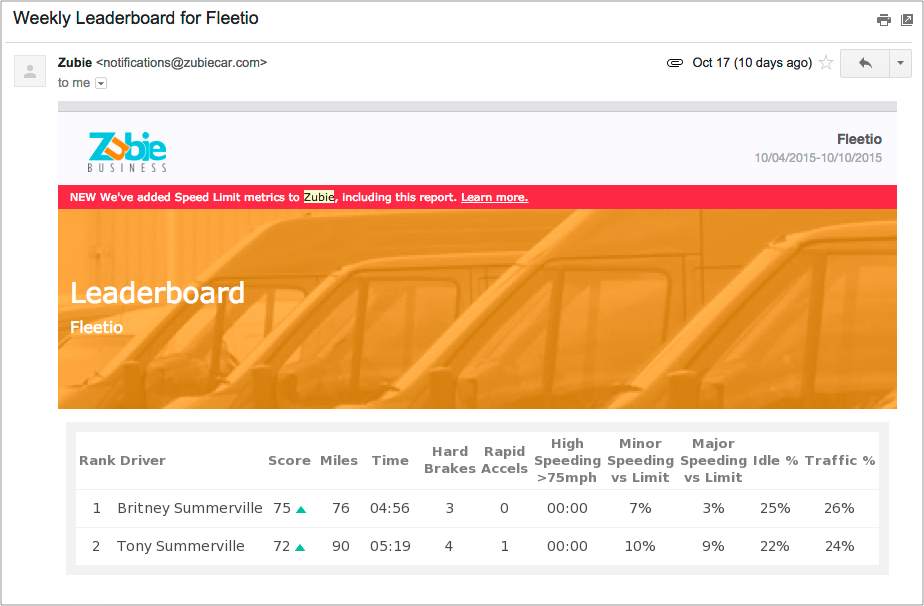 ---
Zubie is a great solution for fleets looking for a simple and affordable way to track their fleet. We're excited about our Zubie integration and thrilled to be part of the Zubie Apps ecosystem.