Managing a public works fleet can be challenging given the wide variety of assets and equipment that must be maintained to improve local and national infrastructure. To gain a comprehensive view of assets and monitor operations closely, many public works fleets are turning to technology and fleet management software.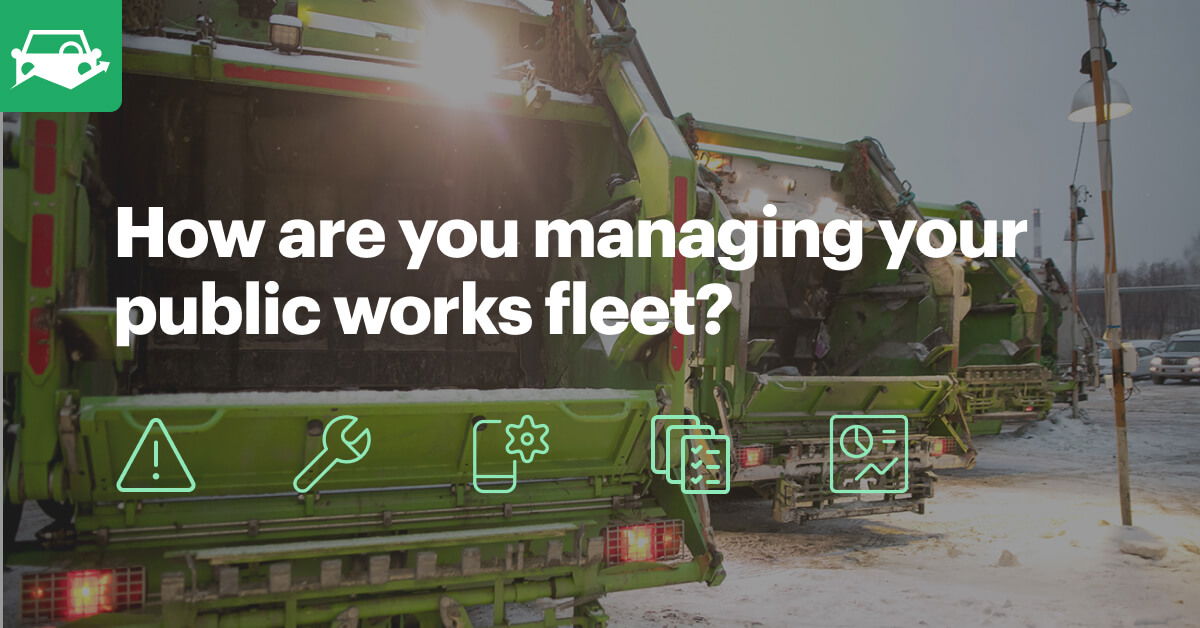 Automating Public Works Fleet Management
One of the biggest challenges in public works fleet management is maximizing asset uptime to meet project deadlines. To maintain productivity and maximize uptime, fleets must have a management system that can track and manage vehicles in real time.
Unfortunately, many public works fleets are still using antiquated fleet management methods, like spreadsheets, that don't provide real-time visibility into fleet health and asset utilization. This can lead to unplanned downtime and reduced efficiency throughout operations.
To manage maintenance, track assets in real time and control costs, many public works fleets are leveraging fleet management software. Using a centralized, cloud-based software automates processes and eliminates hours of manual data entry, giving you more time to focus on decision making and communicating with your team.
Below, we've detailed a few of the best practices for managing a public works fleet.
1. Perform Electronic Vehicle Inspections
Since assets are often spread out across job sites, keeping up with their health and performance can be a challenge. To spot issues quickly and avoid unplanned downtime, it's important to conduct routine vehicle inspections.
Paper-based vehicle inspections are commonly used in public works, but they can be inefficient and lead to issues. Drivers and operators find paper inspection forms time-consuming and often breeze through them without conducting thorough inspections. Paper forms also get lost or damaged before fleet managers can view them, causing issues to go unnoticed for long periods of time.
Providing your team with an electronic vehicle inspection solution empowers them to conduct fast, thorough inspections. Operators complete inspections in a mobile app and results are uploaded immediately. Fleet managers can be instantly alerted to any issues uncovered in the mobile inspection to jumpstart the maintenance process.
Because public works fleets work with a wide variety of assets and equipment, electronic inspection forms can be tailored to fit each of your assets' needs. Electronic inspection forms also provide further clarity by enabling operators to upload photos and comments with their inspections.
Inspections can be completed anywhere in the field, eliminating communication gaps between job site and office. Instead of waiting for drivers to hand-deliver inspection forms, inspections are logged into an organized system and fleet managers receive results immediately to proactively track and manage vehicle issues.
2. Create Service Reminders to Keep Up with Preventive Maintenance
The best defense is a good offense, right? Ensuring your assets are properly maintained reduces unplanned downtime and keeps your fleet running smoothly. When it comes to fleet management, preventive maintenance (PM) schedules are your first and best line of defense against downtime.
Some public works fleets have difficulty maintaining their preventive maintenance schedules due to a lack of organization. If you're managing PM tasks on inefficient spreadsheets or paper calendars, your technicians may fall behind on maintenance, resulting in unplanned downtime and costly repairs in the future.
Utilizing software to manage your fleet's preventive maintenance schedule is the best way to ensure you don't fall behind on tasks. By setting service reminders in fleet management software, your team can receive notifications based on odometer readings or hours of service to be reminded when service is due.
Operators can update odometer readings and engine hour intervals through a mobile app, or you can pair your telematics device with fleet management software to receive instant updates. Instead of your operators manually tracking readings (which can often be error-prone), Fleetio automates the process to ensure you complete tasks on time.
3. Optimize Inventory Management
Working with a variety of public works vehicles and equipment means your maintenance team is handling a massive amount of spare parts. Having an organized inventory system ensures your technicians have the right parts you need when they need them. A public works fleet can't afford part stockouts while on a deadline.
The best way to track inventory levels, monitor usage and avoid unnecessary inventory costs is to control your inventory with a web-based system. Fleet management software allows you to update inventory levels with ease and trigger reorder notifications on low-stock items. Reorder alerts ensure you order parts before you need them, helping you avoid hefty expedited shipping charges.
Monitoring your fleet's inventory in a centralized software automatically records order history and monitors spending, allowing you to track and analyze your inventory costs to ensure you're staying within your fleet's budget. By staying organized, your public works fleet can reduce part spending and ensure vehicles aren't sitting in the shop waiting on the right part for repairs.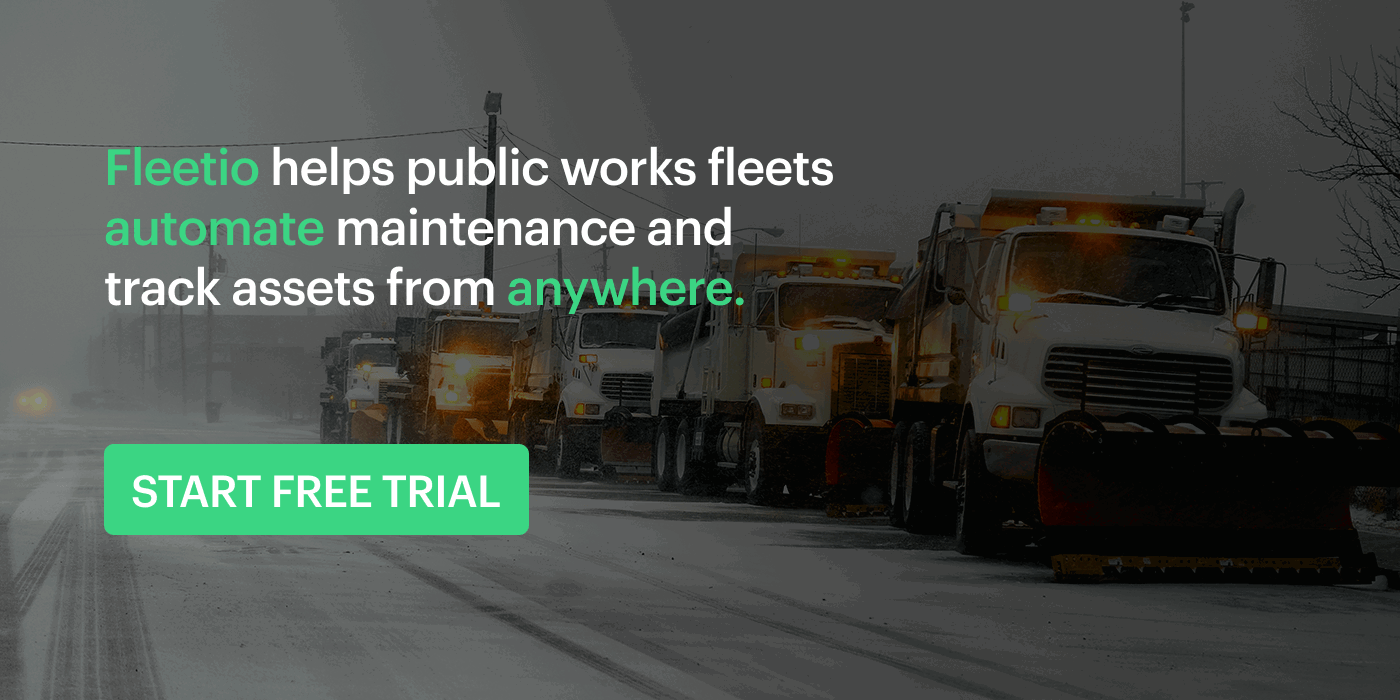 4. Monitor Asset Utilization and Lengthen Vehicle Lifespan
Repairing infrastructure and conducting road work can be tough on your assets. Given that public works equipment is some of the most expensive fleet vehicles in the industry, closely monitoring asset performance and utilization ensures you get the most out of your assets.
Closely tracking asset utilization is key to improving your fleet's bottom line and prolonging the lifespan of your assets. Tracking metrics like average mileage per day and service history enables you to take the proper measures to safeguard asset health.
Fleet management software automatically compiles historical and real-time utilization data for you to make the best decisions regarding the maintenance and usage of your assets. Configurable fleet reports provide insight into asset maintenance and performance, ensuring you have a complete view of your fleet's overall health.
Reports on utilization help fleet managers forecast future repairs, as well as predict vehicle replacement timelines. When you're dealing with tight budgets, creating a sustainable fleet strategy and proactively monitoring assets is the best way to control costs and ensure you're making the most of your assets.
5. Leverage Software to Calculate Total Cost of Ownership
Working in the public works sector, you're familiar with tight budgets, but tracking expenses can be challenging without complete data visibility. Spending hours crunching numbers across spreadsheets is inefficient and can lead to inaccurate reporting.
To get a clear view of your expenses, fleet management software allows you to automatically calculate your fleet's true total cost of ownership (TCO) to provide a clear, granular view of your fleet's expenses.
All fleet data, from variable costs like maintenance and fuel to fixed costs like taxes and insurance costs, can be stored and tracked in your fleet management software. From this data, you can view and share easy-to-read reports to make data-driven decisions for your public works fleet.
Determining your public works fleet's TCO is one of the best ways to understand and control your overall operations and make the best decisions regarding every aspect of your fleet.
---
Streamline management processes and control expenses with Fleetio! Start your free trial or request a demo today!