Safety is the most important facet of managing a school bus fleet. Using fleet software allows you to take a proactive stance on bus maintenance to ensure the safety of your students, drivers and assets.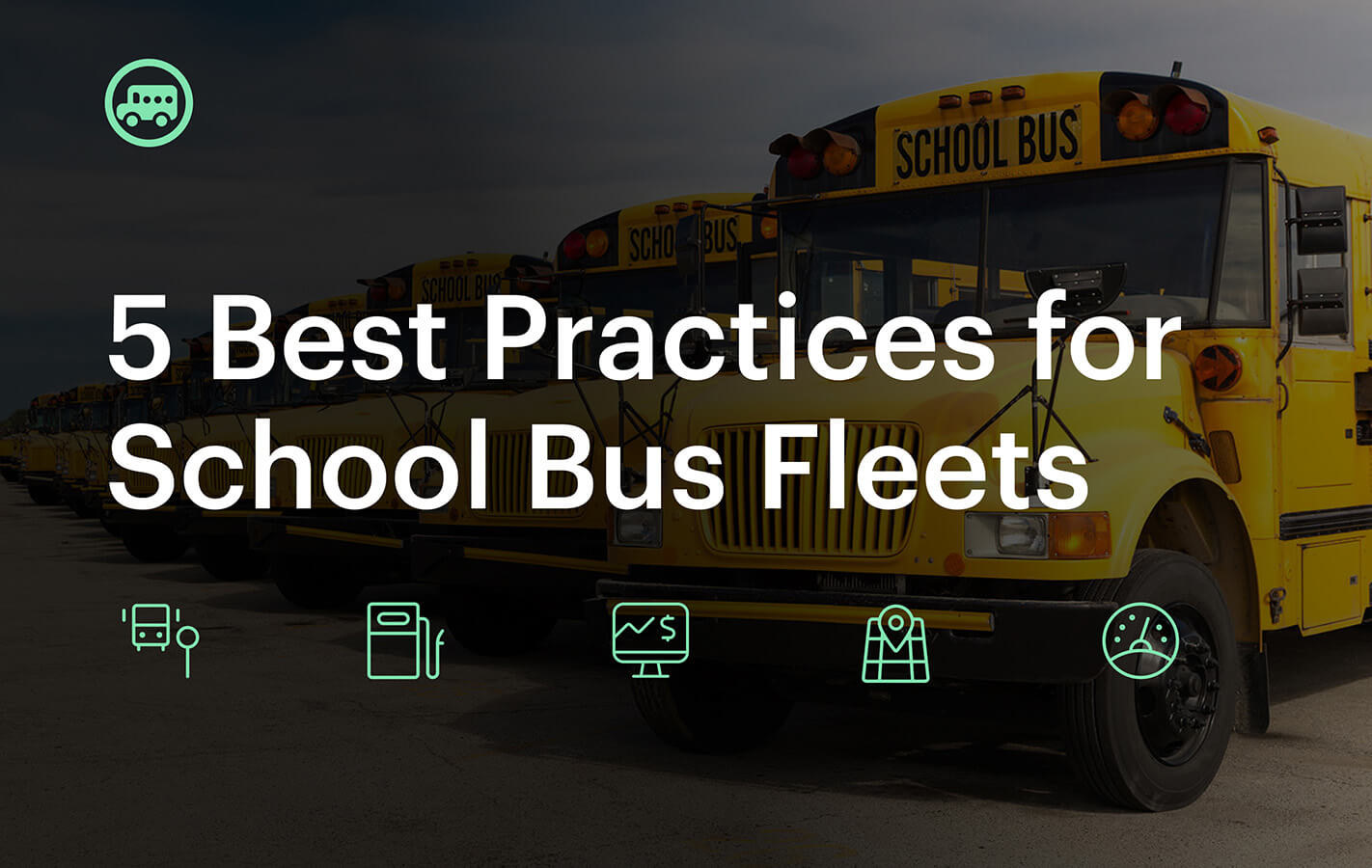 Improving School Bus Fleet Management
School bus fleet management hinges upon safety and vehicle uptime. The safety of students, the public and your drivers is dependent on the upkeep of your vehicles, so it's crucial to have the proper management systems in place.
Aside from garbage trucks, school buses require the most maintenance of any municipality. They are on the move several times a day, so maintenance management poses a challenge.
In the past, drivers and technicians were tasked with completing inspection forms and work orders on paper, causing increased downtime and information bottlenecks. Fleet managers also have difficulty monitoring and tracking drivers to ensure safety.
Many school bus fleets are going paperless and leveraging software to manage maintenance, inspections and expenses. With fleet management software, fleet managers can automate tasks and track asset data in real-time.
Is your current school bus fleet management system operating efficiently? Here are some of the best practices for school bus fleets to track maintenance, manage costs and monitor safety.
1. Prevent Downtime with Preventive Maintenance
Downtime isn't an option for school bus fleets. Morning and afternoon routes follow a set schedule, so it's important to make sure your fleet is in good working condition.
Taking a proactive stance on maintenance is a great way to maximize uptime and verify the safety of your buses. Consider creating a preventive maintenance (PM) schedule to keep your fleet on the road and ready to transport students.
A PM schedule allows you to stay on top of regular servicing and maximize vehicle lifespan. With fleet maintenance software, you can set service reminders based on meter and time intervals, so your buses never miss a servicing.
School bus fleet management software also allows you to create mobile work orders to plan, schedule and carry out maintenance tasks.
The ability to automatically update vehicle status and efficiently track line items helps your fleet get back on the road in time for morning pick-up.
2. Leverage GPS and Telematics Data
Tracking routes is one of the most critical factors of school bus safety. If there's an issue or delay, it's important to communicate that to parents and school administration.
Leveraging a telematics device allows you to easily capture GPS location data, putting many minds at ease. A great way to track vehicle location and data is by integrating your telematics hardware with your fleet management software.
Not only are you able to track and view vehicle location, but telematics integration also allows you to view odometer readings and diagnostic trouble codes.
This way, you can remain proactive in your maintenance plan and keep your drivers accountable on the road.
3. Measure Fuel Performance
Managing fuel cost and performance is one of the largest ongoing challenges for school bus fleets. Though you can't control the price of fuel, there are many ways to optimize fuel performance.
Monitoring cost and consumption of fuel is a vital aspect of school bus fleet management. Through fuel monitoring, you can determine average cost-per-mile and predict future fuel expenses.
That said, trying to keep up with paper receipts and log them into spreadsheets is a tedious process, and determining fuel performance is difficult without a centralized location for data.
Tracking fuel performance through fleet management software provides you with insight into fuel efficiency by simplifying data collection. Drivers can log fuel entries at the pump, eliminating the need to keep track of paper receipts, and fleet managers can easily view and measure fuel data.
4. Calculate Total Cost of Ownership
As fuel and maintenance are two of the largest ongoing costs for fleets, it's important to understand and control spending as much as possible. Calculating your fleet's total cost of ownership (TCO) allows you to manage and maintain your bottom line.
With fleet management software, TCO is automatically calculated for you. This feature improves accuracy for calculations and helps boost productivity by freeing you up to focus on other aspects of your fleet.
TCO is divided into fixed and variable costs. Fixed costs are established costs like licenses and taxes, which can be automatically included in your budget.
Variable costs fluctuate based on the size and efficiency of your fleet. Fuel and maintenance are your largest variable cost, and understanding TCO and asset utilization can help you reduce operating expenses.
Fleet management software leverages fleet data to create custom reports that break down overall fleet expenses. This insight allows you to easily track asset performance and make data-driven decisions to help reduce the variable costs of your fleet.
5. Maximize Vehicle Lifespan
School buses are incredibly expensive to replace, and there are a lot of hoops to jump through in the replacement process. Tracking asset utilization data helps maximize lifespan and ensure you are getting the most out of your buses.
The best way to maximize vehicle lifespan is to stay proactive in maintenance and asset monitoring. If you are closely tracking your assets and performing preventive maintenance, you can make the most of your vehicles and reduce unnecessary spending.
Managing assets with fleet management software allows you to track operating costs and optimize utilization in an all-in-one platform. Custom reports help identify areas of concern in your fleet to help you improve day-to-day operations.
While maximizing lifespan is extremely important in managing costs, vehicle replacement is an inevitability for fleets. Because of the large cost associated with school bus replacement, it's important to have a plan when the time comes.
Developing a vehicle replacement plan is different for every fleet. Taking a strategic, data-driven approach is the best way to begin the replacement process.
Having a large amount of historic and current fleet data at your fingertips is a great way to both understand vehicle replacement and communicate to stakeholders. With custom reporting, you can quickly obtain and share critical data in an easy-to-read format.
The ability to analyze hard data is the key to maximizing lifespan. Fleet management software helps you make informed decisions for your school bus fleet to get the most out of your assets and determine the best approach to vehicle replacement.
---
Get those kids to school on time! Start your free trial of Fleetio or request a demo with one of our experts today!