As technology continues its rapid advancement, drone fleets have become more prominent across industries to improve processes like aerial mapping, deliveries and inventory management. For businesses looking to add a fleet of their own, a strong drone fleet management system is essential.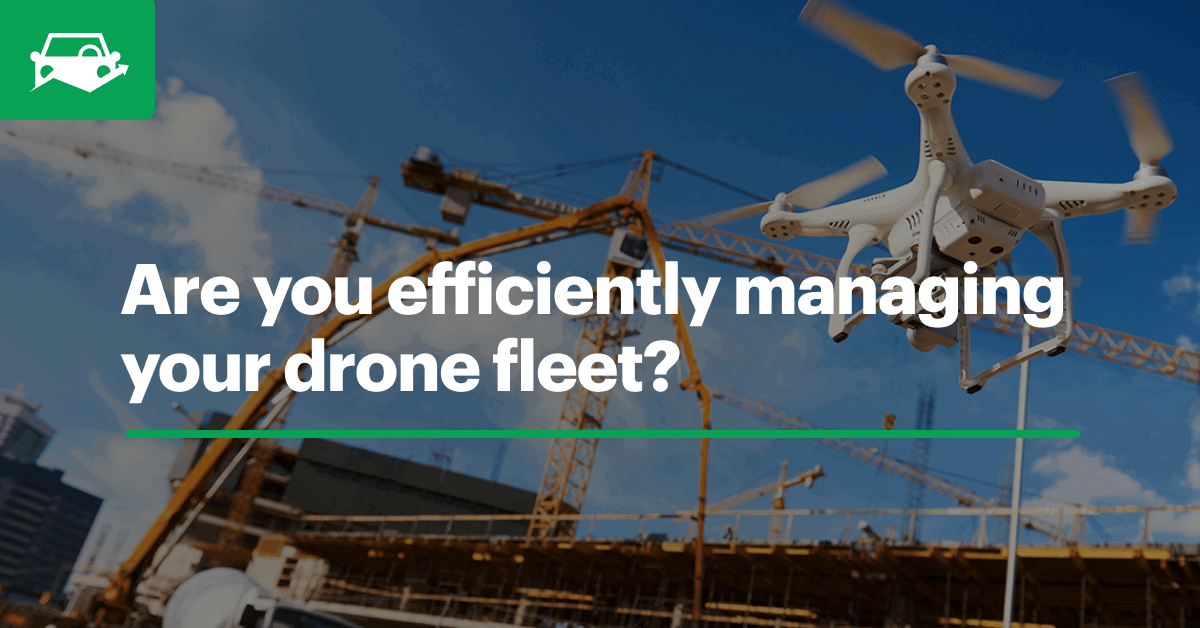 Drone Fleet Management Best Practices
With more businesses seeing the benefits of drones to improve their operations, the need for drone fleet management is greater than ever. Industries from delivery to construction are turning to drone technology to closely monitor inventory, assets and overall productivity.
Whether your business understands the use cases for drones or you're still considering the benefits, implementing a drone fleet management plan may sound challenging. How do you properly care for a drone fleet to maximize your return on investment (ROI)?
The easiest way for businesses to efficiently track drone fleet productivity and automate workflows is to leverage a comprehensive fleet management software. Implementing software to manage tasks and improve communication across your team provides complete visibility into your operations and allows you to track your drones from anywhere.
Here are six solutions to leverage with drone fleet management software.
1. Maintain a Complete System of Record
Perhaps the most important aspect of drone fleet management is organization. Because precision and visibility are required when managing drones, having your entire operation in an orderly system is the key to efficiency.
The first step in drone fleet organization is maintaining a comprehensive and secure system of record for all fleet information, including documentation, maintenance records, inspection compliance data and other aspects of fleet operations.
Unfortunately, many fleets don't have a solution for easily maintaining and accessing records from anywhere. Spreadsheets and paperwork slow down operations, almost defeating the purpose of a high-tech solution like drones.
Storing and managing all of your fleet data in a single, cloud-based software ensures your drones management system is organized from end-to-end. By aggregating your data, you can maintain an organized view of drone specs, maintenance reports and asset usage to make the best decisions for your operation and ensure the safety of your fleet.
2. Manage Your Drone Fleet Remotely
Whether your drones stay in a contained warehouse or take flight outdoors, the biggest challenges for drone fleet managers are visibility into operations and team communication. Without an organized, mobile-first platform to manage fleet data, you can't get a complete view of asset health and productivity.
Managing drone operations remotely doesn't have to be a headache, though. Drone fleet management software enables users to seamlessly communicate fleet information across their team. Employees can upload fleet data through a mobile app, enabling fleet managers to create and manage tasks from anywhere based on real-time information.
By streamlining communication and task management through software, you can stay connected to your team and manage your entire fleet remotely. This enables you to manage day-to-day team tasks like work orders and inspections, while also monitoring expenses, drone location and fleet performance.
Your drones provide increased visibility into your projects, so it makes sense to also want a complete understanding of the health and productivity of your drones themselves. Remotely managing your drone fleet with software maximizes efficiency throughout your operations and enables you to get a comprehensive view of your assets no matter where you are.
3. Tailor Inspection Forms to Meet Safety Requirements
Keeping your drone fleet in top shape guarantees uptime and ensures your drones are operating safely. To ensure safe flights, drone fleets should comply with FAA requirements for outdoor flight or company flight rules for indoor flight.
While most drone fleets require operators to conduct pre- and post-flight inspections, many fleets don't have an efficient way of collecting inspection data, making it difficult to prove safety or schedule drone maintenance.
Fleet management software enables operators to perform thorough drone inspections from anywhere on a mobile app and upload results immediately to inform fleet managers. Drone fleets can tailor mobile inspection forms to include specific items such as the condition of propeller blades or ensuring camera settings are set properly before takeoff.
Leveraging electronic inspections ensures the safety of your drones and your team while allowing you to act quickly if problems arise. Any issues uncovered during inspections are immediately sent to fleet managers to begin troubleshooting. Receiving real-time information on your drones enables you to proactively manage maintenance, reduce aircraft downtime and guarantee safety across your fleet.
4. Automate Maintenance Workflows
Though drones may be small, they still require maintenance to ensure they're operating in proper performance. Drone fleet maintenance technicians must keep up with routine tasks, such as adjusting calibration and cleaning motors, to maximize drone lifespan and reduce downtime.
Managing drone fleet maintenance can be a tall order, especially when you're commanding a large or dispersed fleet. Automating maintenance workflows with the help of software saves time and provides you with the peace of mind that your drones are being properly maintained.
Creating mobile work orders in fleet software streamlines drone maintenance and allows you to track progress from start to finish. Managing work orders in fleet management software centralizes all maintenance data, including detailed line items and expenses, to ensure your drones are operating at peak performance.
[![drone-cta](https://marketing-cdn.fleetio.com/images/blog/drone-cta.png)](/pricing)
5. Measure Drone Fleet Performance with Configurable Reports
Because drone technology is a new tool for many businesses, monitoring usage and performance is a key aspect of measuring ROI and ensuring your drones are improving your operations. Gaining complete insight into your drone fleet's performance can be virtually impossible if you don't have an organized system of record and robust reporting capabilities.
Managing all of your drone fleet's data on a single software platform allows you to create configurable reports based on real-time information. Fleet managers can automatically generate easy-to-read reports on utilization, expenses and performance to analyze the overall health and productivity of their drone fleet to measure ROI and make the best decisions for your drone fleet's future.
The success of your drone fleet management system hinges upon organization and access to real-time data. By analyzing drone performance and usage in fleet management software, you can maximize efficiency across your entire operation.
---
Soar above the rest with Fleetio! Start your free trial or request a demo today!