5G is the fifth generation of broadband mobile technology, offering increased speed and cellular connectivity, but what does this mean for fleets? Learn how 5G fleet management can increase your organization's productivity.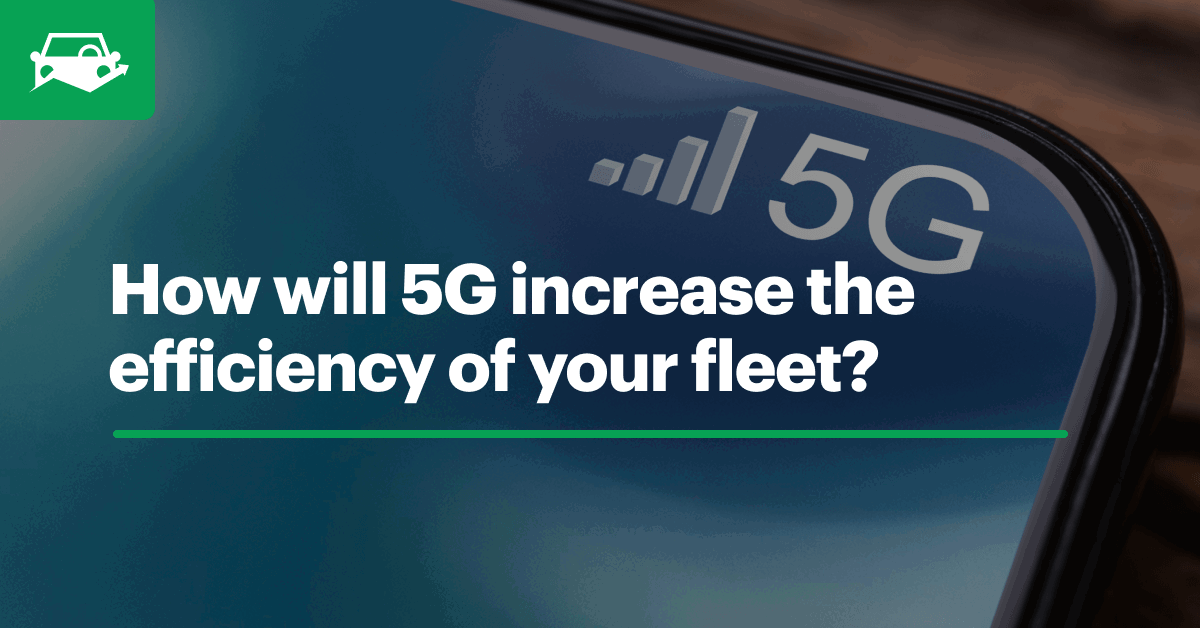 The Power of 5G Fleet Management
5G is steadily becoming available for businesses and consumers, which means it's only a matter of time until fully adopted 5G fleet management becomes a reality. The birth of 5G brings forth a new age of connectivity—reducing latency and boosting productivity.
By rapidly increasing the speed at which information travels, fleet managers are able to enhance productivity by enabling real-time collaboration. If you're still using antiquated solutions, 5G has the potential to completely transform your fleet operations.
While 5G fleet management will certainly benefit anyone with a mobile device, organizations that already use technology to manage their fleets will reap the most benefits. Fleet management software already enables real-time collaboration, but pairing it with 5G technology will further increase connectivity and coverage when transferring fleet data.
If your fleet is still using outdated management systems, now is the perfect time to adopt fleet technology. You'll have time to master user-friendly software, maximize fleet efficiency and get a leg up on your competition.
Reduce Downtime With Real-Time Collaboration
One of the biggest obstacles fleet managers must overcome is maintaining lines of communication. When managing a dispersed fleet, you must have a way to effectively communicate with your team in real time.
While cell phones have made communication easier, fleets who still rely on paper processes and legacy systems suffer increased downtime due to communication barriers. Leveraging a fleet management software with a mobile app enables real-time communication to improve efficiency across operations.
Collaborating with your team through 5G fleet management technology allows you to stay informed of vehicle issues, oversee maintenance tasks and maintain complete fleet visibility.
Communicating with your team in real time improves clarity and allows users to complete tasks efficiently. With the help of software, managers can jumpstart maintenance workflows and resolve issues quickly to reduce downtime.
In addition to enabling communication, managing fleet data with software and a mobile app further combats downtime by eliminating time-consuming data entry. All information is instantly uploaded into centralized software, ensuring you always have real-time data at your fingertips.
Consider 5G Fleet Management Responsiveness
Our society is used to 4G speed making it possible for us to stay connected. A great example of the extent of this speed is the ability to video conference with others via cellular data without significant lags. While this has been great (especially in 2020), how will 5G improve society?
5G offers the lowest latency rate we've ever seen, allowing real-time (no, seriously—real time) responses. We mentioned real-time communication earlier, which is invaluable, but in terms of 5G fleet management, this level of responsiveness offers heightened information transfers.
Vehicle sensors are becoming increasingly common, and most fleets use some form of GPS or telematics system to track their vehicles. With the advancement of 5G, fleet managers may be able to improve driver safety and collision performance with improved sensors.
If you pair your GPS or telematics system with fleet management software, you're already instantly notified of diagnostic trouble codes (DTC). These are great for alerting you to issues under the hood, but it's also important to ensure driver safety on the road.
With the announcement of 5G, the global collision avoidance sensor market size increased vastly, and will continue to increase exponentially with radar, cameras, ultrasound and light detection and ranging (LiDAR). These technologies will be able to help alert your drivers to potential road risks and keep them safe. They will also further accelerate advancement of autonomous vehicles (AV).
[![5g-fleet-cta](https://marketing-cdn.fleetio.com/images/blog/5g-fleet-cta.png)](/pricing)
Future-Proof Your Fleet
While the concept of 5G fleet management is exciting, the benefits surrounding efficiency and productivity really only pay off if you have the right solutions in place. Leveraging the best fleet technology is the best way to ensure your fleet is set for future success.
Solutions like 5G fleet management are transforming our society by increasing efficiency and offering immediate communication. As technology continues to advance at a rapid rate, fleets must evolve to remain competitive in their field.
Adopting fleet management software is the easiest and most effective way to track drivers and assets in real time. With a user-friendly software and mobile app, you can collaborate with your team, measure performance and make data-driven decisions to improve operations.
While we're still learning about the benefits 5G fleet management can offer, centralizing your data and using a solution that keeps you connected to your team is the best way to stay ahead of the curve. By implementing cloud-based software now, you can be confident your fleet is prepared for the future.
---
Reap the benefits of 5G by centralizing your fleet's data with Fleetio! Start your free trial or request a demo today.