Collaborating with your fleet maintenance mechanics is essential to monitoring maintenance productivity, reducing downtime and getting your vehicles back on the road.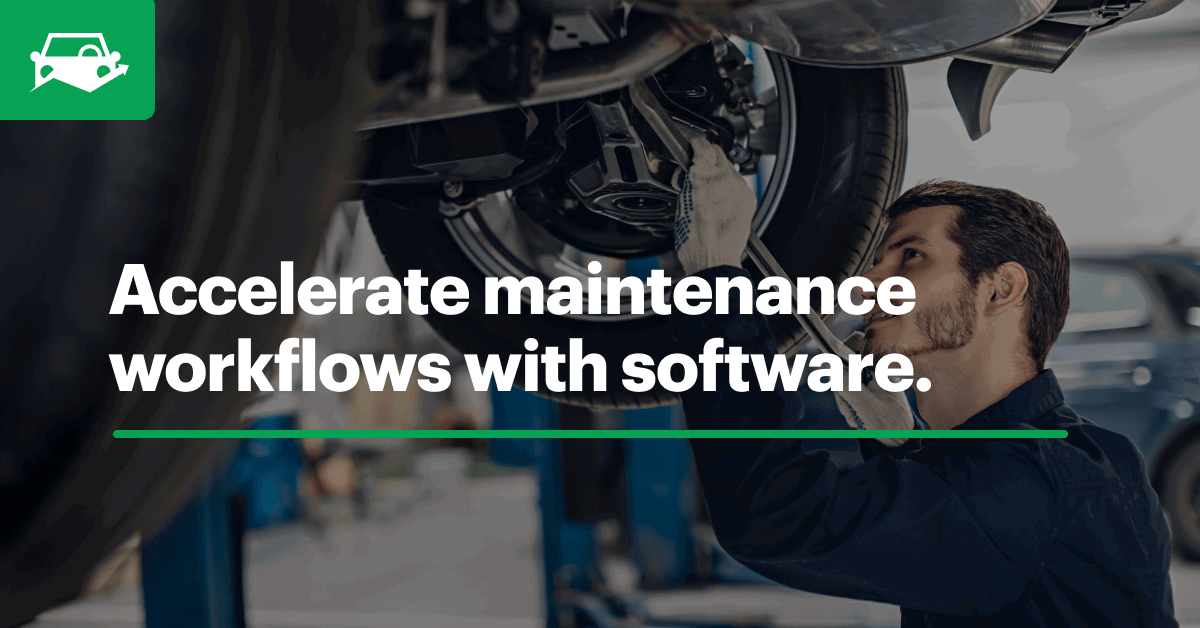 What is the Best Way to Manage Fleet Maintenance Mechanics?
You rely on fleet maintenance mechanics to efficiently repair your assets and reduce downtime. At the same time, fleet mechanics rely on you to effectively communicate issues and manage repair approvals.
Many fleet managers struggle with maintaining real-time communication with their mechanics and technicians. Relying on outdated systems, paper and phone calls limits visibility into shop productivity and often causes miscommunication regarding service.
Mobile fleet maintenance software allows you to streamline communication and collaborate with your fleet maintenance mechanics in real time. Managers can assign electronic work orders, manage repair approvals and monitor shop progress from anywhere to ensure all maintenance tasks are completed accurately and on time.
Whether you manage maintenance in-house or rely on a third-party maintenance shop, leveraging fleet maintenance software expedites maintenance workflows by eliminating communication barriers and maximizing visibility across operations.
Managing In-House Fleet Maintenance Mechanics
Even if you manage maintenance in-house, you may not be able to communicate with your fleet mechanics in person. Connecting with your technicians via software and a mobile app ensures you can collaborate on maintenance tasks and stay in sync.
Assigning and Tracking Work Orders
Streamlining task management is essential to optimizing your fleet maintenance workflow. Whether you're scheduling preventive maintenance or emergency service, you need a way to communicate needs and monitor progress.
Creating electronic work orders in fleet management software centralizes all fleet maintenance data and provides a complete audit trail for repairs. Fleet managers can assign work orders via computer or mobile device and receive immediate status updates.
Not only can managers monitor repair progress, but a collaborative fleet maintenance solution enables you to collaborate with your fleet mechanics in real time. Users can add comments and easily view service history, related issues and open line items.
Maintenance Expense Management
Maintenance expenses make up a huge portion of your budget. Sometimes you may wonder, "Am I controlling my expenses, or are they controlling me?"
Managing maintenance expenses doesn't have to be difficult. Maintaining comprehensive visibility into maintenance operations with software allows you to track expenses by detailed line item.
Fleet management software keeps track of all purchases and automatically calculates your fleet's total cost of ownership (TCO). By analyzing maintenance expenses in configurable reports, you can make decisions that positively impact your bottom line.
[![fleet-mechanics-cta](https://marketing-cdn.fleetio.com/images/blog/fleet-mechanics-cta.png)](/pricing)
Managing Outsourced Maintenance
Many fleets don't have the resources or facilities to manage maintenance in house. Managing third-party maintenance and communicating with your fleet mechanics is still just as important to ensuring efficiency and verifying quality control.
Streamline Communication With Fleet Technicians
Although you don't manage third-party fleet mechanics directly, you still need a way to communicate with them and hold them accountable for tasks. Playing phone tag with the shop is frustrating, and you often don't get the information you need when you need it.
Fleetio's Maintenance Shop Integration allows you to communicate directly with your shop in real time. Fleet managers can connect with their third-party fleet mechanics in their software or mobile app to gain immediate insight into maintenance needs, repair progress and expenses.
Manage Repair Approvals By Line Item
Managing repair approvals with a third-party shop can significantly slow down the maintenance workflow if you don't have a way to instantly communicate with your shop. Getting voicemails about repair needs isn't just frustrating—it also adds hours to your downtime.
With Fleetio's Maintenance Shop Integration, managers can set automatic approvals or rejections for tasks to expedite maintenance. Fleet managers approve or reject service requests by line item in their software.
Having complete control of how your assets are serviced and what parts are being used helps ensure you're satisfied with your third-party fleet mechanics. A comprehensive view of maintenance tasks, progress and expenses keep you informed and helps avoid surprise line items on your invoices.
Consolidate Billing
Managing multiple service vendors and trying to reconcile invoices manually can be a logistical nightmare. The hours you spend crunching numbers can be better served by managing other tasks.
One of the major benefits of automating outsourced maintenance with Fleetio is the ability to consolidate all maintenance billing into a single monthly bill. Instead of sifting through invoices, you can easily verify transactions in an easy-to-read report and pay instantly.
This also eliminates the concern over late fees and interests. Leveraging fleet management software to consolidate billing ensures all service is paid within 48 hours.
By using software to manage third-party fleet mechanics, you have a complete, transparent view of maintenance expenses with detailed line items. Instead of vague expenses showing up on an invoice, you know exactly what you're paying for, because you control what is accomplished.
---
Collaborate with your fleet mechanics and monitor repair progress in Fleetio! Start your free trial or request a demo today.