While we often touch on the drawbacks of tracking fleet metrics with spreadsheets, the truth is: spreadsheets hold a dominant place in the fleet industry. That's why we've created a standard maintenance spreadsheet template based on feedback from hundreds of customers.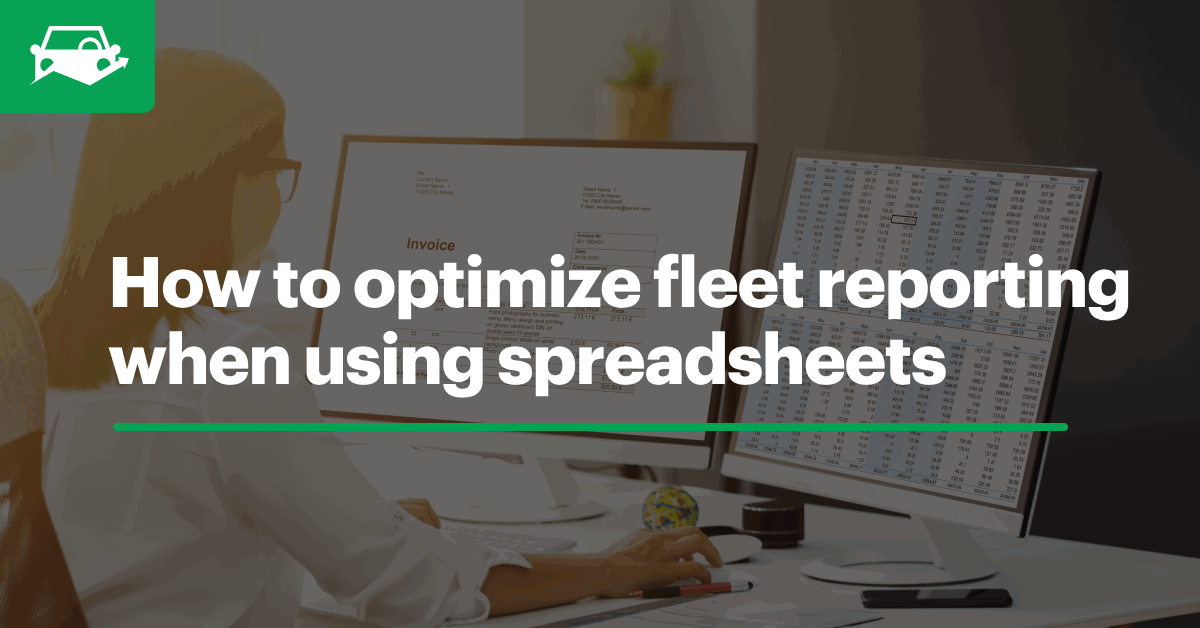 Why Tracking Fleet Data Matters
Tracking fleet data is one of the most crucial parts of managing a successful fleet, as it helps in determining the health of your fleet and can reduce downtime and unnecessary expenses. Because fleets are sometimes seen as a cost center for companies, reducing fleet expenses is all the more important. Even just tracking maintenance and repair data can help you reduce costs in several ways, including:
Determining points of failure in preventive maintenance (PM) schedules so you can create appropriate schedules for different asset types

Reducing repairs by becoming more proactive based on predictive insights gleaned through maintenance and repair histories

Determining defective/warrantable parts, ensuring you're not wasting money unnecessarily

Increasing return on investment (ROI) for assets by extending asset life through proper PM
Tracking Metrics with Spreadsheets
How you track your fleet's metrics can be as important as which metrics to track, yet any means of tracking is better than none. We often favor fleet management software (FMS) for data tracking, as it can minimize human error, standardize data collection and reporting for enhanced insights and it automates many processes so you can focus on more important daily operations.
Although there are many FMS options available, spreadsheets continue to play a central role in the fleet industry. Spreadsheets are less costly than FMS and don't require much training to use; but without some sort of standardization, it can be difficult to ensure you're consistently tracking the metrics you need to determine fleet inefficiencies. That's why we used the feedback from hundreds of customers to build a best-in-class fleet maintenance spreadsheet. Not only can you be sure you're tracking the right metrics, but you can better ensure consistency in data recorded. Additionally, our spreadsheet is designed for easy fleet data importing for when the time comes to adopt FMS.
Determining Metrics to Track
When it comes to tracking fleet data, determining which metrics to track plays an important role in the type of insights you can gain. Because no two fleets are the same, metrics for some fleets may not be applicable for others. Even so, there are a few metrics that remain important to track regardless of fleet size and type, including:
Mileage: Tracking odometer readings helps keep your fleet in line with PM schedule adherence.

Fuel cost: Keeping track of fuel spend per asset can help show mechanical-related issues and fuel card abuse.

Inspections: Tracking fleet asset inspections can help your fleet remain compliant, as well as catch early issues before they evolve into costly problems.

Maintenance history: Recording maintenance histories can mitigate liability if the vehicle in question gets into an accident. Maintenance histories are also good for spotting repeat issues and for enabling predictive insights.

Compliance metrics: A major differentiator among fleets is what they need in order to adhere to local, state or federal regulations. By tracking compliance-related metrics, you can ensure—and prove—that your fleet is on the up-and-up.

Driver assignments: Keeping track of driver assignments increases asset accountability and can help you determine driver behavior issues, especially when using telematics to track driver behavior.

Vehicle downtime: By tracking vehicle downtime, you can better determine an asset's replacement lifecycle, as well as determining mechanical vs. driver behavior issues.

Total cost of ownership (TCO): The ultimate metric in determining an asset's ROI, tracking TCO can additionally improve insights into a vehicle's optimal replacement window.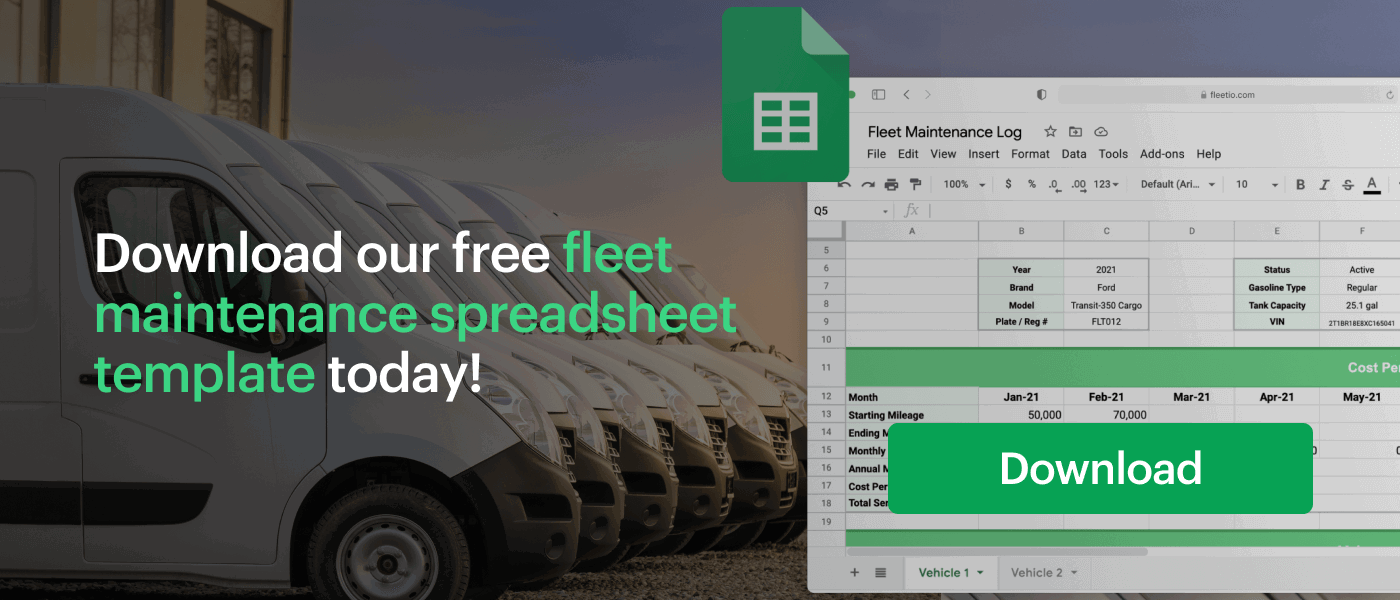 Importing Spreadsheet Data into FMS
By standardizing the metrics you track, you can more easily gain the desired insights you're looking for while maintaining consistency in data tracked. This also allows for a more seamless data integration experience when you adopt a new FMS or switch from one to another. Our maintenance spreadsheet was designed with that in mind, and we're adding new standardized spreadsheets for additional data tracking needs.
---
When you're ready to make the jump from spreadsheets to software, Fleetio makes it easy to import your data so you're not starting from scratch. Start your free trial or demo to learn more!