Forklift inspections are required prior to each use by The Occupational Safety and Health Administration (OSHA). Using electronic forklift inspection checklist forms is a best practice to ensure your business won't be hampered by breakdowns or accidents.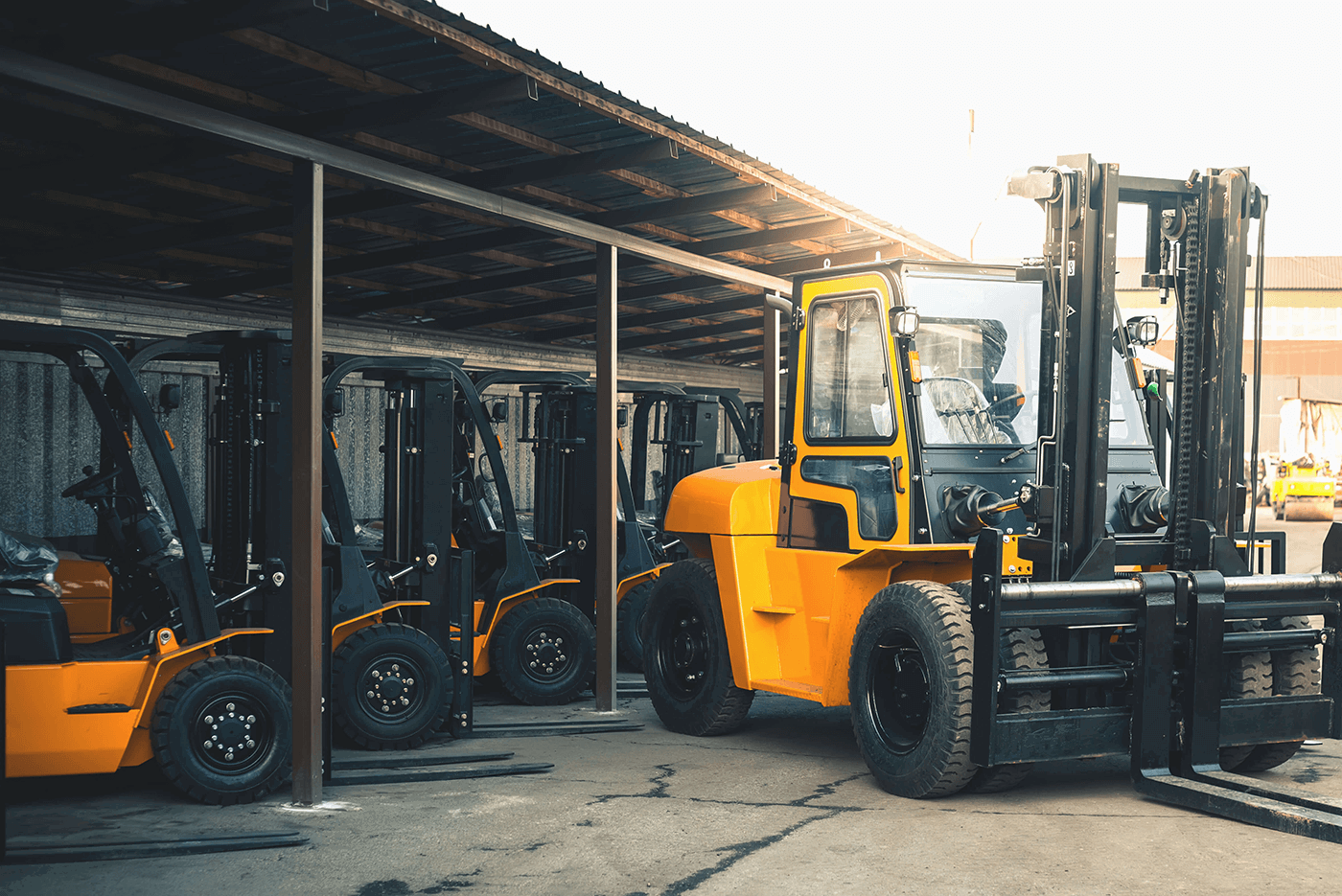 Forklift Inspection Checklists
Forklifts and telehandlers (also known as powered industrial trucks or lifts) are vital equipment used by warehouses, farmers, manufacturers and retailers. They are extremely helpful in quickly moving heavy products from one place to another.
If you have assets other than lifts, then you're well aware of daily vehicle inspection reports.
Whether it's daily or weekly, a forklift inspection checklist should follow a similar format, albeit with a few differentiations based on the type of forklift. (Continue reading to learn more about the types of forklifts).
Electronic Forklift Inspection Checklists For the Win
Forklift inspection checklists are best completed electronically. Paper inspections are time-consuming, difficult to report on and prone to pencil whipping. They also create a significant bottleneck in relaying information from an operator to a manager, especially if multiple locations are involved.
On the other hand, forklift inspection checklists completed digitally can be customized with criteria specific to the type of lift. This way you can collect information about the most important components of the lift.
So, how do electronic inspections work?
Operators enter inspection information through an app on a mobile device and provide details like pictures and notes to add clarity to a potential issue. Forklift inspection forms should include the following:
odometer reading
tires
forks and mast
lift and rollers
engine and hydraulic oil
radiator
fuel or battery level
seat belt
brakes
control levers
steering
gauges
horn
Information from the electronic inspection is instantly transmitted to a fleet management software like Fleetio which collects and organizes all of the necessary data.
Digitizing forklift inspection checklists not only streamlines workflows, but it also makes it much easier for managers to troubleshoot and schedule necessary forklift maintenance to avoid costly downtime.
Check out this OSHA forklift inspection checklist to get a better sense of what you should include when customizing your inspections.
Importance of Forklift Inspection Forms
Bulky or wide construction material can't get from the manufacturer or unloaded at a job site without a functioning telescopic handler. The same can be said for warehouses and distribution centers who need to load trucks with pallets of goods.
The prime functioning of these forklifts can easily be overlooked, especially by operators who routinely use them. Nonetheless, it's imperative to use forklift inspection forms to remain OSHA compliant.
Due to forklifts' propensity for high-frequency use and intricate mechanics, they are prone to breakdown without proper inspection and maintenance. This is why it's imperative that you have a proper forklift inspection process and schedule routine maintenance.
Protection Via Forklift Safety Checklists
Safety is always a top priority for fleet managers. An optimal forklift checklist will ensure safety for operators.
It's imperative that forklifts are thoroughly inspected before each use in order to ensure a safe workplace environment. Managing risk is something fleet managers can't take lightly, especially when it comes to heavy equipment and operators.
Lifts weigh thousands of pounds and move product that is even heavier. This makes forklift operators, and others working in the vicinity, susceptible to severe injuries from rolling over, being crushed or falling.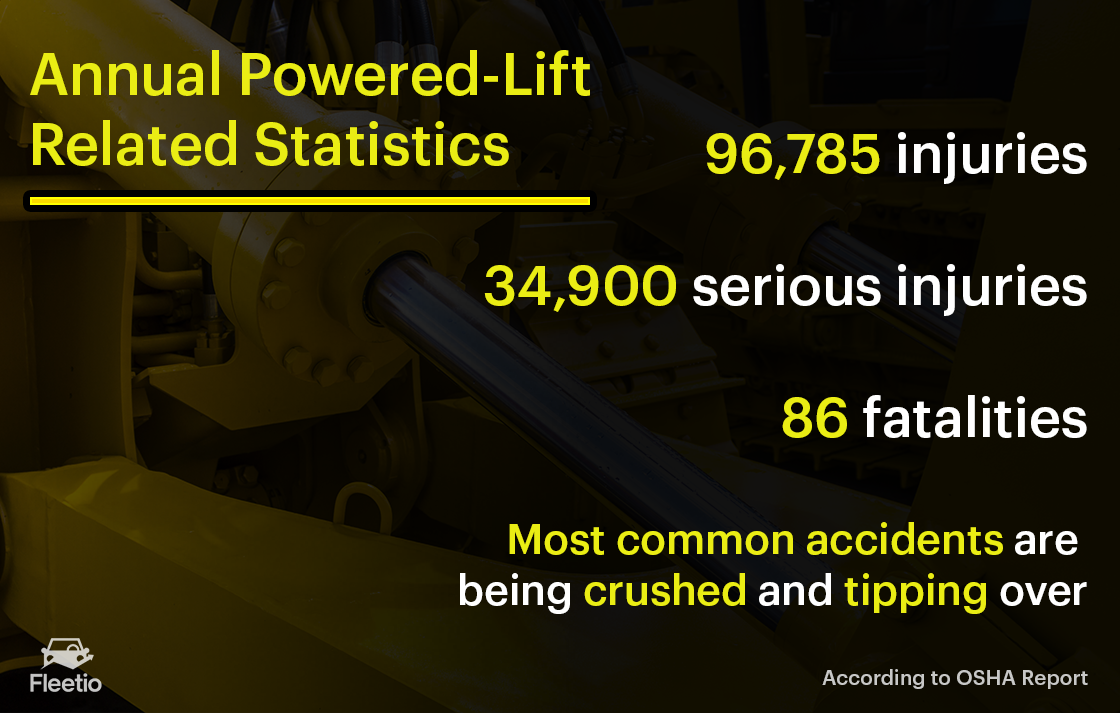 Remaining in compliance with forklift inspection standards is not only necessary by OSHA standards, but it's also the best way to keep workers safe from accident.
Different Types of Forklifts
There are dozens of forklift varieties categorized into seven classifications, but generally, there are five primary types, each with its own unique advantages.
Reach forklift
Reach forklifts, also known as reach trucks, can be standup or push operated with forks that can extend or "reach" forward to grab a pallet or load. They are best suited for narrow spaces because of their ability to extend the forks, without taking up additional space.

Side loader
As the name implies, side loaders drive sideways up and down rows of warehouse racks. They can maneuver easily in tight spaces without the need to turn. Side loaders are great for manufacturing industries with long, narrow materials such as metal beams and piping.

Counterbalance forklift
Counterbalance forklifts are a common type of forklift. An operator sits in the lift and it has weight in the back to counterbalance the load. They can be both gas or electric powered and are typically used in warehouse and a variety of other industries. They can have a tilt and telescoping feature to secure a load, though the forks typically don't have the ability to stretch as far a reach forklift.

Telescopic handler
Also referred to as a telehandler, these lifts are similar to reach trucks but also have an extendable arm that can reach over 50 feet. They are typically used outdoors for heavy-duty tasks related to construction or farming. The telescoping forks can also be replaced with other attachments like buckets to scoop up materials.

Rough terrain forklift
Rough terrain forklifts are retrofitted with oversized tires which are designed to maneuver on difficult terrain. They are primarily used on construction sites and other outdoor storage facilities which require more traction.
---
Start your free trial of Fleetio or request a demo today and see how you can get the best electronic forklift inspection checklist.