The demand for efficiency in landscaping has been top of mind in recent years, and many companies are looking for a better way to drive profitability from the fleets that power their operations.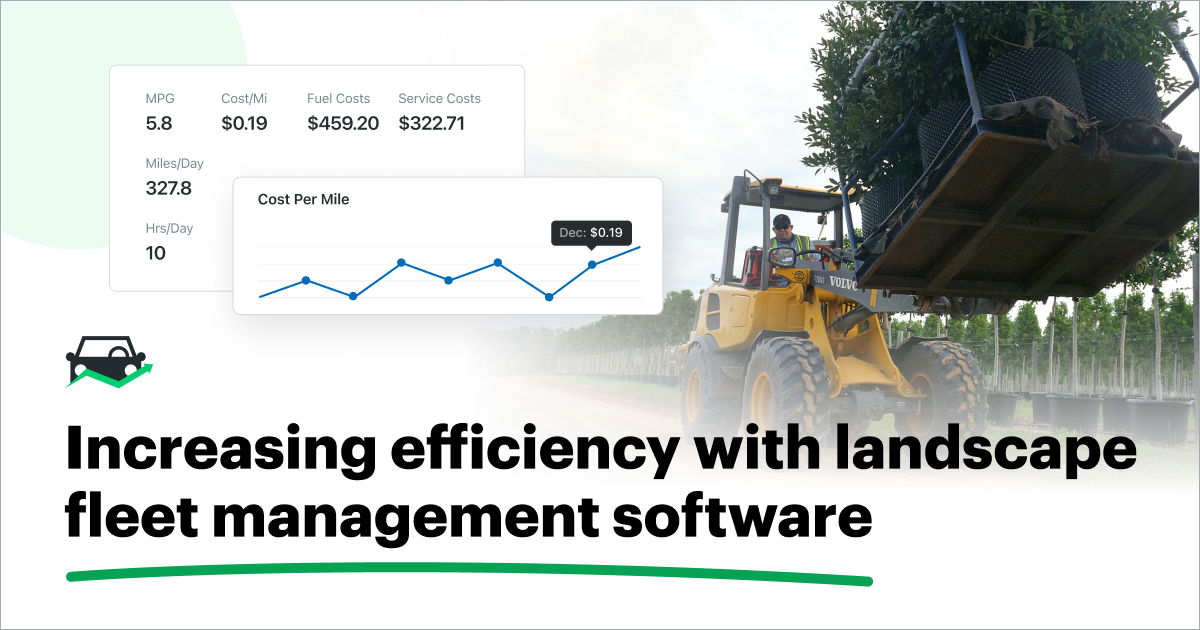 While the technology available on vehicles and equipment in the field has expanded significantly over the past few decades, many landscape companies are still battling inefficiency in their fleet processes with things like paper logs, antiquated dashboards and decentralized data that doesn't take advantage of their existing fleet technology at all. Fleet management software can help landscaping companies streamline all of the moving pieces of their fleet, including inspections, maintenance, work orders and more.
Fleetio's own head of product marketing, Ashlee Biggs, was featured on Grass Roots, Green Industry Pros' podcast, to discuss some of the ways landscape fleet management software can help landscaping companies get more efficiency out of their fleets. Here are a few of the key benefits Ashlee outlined:
1. Unify all of your fleet information into one place.
Making sure that all of your data is centralized in one spot can be a game changer for organizations that have been plagued by tracking paper trails and using multiple softwares to sort all of their fleet data. A good fleet management software can combine all of the individual pieces that make up your fleet's data, from inspections and telematics data to maintenance schedules and fuel expenses, and combine them all into one comprehensive dashboard.
"There's so much data now and it's nearly impossible to manage all of that in your head, or really just in spreadsheets," says Ashlee. "You almost need these tools to bring it all together and find trends for you and surface it in some sort of dashboard or a report where you can just identify exceptions, because if you don't, it almost becomes paralyzing with the amount of data we're getting, especially in this industry from vehicles. They've evolved so much, and you can get just about any reading from a vehicle remotely. So if we're not using some sort of technology to help us interpret that, it just becomes really complex."
"Fleetio saves me a lot of time where I can focus on other areas and other departments. It's freed up time where I'd be putting data in and now it's almost all automated."
Herman VanDenBogaert
Cherrylake
2. Access data quickly for simpler decision making.
Having all your data in one place is one thing, but being able to use it quickly and effectively makes that data a lot more immediately beneficial to your company. Many fleet management software providers have mobile platforms that you can use to both record and access fleet info on the go, which means you can stay up to date at any time on the state of your vehicles, equipment and the operation as a whole without running a whole audit.
That, in turn, creates a lot more opportunity for making decisions that can have a tangible impact on the profitability of your business.
"If the owners of your company call you and say, can you tell me where we can save some costs? Having all of that fleet information at your fingertips allows you to say something like, 'I can tell you that our older vehicles are two times more expensive than our newer vehicles, or we have five vehicles that haven't moved more than 10 miles in the last three or four months. We could probably do away with them,'" Ashlee says.
3. Complete maintenance tasks faster and maintain compliance.
Companies that have landscape fleet software in place for things like maintenance and work orders can avoid some of the costly downtime that comes with maintaining vehicles and equipment by creating automated preventive maintenance schedules and generating work orders based on failed inspection items. That means faster repairs that get your equipment back on the job, as well as a defined string of communication from issue to resolution.
"Finding a software that allows your drivers to communicate mobilely with you as a fleet manager is extremely helpful," Ashlee says. "So being able to walk out and start a vehicle inspection, or being able to track a work order and say, 'I need this particular maintenance done on my vehicle. When I bring it to our in-house shop, will you be ready for it?' All of that can be done in these fleet management softwares."
Check out Grass Roots by Green Industry Pros to get the whole story from Ashlee!
---
Fleetio has helped landscape companies like Cherrylake and ProQual Landscaping centralize their fleet data, reduce spending and implement more proactive maintenance schedules. Get started today with a 14-day free trial or a guided tour of the platform.