An IT-friendly fleet management software lifts the usual burden of software implementation off of your IT manager's shoulders. Choosing a configurable, web-based software helps you avoid time-consuming training sessions and complex interfaces, so you can spend more time managing your fleet.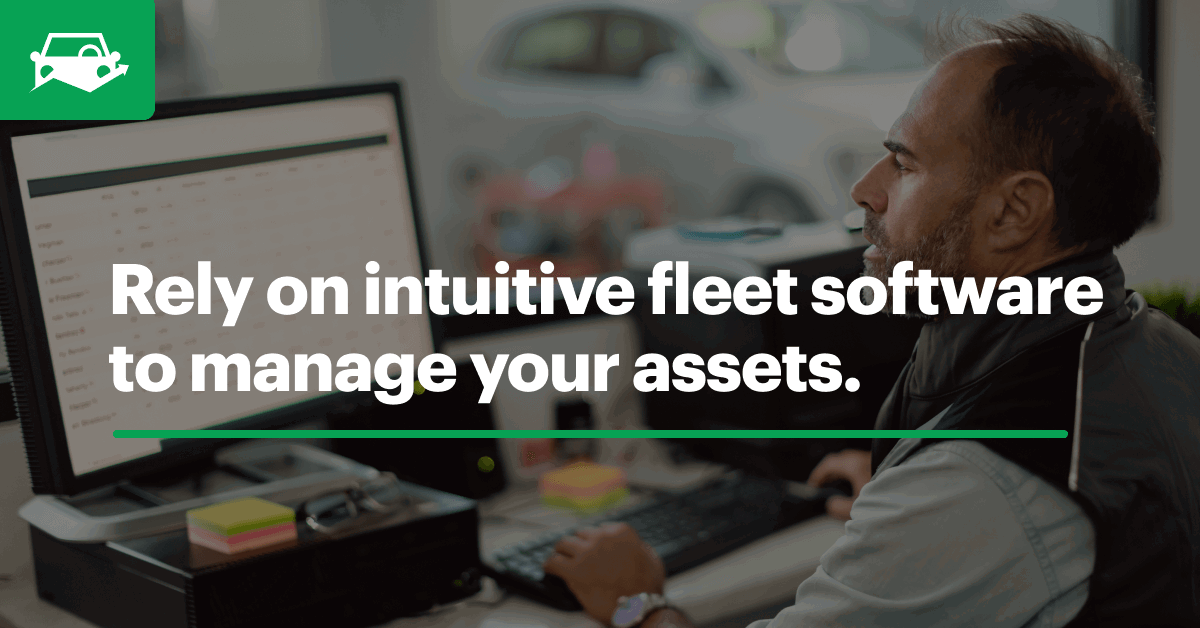 Characteristics of the Best IT Fleet Management Software
Any software you adopt is typically approved by your IT department, so finding the most IT-friendly fleet management software makes decision making and onboarding easier. We all know the benefits of having an IT manager on your side, so choosing a software that makes their life easier while increasing your fleet's efficiency is a no-brainer.
When it comes to IT managers, the most important aspects of a software are security, configurability and implementation. Not only does the software need to protect your data, but it also needs to be user-friendly. This ensures your IT manager isn't taken away from their daily duties to constantly fix software issues.
While some fleet management solutions require expensive implementation fees and months of training, the best IT fleet management software has no implementation fees and is essentially plug-and-play. A simple, fast onboarding process enables you to begin increasing fleet efficiency quickly and start seeing a return on investment (ROI).
Here are a few features to look for when choosing a fleet management software your IT manager will love.
1. Simple Onboarding Process
Adopting a new software may seem daunting, but it certainly doesn't have to be. Fleet management software should make your life easier, and that begins with onboarding.
An IT-friendly fleet management software can be implemented quickly. Once logins are created, the IT or fleet manager can begin bulk importing their vehicle identification numbers (VIN) into the software. A VIN Decoder populates over 90 vehicle specs into your software, instantly adding value.
New software shouldn't require months of training or onboarding. The best fleet management software is intuitive and familiar, making it easy for IT managers and drivers alike to feel comfortable inputting data.
While easy to use, questions can arise from time to time, and some fleets may want more hands-on resources. Choosing a software provider with a wealth of resources, training webinars and live support is essential to your success.
All fleets are different, and some teams may want a hands-on approach to implementation. Consider a software that offers onboarding services without a budget-draining price tag, to ensure full adoption and immediate value.
2. No Hardware Required
One major obstacle of implementing any new system is hardware and on-premise storage. IT managers have plenty of responsibilities already, and new hardware requires time-consuming implementation and oversight—not to mention the time spent repairing broken hardware.
Hardware can also be cost-prohibitive. When you're already making a significant investment, you don't want to add additional purchases for hardware or on-premise storage.
Web-based fleet management software doesn't require expensive hardware. Users can access all fleet data from a computer or mobile device. With all information uploaded in real-time, your team can stay in sync anytime, anywhere.
Drivers can use phones or tablets to update information in a mobile app, making it easy for managers to comprehensively track location, vehicle health and other data in real time. Managers can take a proactive approach to maintenance and operations by monitoring productivity and collaborating with their team.
3. Intuitive Interface
Not everyone on your team is tech-savvy. IT managers are used to training all types of users on software, but to make things easier for your whole team, it's best to choose a software with a simple interface.
The best fleet management software is intuitive and easy to use. Familiar features, like clicks and swipes on vehicle inspection forms, feel natural to users and empower them to truly adopt the software.
New software can be overwhelming for certain team members, so rolling out features slowly can be a great strategy to ease users into the software. Managers have complete control over what features users can access, allowing them to tailor each dashboard to show only relevant information.
[![open-api-visual](https://marketing-cdn.fleetio.com/images/blog/api-quote.png)](/features/developer-api)
4. Configurability
Antiquated processes and legacy systems don't offer a lot of wiggle room when it comes to how you manage your fleet's data. All fleets are different, though, and what may work for one fleet may not work for another.
Modern fleet management software allows you to control how you view your data. With configurable features, like dashboards and reports, you can prioritize areas that matter most to your fleet.
Your configurable dashboard is your command center. You need to be able to view critical information at a glance and easily dive into granular details to monitor fleet efficiency.
Managers can organize their dashboard to put critical insights at the top. If you're tracking fleet key performance indicators (KPIs), this is a great way to stay on track. To track and analyze specific areas of your fleet, managers can create configurable reports to share with stakeholders.
5. Open API and Third-Party Integrations
Managing data on disparate systems is often tedious and doesn't offer a complete view of fleet efficiency and performance. Centralizing all of your fleet's data not only makes things easier on your IT manager, but it also provides you with maximum fleet visibility.
Robust fleet management software, like Fleetio, has an open application programming interface (API). This allows you to push and pull information between Fleetio and other systems you currently use.
Instead of manually importing and exporting data from other systems, information is automatically synced in real time. Not only does this provide up-to-date information, but it also helps avoid issues like double entries and miscalculations.
In addition to an open API, IT-friendly fleet management software seamlessly integrates with GPS/telematics devices, fuel cards and over 40,000 maintenance shops. Fleets can easily streamline data to maximize efficiencies, automate workflows and increase ROI.
[![it-fleet-cta](https://marketing-cdn.fleetio.com/images/blog/it-fleet-cta.png)](/pricing)
6. Security
With cyber-attacks on the rise, IT managers are particularly concerned with data security. Choosing a fleet management software that puts a premium on security is at the top of their priority list.
The most secure fleet management software solutions offer encryption at rest. All sensitive data is converted into another form of data, mitigating any risk of it falling into the wrong hands. Centralizing your data in a trusted software, like Fleetio, reduces potential vulnerabilities and keeps your data safe.
---
Choose a fleet management software that immediately adds value to your fleet! Start your free trial of Fleetio or request a demo today.