Pairing VMRS with a robust fleet management software provides predictive analytics that can increase the profitability of your fleet operations.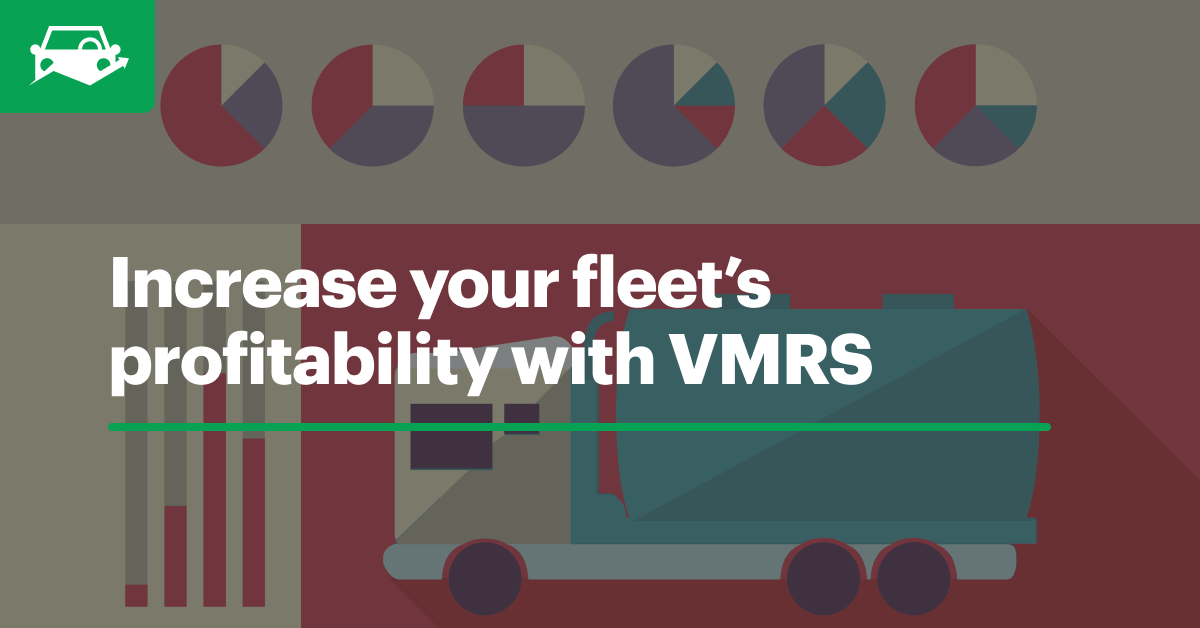 VMRS Data and Categorization
A few weeks ago, we covered the basics of vehicle maintenance reporting standards (VMRS) coding and maintenance categorization. Now, we're taking an in-depth look at the role of VMRS in maintenance reporting, including what makes data collected by VMRS "actionable," and how VMRS integrated with a well-rounded fleet management software can provide predictive analytics to drive informed decision-making.
Because VMRS is a standardized method of recording maintenance, it provides consistency across your fleet—and the more consistent your fleet data is, the more accurate the reporting. Building a thorough history of accurate fleet maintenance data allows you to better identify problem areas, but it also provides in-depth insights allowing for:[1]
Predictive maintenance

Route and schedule optimization

Cargo capacity and placement optimization

Driver coaching to optimize asset performance

Asset spec'ing optimization according to route/geography
To get a better idea of how VMRS can help with the above insights, let's break down VMRS data collection and categorization and take a look at what roles they play in making VMRS reporting actionable.
Accessibility of VMRS Reporting and Analytics
When you have enough data or information to create historical patterns, you can begin to chart future trends. It's when these future trends present evident actions that should be taken that the data is considered actionable. Actionable data should be accessible, measurable and cross-referenceable against other available fleet data—all attributes of VMRS reporting, especially when VMRS is integrated with a fleet management software.
Data Collection Breakdown
VMRS collects and categorizes such data as (but not limited to):
Part/system affected: Input as a three segment code containing the system, assembly and component, this category allows you to hone in on repetitive issues and/or problem areas that need improvement.

Scenario: You pull a report showing a delivery vehicle has been to the shop three times over the past month for a tire repair. The vehicle takes the same route daily, so you ask the driver assigned to the vehicle that day about the route conditions. The driver tells you there is heavy construction going on at a certain point along the route. Based on this information, you can now optimize the route to decrease damage to the vehicle, saving unnecessary cost in repairs.

Reason for repair: Divided into three subcategories—maintenance, management decision and outside influence—this category can help you get a better understanding of how expenses are standing up to your forecasted budget, as well as what areas need improvement. For instance, if you're reallocating resources to the maintenance category, your preventive maintenance (PM) schedule may need to be reassessed.

Scenario: Your budget breakdown goal for the year is: 60% maintenance, 20% management decision and 20% outside influence. When you pull the end of year reason for repair report, you notice 35% of your budget has gone to code 23-modification, under management decision. We'll say this is where you classify the updating or upgrading of vehicle upfits for older model assets. If you're already upfitting new acquisitions during their build, then the rise in spend in this scenario may indicate the need for a vehicle replacement analysis on the assets inflating the modification category. However, if you're upfitting vehicles after purchase, then it may be worth looking into upfitting during the initial vehicle build to maximize return on investment (ROI).

Repair site: This category is especially helpful for fleets that have assets serviced at multiple locations, whether all in-house, all outsourced or a mix of both. Through this category, you can keep track of which locations are seeing the highest volume of service.

Scenario: You pull a report from one of your locations and notice a specific vehicle, which is always assigned to the same driver, has had increasing transmission issues even though its PM history is excellent. From here you can look into the driver's behavior behind the wheel to see if that may be contributing to excess transmission wear and tear. (Pro tip: If you have a driver behavior monitoring solution integrated with your fleet management software, you can pull the driver behavior report and have a solution almost instantly.)

Work accomplished: This category is exactly what it sounds like. The benefit here is that when pulling a report, you'll immediately be able to tell what was done in a consistent and standardized method, for instance: install, replace new, diagnose, inspect, etc. Not only is it much more concise, it reduces opportunities for misunderstandings.

Technician Failure: This category offers a slew of benefits. When paired with work accomplished and manufacturer information, you can hone in on certain brand parts that won't hold up to daily operations. You can also quickly and easily identify warrantable parts to ensure excess funds aren't being spent unnecessarily. Inputs such as "plugged" and "part improperly installed" allow you to implement proactive maintenance solutions and correct performance issues respectively, and so on.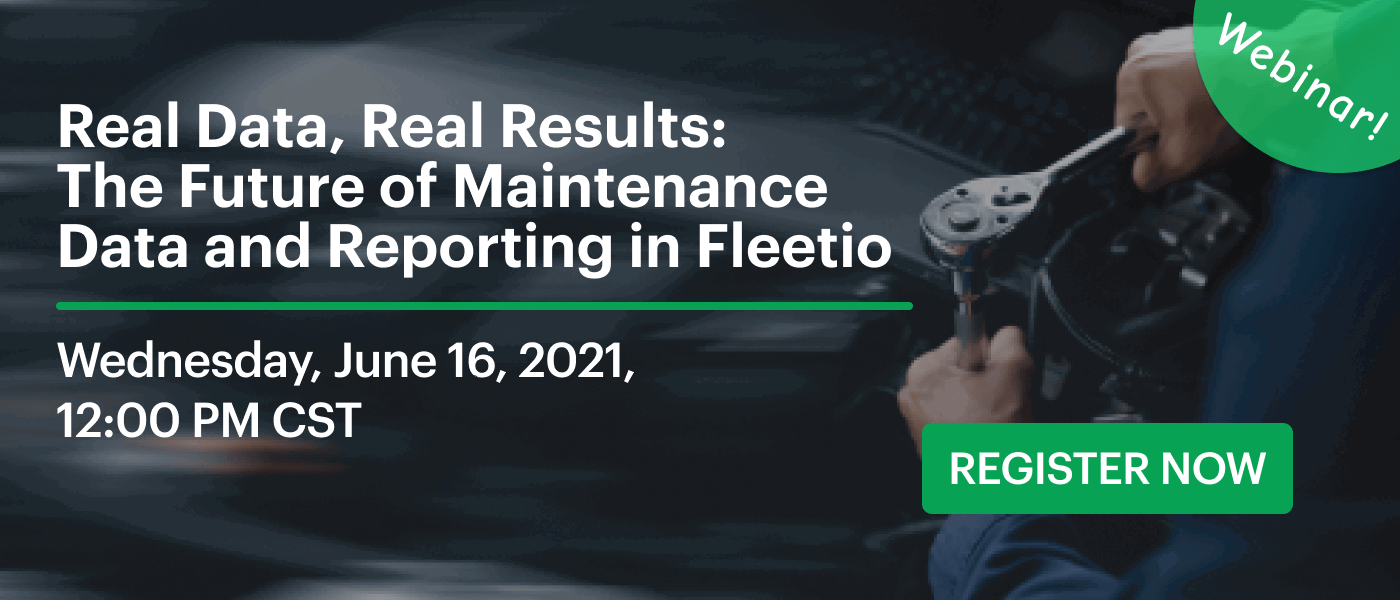 VMRS Reporting in Fleetio
Fleetio's VMRS-based maintenance reporting solution is on the horizon. Our scalable solution allows you to use as much or as little of the VMRS system as suits your fleet's needs. And because implementing new processes can be time and resource consuming, we've incorporated code visibility settings. With code visibility settings, you can control which codes are able to be used, cutting down on both time to implementation and likelihood of error.
Fleetio's VMRS solution will allow you to analyze all your maintenance data across all your fleet assets—whether that maintenance is outsourced or performed in-house. And to make VMRS implementation even easier, we're rolling out our VMRS solution in stages, with the first stage consisting of some of the most frequently used and data-rich Code Keys:
Code Keys 31-33—System/Assembly/Component: Generate repair distribution reports, spot when costs rise for a specific part or system on an asset or assets and determine potential issues, including poor part quality, route hazards, improper PM schedules and more.
Code Key 14—Reason for Repair: Identify specific cost accumulation areas, including maintenance issues, such as PM and breakdowns; outside influence, such as accidents and vandalism; and management decisions, such as conversions and modifications.
Code Key 16—Repair Priority Class: Determine where spend is highest—scheduled vs unscheduled maintenance—and apply corrective actions as necessary to optimize processes for higher ROI.
With Fleetio's VMRS solution, you'll be able to compare historical scheduled vs unscheduled maintenance for informed budgeting and preventive maintenance optimization. Having a fleet management software with VMRS integration centralizes all your fleet asset data on one platform for maximized visibility into your fleet operations. If you want to learn more about VMRS in Fleetio, don't miss our free webinar Wednesday, June 16, Real Data, Real Results: The Future of Maintenance Data and Reporting in Fleetio.
---
Fleetio can help you navigate your fleet maintenance needs. Start your free trial or request a demo of Fleetio today!
Sources