Fleets across industries are turning to QR codes for equipment tracking purposes. QR codes streamline equipment checkout processes and provide fleet managers with real-time asset visibility.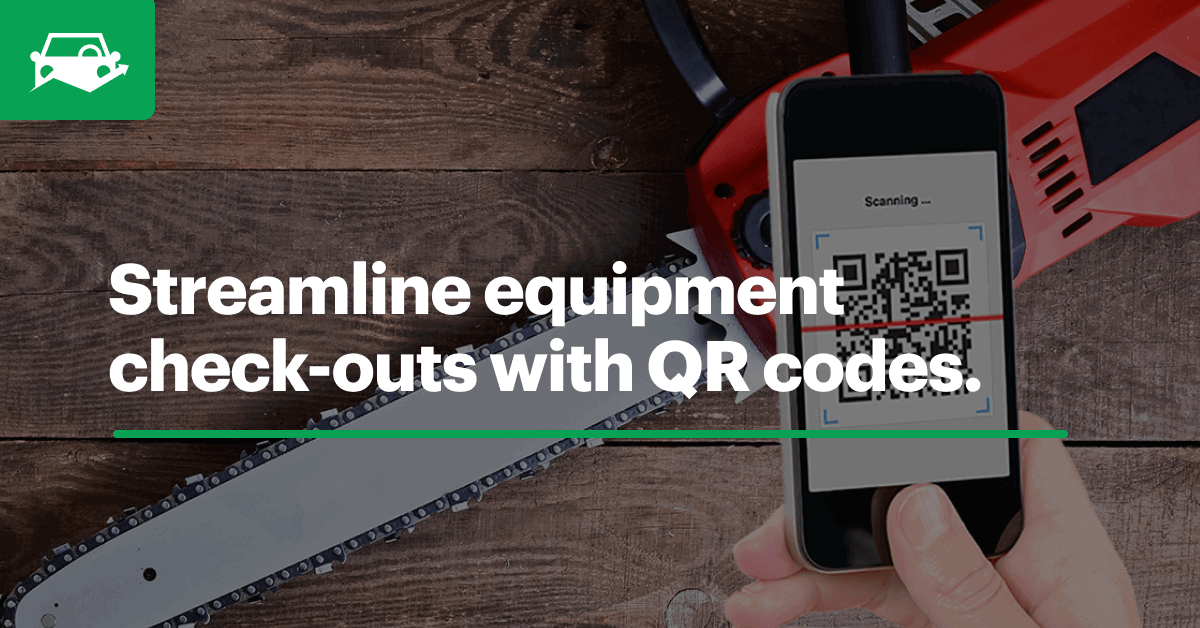 How Can QR Codes Improve Equipment Tracking?
Quick Response (QR) codes have been widely used for many years. You may have noticed them on tickets for events or at restaurants to access digital menus, but many fleet managers are now leveraging QR codes for equipment tracking. This technology provides real-time insight on equipment location, status and assignments.
When managing a dispersed fleet or multiple jobsites, it can be difficult to monitor your equipment and tools if you're still using spreadsheets and paper processes. Manual equipment tracking causes confusion across your team and can lead to missing or damaged equipment.
Instead of manually tracking equipment with sign-in sheets and calendars, modern equipment management software provides a streamlined approach with the help of QR codes. Your team can scan QR codes to assign equipment to themselves in a mobile app. These assignments are instantly synced with your software providing you with a complete audit trail of usage.
In addition to real-time equipment visibility, one of the biggest benefits of using QR codes with equipment management software is speed. Users can scan QR codes and assign equipment to themselves in seconds. With a fast equipment checkout process, your team can jumpstart their day and maximize productivity.
How Can My Team Use QR Codes for Equipment Tracking?
Implementing a QR code system to track equipment is simple. After purchasing inexpensive QR labels or stickers, you can attach them to each piece of equipment you want to track.
From there, you're ready to start using them with your mobile equipment management app. Users can scan the QR codes in the app with their phone or tablet's camera. Once scanned, the app will open a quick action menu to easily update equipment status.
While this fast and easy equipment checkout system can help your team maximize productivity, let's go over even more benefits to using QR codes for equipment tracking.
Simple Implementation With No Additional Hardware Required
Equipment tracking doesn't have to be cost-prohibitive. In the past, the only technology available for equipment tracking was barcode scanners. The cost of this hardware is out of many fleets' budgets.
Additionally, the training required and the time involved to solve technical issues can be huge drawbacks to fleets. While many choose to just stick with paper, there's a better, cost-effective solution.
Using QR codes for equipment tracking doesn't require the purchase of additional hardware. Fleet managers simply purchase inexpensive QR stickers or labels, and employees can use their mobile device or tablet for scanning.
Not only does this easily fit into budgets, but this technology is much easier for your team to adopt. Even the least tech-savvy members of your team can quickly pick up the easy-to-use mobile interface.
Most of your team members carry around a smartphone in their pocket each day. Instead of trying to keep up with bulky barcode scanners, they can simply pull out their phone, scan a QR code and get to work.
Increase Team Accountability With Real-Time Visibility
Equipment visibility can be a huge challenge for fleet managers who still rely on paper processes. Without a way to accurately track equipment, you have a difficult time holding team members accountable for lost or damaged tools.
Even though you can't be everywhere at once, you need to be able to track your team and your equipment in real time to monitor productivity. Having your operators assign equipment to themselves in software creates a checks and balances system for your fleet.
Checking out equipment by scanning QR codes empowers your operators to proactively maintain and keep up with their equipment. Operators understand they will be held accountable for the equipment they use.
Instead of spending hours trying to determine who used a piece of equipment last, fleet managers and administrators have a complete audit trail of usage. Equipment management software can quickly inform managers of who was last assigned to a piece of equipment and its last known location.
Receive Real-Time Equipment Notifications from the Field
Knowledge is power, and when it comes to managing your fleet, the more information you have increases your fleet's power. No matter where you are, you need the ability to receive real-time information from your team.
Equipment management software eliminates communication bottlenecks by providing real-time notifications from the field. Operators can scan QR codes to update equipment information on their mobile devices. Managers can be informed of issues and set notifications for individual pieces of equipment to stay in sync with their team.
[![qr-code-cta](https://marketing-cdn.fleetio.com/images/blog/qr-code-cta.png)](/pricing)
Pairing QR Codes With Equipment Management Software
Using QR codes for equipment tracking is one of the most efficient ways to maintain real-time asset visibility. Managers are able to monitor assignments as operators check-in and out equipment as well as receive notifications and status updates on-the-go.
QR codes can adhere to any equipment or vehicle for operators to easily scan. Instead of waiting to sign out equipment on a clipboard, users can grab their equipment, scan a code and go.
In addition to QR codes, Fleetio also allows fleets to use NFC technology or barcodes for equipment tracking. No matter what type of equipment you manage, mobile solutions like equipment management software makes it easy for you to increase efficiency and promote team accountability.
---
Fleetio provides complete equipment visibility to promote accountability! Start your free trial or request a demo today.