Spare parts management is a critical component for fleets and the right parts inventory system can have a tremendous impact on any business.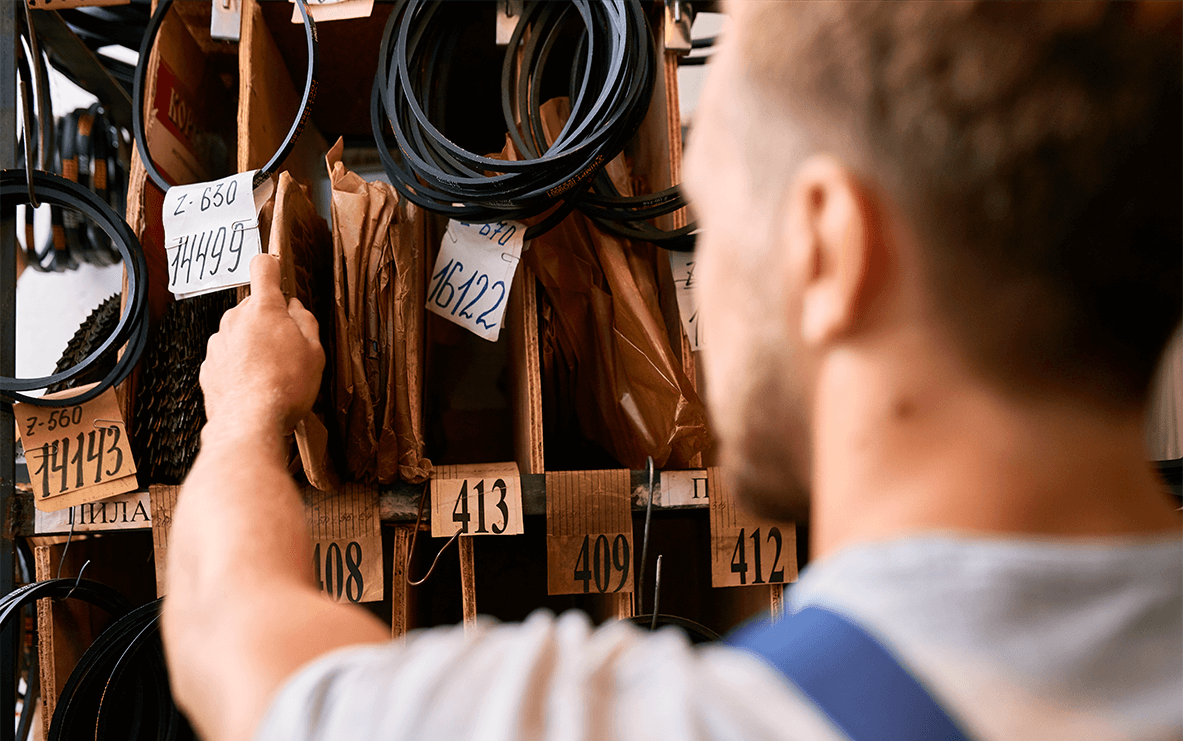 Spare parts management for fleets
Whether you're a service fleet with various assets and a variety of job-related equipment or simply need a parts inventory system for vehicle maintenance, spare parts management is a necessity.
We recently discussed several fleet trends and how technology is impacting them. Spare parts inventory management is no different.
While we still might collect inventory levels in a similar fashion, the process of inputting that data has greatly improved. This has led to greater efficiencies and better insight into things like costs, inventory levels and the purchasing process.
Parts inventory system
There are a variety of parts inventory systems, but fleets typically stick to three of the most common. They include barcode, perpetual and periodic inventory systems.
1. Barcode inventory system
A barcode inventory system utilizes handheld or mobile devices (like smartphones or iPads) to scan a barcode on a part and a corresponding barcode on a location such as a bin where the part is stored.
This inventory system allows for accurate and immediate updates to parts inventory tracking and makes the process of collecting parts inventory much quicker.
Learn more about the costs, benefits and implementation of barcode scanning for your fleet.
2. Perpetual inventory system
A perpetual inventory system is a rolling update of parts inventories based on the input of data when parts are received or pulled from stock for use. In order to implement this parts management system, a fleet would need to use a fleet management software which computes and updates the total quantities as new data is added.
It's a spare parts inventory management best practice to combine the perpetual and barcode inventory system in order to achieve the best results.
3. Periodic inventory system
A periodic inventory system involves gathering spare parts inventory at a given time interval. This might be a weekly, monthly or quarterly occurrence for some fleets.
The downside to this approach is it takes time directly away from productivity due to the dedicated timeframe needed to complete the inventory management task.
This system could be beneficial for small fleets who have a smaller headcount and don't have an array of assets.
Parts inventory software like Fleetio allows you to implement a combination of a perpetual and barcode inventory system.
There's no single solution for spare parts management, but the use of spare parts software combines elements of these parts inventory systems for optimal execution and the most accurate results.
Benefits of parts inventory software
It's undeniable that software continues to make fleet operations easier to manage. The advantages compound as fleets incorporate more and more of its process into a single software database.
Some of the benefits of using software for spare parts management include:
The elimination of tedious manual data entry
Preventing errors commonly associated with paper inventory recordings
Allows easy synchronization across multiple locations
Automatically calculates a running total of parts inventory levels and costs
Avoids overstocking and reduces parts spending
Update and access data from anywhere
Meanwhile, Fleetio Go features a mobile app where users can scan barcodes and update inventory counts right from their smartphone.
Fleetio Go also has unique features like receiving notifications when inventory levels are low to avoid stockouts and bulk manage settings to track parts based on criteria such as the quantity on hand, cost, most recently added or oldest.
You can also group spare parts by the type and usage level, where the most used parts requiring frequent replenishment, can be easily identifiable in the database.
---
Get a free 14-day trial of Fleetio or request a demo to see how you can improve your spare parts management today!